Gyoza Quesadilla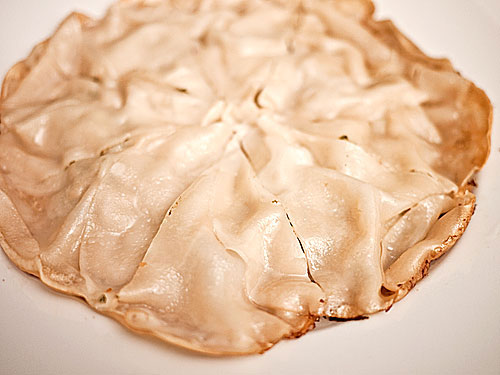 I apologize for the rather dodgy photos - this was not a preplanned shoot, just some hasty snapshots before the subject was devoured. And I know that I promised you a new recipe using tsubu-an, but I'm still not happy with how the formulas are working. Time has run out for now, because we are finally moving tomorrow from the apartment we have been renting in Zürich for a while, to well, another apartment in Provence - but one that is right across the river from Our House, the one that we had been trying to buy for the past few months. After a lot of tears shed and sleepless nights and all kinds of angst, it's finally ours. It's still not in a livable state, which is why we have to move to yet another short-term rental apartment, but soon we hope to be able to move in. I'll post some photos of the new/old place next week...provided the phone/DSL is working. Yes, I'm having bouts of panic and buyer's remorse and all that...hopefully that will pass.
In the meantime, here's a quickie recipe for something that I came up with the other day for dinner. This is a deconstructed version of gyoza dumplings (uh, I really need to replace that photo from 2004...). I love gyoza dumplings, but at the moment, surrounded by partially packed boxes and piles of laundry and general chaos, I am in no mood to be folding delicate little dumplings. This no-skill version tastes just like gyoza but is much, much quicker to make. It consists of a layer of gyoza filling sandwiched between gyoza skins, then steam-fried just like the dumplings are, so that the bottom is nice and crispy and the top is soft and slippery-noodle-y. It looks, and is constructed, just like a quesadilla, hence its name.
I'v also replaced the cooked cabbage with lettuce - the pale leftover parts in the middle of a head of lettuce will do fine - to eliminate the blanching, cooling and squeezing out steps, shaving off even more minutes and bother.
Recipe: Gyoza Quesadilla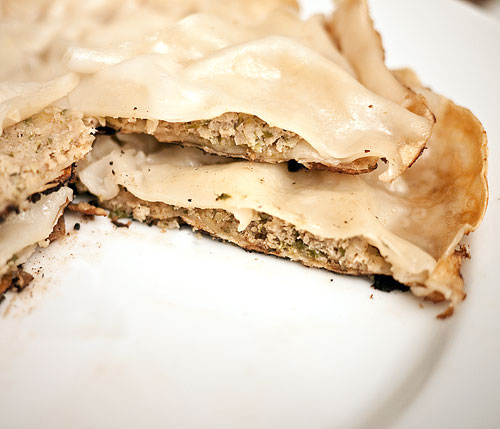 Makes one 9 inch (22cm) quesadilla, which serves 1-2 people
For the filling:
100g / 3.5 oz ground pork
4-5 iceberg, romaine or cos lettuce leaves, finely chopped, to make 3/4 cup chopped
1 bunch green onions chopped, to make 1/2 cup chopped
1/2 garlic clove, grated (about 1/2 tsp.)
1 piece fresh ginger, grated (about 1 tsp.)
1 Tbs. soy sauce
1 tsp. sesame oil
1 Tbs. cornstarch or potato starch
Plus:
1 packet of gyoza skins containing 24 to 30 pieces
Vegetable oil for cooking
Mix the filling ingredients together very well with your hands. If it is a little watery, add a bit more cornstarch.
Divide the packet of gyoza skins into two. Spread some vegetable oil in a non-stick frying pan. Line the pan with half of the gyoza skins in an overlapping pattern. Press down so that they stick together. Put the filling in the middle and spread evenly. Cover with the rest of the gyoza skins, also in an overlapping pattern. Press down lightly.
Put the frying pan on high heat, and cook until the bottom is lightly browned. Turn down the heat to low. Hold a lid over the frying pan with one hand, and a cup containing 1/2 cup water in the other. Add the water to the pan while shielding yourself from the spatters with the lid. Close the lid quickly. Steam-cook until the top is semi-transparent and no longer looks like uncooked dough, and the water has evaporated, about 10 minutes. For the last 1-2 minutes, take the lid off, pour off any remaining water, and raise the heat up to high to crisp the bottom.
Take the quesadilla out of the pan and slice into wedges. Serve with a dipping sauce of soy sauce and chili oil or vinegar.
Note: This should work with wonton skins/wrappers, though you will have to be more careful since wonton skins are thinner and more delicate than gyoza skins.
Submitted by
maki
on 2010-05-27 15:11.
Filed under:
japanese
quickcook
chinese