Tomatoes, at what temperature? Plus a super-easy tomato recipe
This was my lunch today. Actually, this is my lunch about every other day at the moment.
It's a plate of three varieties of heirloom tomatoes, simply sprinkled with a little salt: Green Zebra, Ananas (Pineapple), and Noire de Crimée, which is similar to Black Russian. The tomatoes are accompanied by cold smoked chicken. On other days I may have ham or boiled eggs, or canned tuna, or some cheese. I sometimes add some other vegetable like cucumber for crunch. But there's always a big plateful of tomatoes.
The chicken was delicious, but the tomatoes - oh my, the tomatoes. Whatever doubts I have about whether it was a good idea to buy this creaky old house melt away when I dive into another plate, or bowl, full of locally grown tomatoes. We get ours from Madame Mireille Donnat's stand at my favorite market in the whole world, the farmer's market at Velleron (more about Velleron's market; also check out my Velleron flickr set). The Tuesday market here in Vaison la Romaine is terrific and crazily popular, but Velleron has a special place in my heart. Here's Madame Donnat's stand - she's holding two of her famed tomatoes. They are so heavy with juice that they would make good handweights for building up your arm muscles.
When tomatoes are as good as Madame Donnat's, there's no need to do anything with them other than add a little salt, perhaps some olive oil. If your tomatoes are good but not the best though, here's a super easy way of perking them up. This works with cherry tomatoes or regular sized tomatoes.
Recipe: Tomatoes marinated in dashi or vegetable stock
When marinated in dashi, this is simply called Dashi Tomato (だしトマト), and is a standby summer side dish in Japan. You can easily put a Western twist on it though by using vegetable stock. The umami inherent in the tomatoes is enhanced by the stock. I prefer to add salt later rather than in the marinade, since salt draws out too much moisture from the tomatoes.
You could use dashi stock granules or stock cubes, in which case omit the salt. (The flavor is best with home made stock, of course.)
Peel the tomatoes by bringing a pot of water to a boil, and dunking the tomatoes for 30 seconds. Take out the tomatoes, let them cool enough to handle, and peel the skin off. You could also use a tomato peeler for this task. If using large tomatoes, cut them into slices or chunks.
Put the peeled tomatoes in a bowl or a plastic zip bag. Add enough dashi or vegetable stock to cover them. Leave to marinate in the refrigerator for a few hours or overnight.
Take out the tomatoes, and drain off the liquid. (The liquid makes a delicious soup base.) Season with a little sea salt or soy sauce and toss lightly. Garnish with your favorite garnish - if you're going Japanese, try bonito flakes, shredded shiso leaves, tosted sesame seeds or finely cut nori seaweed; if you're keeping it Western, freshly ground black pepper, a little chopped parsley, or shredded basil leaves work well. Serve chilled.
Variations: Add some finely julienned cucumber or blanched and sliced okra.
Tomatoes - at what temperature?
You've probably noticed that the recipe calls for serving the marinated tomatoes chilled. In North America and Europe, the standard advice from tomato purists is that tomatoes should be served at room temperature for maximum flavor. However, in Japan tomatoes are always served chilled, to take advantage of their watery refreshing quality. Here's a tomato that I had at famed Kyoto yohshoku restaurant Touyoutei (more about Touyoutei in this article), that was served ice cold - it was so cold in fact that it was almost frozen, and hurt my teeth. It was refreshing though.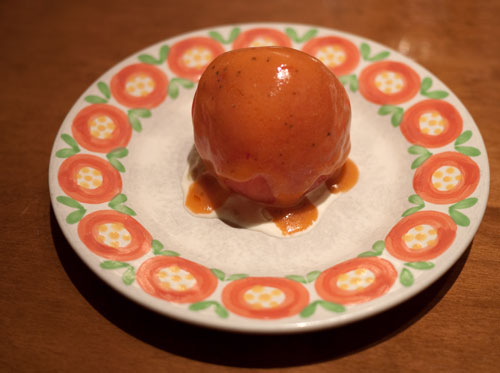 I prefer my tomatoes somewhere in between ice cold and room-temperature warm. When they are a little bit chilled, they're both refreshing and sweet. So I do store my tomatoes in the refrigerator. I hope the tomato police don't come to check on me.
What do you think? How to you prefer your tomatoes? And while we're at it, share your favorite ways to enjoy fresh tomatoes!
Also try
Submitted by
maki
on 2010-08-19 13:29.
Filed under:
japanese
vegetarian
provence
summer
france
vegan
salad
low-carb