Lets GourMets! '80s retro cooking with the New York Mets
In the corner of the world where I live right now, the Major League Baseball playoffs are not exactly a hot topic. 99% of Swiss people do not know, or care, anything about baseball.
When I moved here several years ago, I tried to follow baseball via the internet and other means, but it wasn't the same. MLB.com started offering streaming video and radio of some games, but the time difference was just too tough. Staying up night after night for games that broadcast in the wee hours of the morning here became too much. So, I lost touch.
Until this past week. Our local cable company suddenly announced that they were switching many channels to digital only. So, reluctantly we switched over from good old analog. Lo and behold, the digital package came with NASN, the European equivalent of ESPN. And it's showing all the baseball playoffs! The games are repeated during the day too, so I don't have to prop my eyelids open with toothpicks.
Yes, I'm a masochistMets fan. I once lived in Flushing, Queens, with windows facing towards Shea Stadium, and the fact that the Mets played there was a big part of why I stayed there for a couple of years. My 18th floor apartment in a typical Queens apartment block was not exactly ideal - I had mice as roommates, and a hellish downstairs neighbor, and the commute to school took me an hour. But oh, the beautiful view when the Mets were playing at home! Shea glowed like a jewel in the darkness. Never mind that more often than not the Mets didn't sparkle on the field. I loved them anyway.
This year of course, they are a good team again. (As I write this, they have just defeated the L.A. Dodgers 3 games to 0 in the divisional playoffs.) I don't really know this team at all, and I suddenly feel old because half the team look like kids to me - except for the ageless Julio Franco, who is way older than me and everyone else in the world. Still, the uniform is right, and the stadium is right, and the fans in the stands with their witty signs look just like the Mets fans I used to know.
Back in the '80s, before the 1986 World Series winning team, when they were very bad, the Mets tried a lot of promotions and gimmicks to try to get the fans into the seats. One of them was a cookbook put together by some of the players' wives, called GourMets.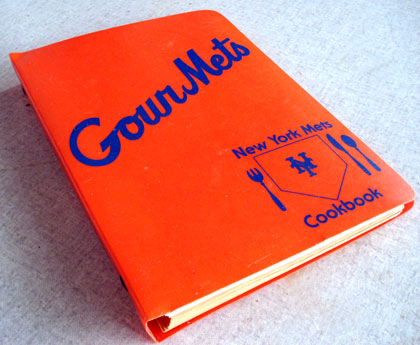 I bought my copy sometime in the early '90s at a baseball card convention (yep, I was that kind of girl) but when I flip through the pages I do remember many of the players . Several of the pages are signed by the players' wives. My copy has an updated section from 1983 - the original part is from 1982.
In format and content, GourMets is basically a community cookbook in the tradition of the ones that have been put together by church congregations and Junior Leagues all throughout America. Proceeds from sales of the book went to the March of Dimes. It's in a ring binder with a bright orange wipe-clean plastic cover. Each entry has a picture of the player, a short bio (including how he met his wife, if he's married), and the recipe, most of which are submitted by the wife or a mother. In typical '80s fashion, most of the recipes are of the kind with ingredients like cream of mushroom soup and pre-made pie crust. Sandra Lee didn't invent the "semi-homemade" way of cooking, folks - it's been around for a long time. A few are bit more sophisticated, like a salad made with a real vinegarette (from Ralph Kiner of all people), not to mention a very complicated recipe for something called Veal Zingara from Rusty Staub. (Rusty went on to open his own New Orleans style restaurants after retirement.)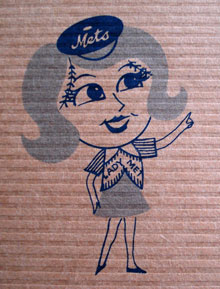 It's amazing how much our food tastes have changed since the early '80s. But while I didn't exactly grow up eating such food, they are rather charmingly nostalgic. I have tried out a few of the recipes, and some are surprisingly good, while others...are not.
So, in honor of the 2006 Mets making the playoffs, and for my memories of Mets Ghosts past, here are a few recipes from GourMets. Some of them I've actually tried and can vouch for, others I present here for the sake of curiosity. Besides, the '80s are back, aren't they?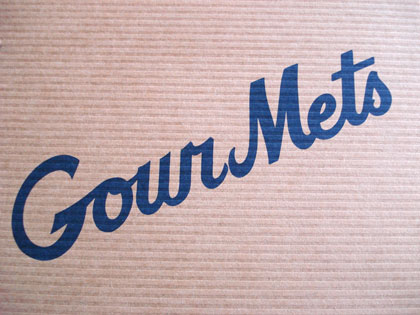 My comments are in [square brackets] below.
Mookie Wilson (wife: Rosa)
Mookie Wilson was not really a great player I guess but boy, was he exciting! Always upbeat, always hustling his butt off, he was a true shining light even when the team around him was dismal. And he is forever remembered for hitting the ground ball that went through Bill Buckner's legs in Game 6. (If that means nothing to you...never mind, it never will. People who do remember Game 6 will do so for eternity.) His son, Preston, plays for the St. Louis Cardinals.
This recipe from the South (Mookie is from South Carolina) is sticky, brown and sweet. The recipe doesn't mention salt but it's much improved with it. It's not exactly low-carb, or low-fat, or low-anything. It is presented as a side dish for pork chops. It's actually quite yummy, if you like sweet side dishes that is.
Mookie's Quick and Easy Candy Yams
6 sweet potatoes, sliced
1 cup sugar
4 Tbs. butter (or 1/2 cup)
1/2 cup of water
Place butter in a 2 quart sauce pan over medium heat. Place sliced potatoes in melted butter, add 1 cup of sugar, pour water over sugar and potatoes. (This will spread sugar through the potatoes). Cover and cook over medium heat for 45 minutes to 1 hour (checking pot occasionally).
Ron Gardenhire (wife: Carol)
Did you know that the manager of the Minnesota Twins used to play for the Mets? I didn't remember either.
I haven't tried this recipe, but it's typical of many of the dessert recipes in GourMets - put together some package mixes and canned or frozen fruit, with a ton of butter or margarine (also called "oleo").
Cobbler (the easy way)
1 can fruit pie filling
1 box dry Jiffy Cake mix (or one layer mix)
1/2 stick margarine
nuts or coconut
Place fruit filling in well greased baking dish. Pour cake mix, or sprinkle, over fruit filling. Melt margarine; pour over cake mix and run a fork through cake mix, punching openings over the top for the margarine to run through. [Mmm, margarine.] Do not stir or mix. To with desired nuts or coconut. Bake for 45 minutes or until brown in a 375°F [190°C]. oven.
Keith Hernandez (wife: Sue)
Ahh, Keith Hernandez. His coming signaled the resurgence of the moribund Mets, and lead to their championship year of 1986. My teenage self briefly had a mad crush on him.
This recipe, however, is not quite top-class. I hate Crescent Rolls - to me they have an odd chemical taste. But if you like them it could be good. Pillsbury still makes them after all these years...maybe they've improved the formula since I last tried them sometime in the '90s. This uses one of the favorite ingredients of the Mets' wives, cream cheese.
Beef and Broccoli Pie
1 lb. ground beef
8 oz. cream cheese
10 oz. broccoli [I assume they mean frozen]
2 pkgs. Pillsbury Crescent Rolls, uncooked
1/3 cup milk
2 beaten eggs
sharp cheddar cheese, grated (as much as you want)
1 onion, chopped
Cook the broccoli in a separate pot. While the broccoli is cooking, brown the ground beef and chopped onion in a skillet. After the ground beef mixture is browned, reduce heat to a simmer. Add the milk, cream cheese, one beaten egg and mix until creamy. Add the broccoli (cooked) and mix well. Turn off heat.
Roll one package of crescent rolls on a floured surface. Lightly pinch the seams together and mold in a pie pan. Add the meat mixture. Sprinkle the grated sharp cheddar cheese over the top. Roll the second package of crescent rolls in the same manner as the first package, forming a top crust now. Brush with the second beaten egg.
Pre-heat oven to 425°F [220deg;C]. Bake at this temperature for 20 minutes. Reduce heat to 350°F [180°C]. and cover with aluminum foil if it browns quickly. Cook an additional 20 minutes and serve. Enjoy!
José Oquendo (wife: Zeneida)
The third base coach for the St. Louis Cardinals was 20 years old in 1983, and playing second base for the Mets. This classic Puerto Rican recipe is one of the few in GourMets that I have made several times because it's really good. I do however add several ancho or jalapeño peppers. It could be that Mrs. Oquendo omitted them for her audience - elsewhere in the cookbook, a "super spicy beef enchilada" dish has one jar of "enchilada sauce" in the whole thing.
Notice the unusual lack of branded packaged food.
Arroz con Pollo (Chicken with Rice)
2 1/2 to 3 lbs fryer chicken parts
4 Tbs. olive oil
1 8-oz. can of tomato sauce
1 medium onion, chopped
3 cloves garlic, minced
1 green pepper, chopped
1/2 cup chopped fresh cilantro
1 1/2 cups raw long grain rice
2 cups water
1/2 tsp. salt or to taste
1/2 tsp. sazõn (saffron)
Hint: It is preferable to blend onion, green pepper, garlic and cilantro in blender as this will truly enhance the flavor of this dish.
Wash chicken; pat dry.
Heat oil in pan over moderate heat. Add tomato sauce, onion, green pepper, garlic, 1/2 cup water and cilantro; sauté until tomato sauce thickens. Add chicken parts and cook well on all sides (about 20 minutes). Remove chicken from pan. In same pan add rice; sauté for 2 minutes. Add 1 1/2 cups water, salt and sazõn. Bring mixture to a boil. Lower heat and cover pan. After rice is cooked, add chicken parts and cook until chicken is heated up again.
Serve with salad and bread. Makes 4 servings.
Craig Swan (wife: Sandy)
Craig Swan was a pitcher for the Mets during the early '80s, one of their Dark Periods. This recipe is presented here as a curiosity and sign of its times. A molded gelatin salad, made with Lemon Jello and ginger ale, marshmallows within...and a topping of thickened pineapple juice, whipped cream and cheddar cheese. Yipes.
I'm been too scared to try this out myself so far. Please let me know if you do.
Frosted Salad
2 pkg. lemon Jello
2 cups boiling water
2 cups 7-Up or ginger ale
No. 2 can crushed pineapple, drained, save 1 cup juice [not sure what a "no. 2 can" is]
1 cup small marshmallows
2 bananas, sliced
1/2 cup nuts [doesn't specify what kind of nuts]
Prepare the Jello as directed on the package using the 7-Up or ginger ale instead of water. Allow it to partially set. Add the pineapple, marshmallows, bananas and nuts and let it set.
Topping
1 egg
1/2 cup sugar
2 Tbs. butter
2 Tbs. flour
1 cup pineapple juice (from what was saved)
1 cup whipping cream
1/2 cup grated cheddar cheese
Combine the egg, sugar, butter, flour and pineapple juice,. Cook until thickened and cool. Then fold in one cup of whipped cream and spread over the Jello mixture (after it has set). Sprinkle with grated cheddar cheese.
Darryl Strawberry (his mom Ruby provided the recipe)
Not many long time Mets fans can think of Darryl Strawberry without mixed emotions. He was the Great Hope...for a while it seemed like he would fulfil his potential, but...he never did.
I think the 7-Up in this recipe is supposed to make it lighter, or something? In terms of ingredient proportions though, this is sort of a pound cake.
7-Up Cake
3 sticks butter [12 oz. / 340g]
2 cups sifted flour or Wondra [an instant-blend flour]
5 eggs
2 cups sugar
1 tsp. lemon extract
1 cup 7-Up soft drink
Pre-heat oven to 325°F [160°C]. Mix together softened butter and sugar. Add eggs, stirring in one egg at a time. Mix in flour until mixture is smooth. Add lemon extract. Add 7-Up. Mix well with mixer. Grease and flour tube pan. Bake at 325°F. for approximately 1 1/2 hours. Cool for one hour. Remove from pan.
Submitted by
maki
on 2006-10-09 15:19.
Filed under:
cake
chicken
beef
retro