The Return of Iron Chef Japan, Part 1
A long time ago, when I used to live in New York, there was a 2 hour long block of Japanese programming every morning from 7 to 9 on UHF channel 31 (I've forgotten what station that was). The programming originated Fuji Sankei TV. The first hour was taken up by news and such. The second hour was devoted to entertainment programming. One of the shows they aired was called Ryouri no Tetsujin (料理の鉄人). This was the original Iron Chef.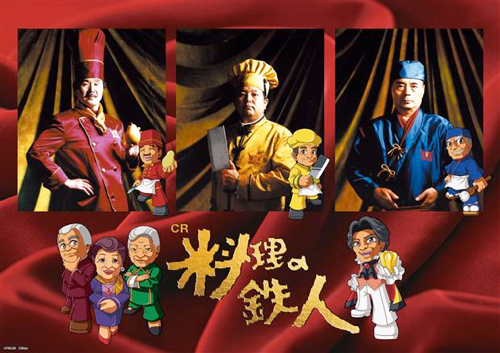 Back in those days I didn't even have a VCR. So on the mornings when Ryouri no Tetsujin aired...let's just say that the subways were allegedly delayed with astonishing regularlity on my way to work. I could not bear to miss a single episode.
It became a cult hit in the cities where it aired, even amongst people who didn't understand Japanese at all. Part of its appeal was that so over the top - with its Kitchen Stadium, the excited floor reporter who sounded like one of the sidelines reporters at a sporting event, and of course, Chairman Kaga, who presided over it all with flair and just a bit over-the-top drama, epitomised by the catchphrase he used to declare the start of each match: Allez Cuisine!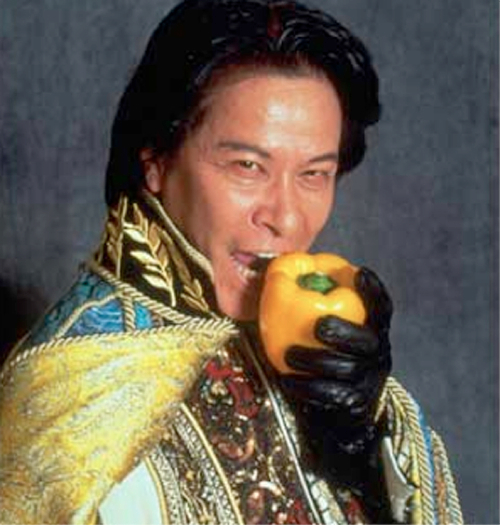 Despite all those flamboyant and often kitschy surroundings, at its heart the show was a serious homage to great cooking. The Iron Chefs were truly top class chefs in Japan despite being dressed up in gaudy silk clothing. The guest chefs, aka the Challangers, who came to compete against the Iron in their regular chef's whites or other normal chef's clothing, were likewise great chefs. A Challenger who won on Iron Chef could see a serious boost in his restaurant's business, at least for a while.
Here's a rare shot of all the chefs who were Iron Chefs on the original, dressed up in their colorful silks, with the Chairman in silver in front.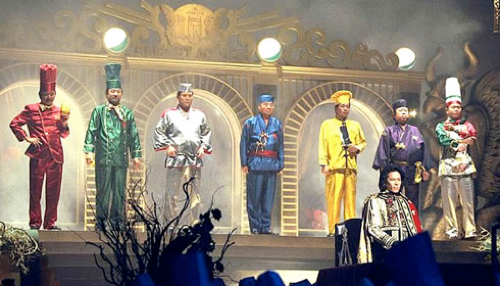 As most of you know, later on the fledgling Food Network obtained the broadcast rights for Iron Chef, had it dubbed (although curiously Chairman Kaga was undubbed and subtitled) and aired it for several years, becoming one of their early hits. (I believe it still continues to air on The Cooking Channel.) After a travesty of an attempt at an American version of the show called Iron Chef USA, which made it into some kind of professional wrestling like horror, a much more restrained version called Iron Chef America was born. This one followed the format of the original quite faithfully, and continues to be one of The Food Network's flagship shows. It has a spinoff, The Next Iron Chef, and several imitators. In a sense, Iron Chef may have ushered in the era of the celebrity chef, for better or worse.
Yet - I haven't seen the American version of Iron Chef in years. Somewhere along the way I think they have lost some of the spirit of paying homage to great chefs and great cooking, to revering great ingredients. Instead it pays more attention to the competition side of things: winning or losing is the main event, rather than the food itself. This is even more evident on the spinoff show The Next Iron Chef, which is basically a response I believe to that other highly successful chef competition show, Top Chef. In both shows the chefs are given ridiculous tasks and ridiculous deadlines, set against each other to create friction and drama, and other such things. All of that may make for entertaining television, but it has nothing to do with food. On these shows, food is not the star; it's just a side dish.
The original Iron Chef aired in Japan from 1993 to 1999, with a couple of specials airing in 2000 and 2001, for a total of 309 episodes. Surprisingly perhaps, similar shows showcasing 'celebrity chefs' haven't surfaced in Japan. Most of the food oriented shows on Japanese TV these days, aside from venerable cooking shows like Today's Cooking and Kewpie 3 Minute Cooking which have been airing for decades, are about eating out. These shows typically go to picturesque locations in rural areas to find ryokan (inns) or minshuku (B&Bs) that serve delicious local fare, or to 'hidden treasure', not-too-expensive eateries in the cities. Not much attention has been paid on these programs to high-end dining. I've always thought that this could be a reflection on the continuing economic doldrums in Japan for the last decade or so.
So, when I heard last summer that Fuji TV was planning to bring back Iron Chef, that original homage to fine dining, I was excited but also filled with more than a little trepidation. Were they going to change the format? Will they jazz it up and put more emphasis on the drama of competition rather than the food and the chefs? Would they have competing chefs being rude to each other, a la Bobby Flay dancing on his cutting board in an infamous match against Masaharu Morimoto? Would Chairman Kaga be back?
...Continued in Part 2.
Footnotes
Do you remember Iron Chef USA? It was so horribly horrendous - but I'd love to see it one more time. The Chairman was William Shatner in all his Shatner-ishness. The Wikipedia entry says that 2 episodes aired. I vaguely remember Todd English I thin.
The original MasterChef first aired on the BBC in 1990, but its format was very staid, rather like a cake competition at a village fete. The new format which puts more emphasis on the drama of competition and fine dining only started in 2005. (By the way, I'm pretty sure the listing of Steven Spielberg as series producer on the Wikipedia page is vandalism.)
My other favorite cooking related show is MasterChef: The Professionals, a spinoff of MasterChef that airs on the BBC.
So while you wait for Part 2, tell me what your favorite cooking show is, and why!
Submitted by
maki
on 2012-12-10 15:02.
Filed under:
books and media
tv
japan
cool stuff from japan
iron chef