Asparagus with black sesame sauce (asparagasu no gomayogoshi)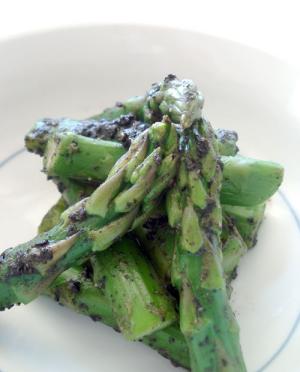 We're starting to see asparagus at reasonable prices again in the stores, which I'm really happy about. The ones available now come from California and Mexico, so they aren't very food-miles-correct, but I still can't resist buying a bunch or two. In a few weeks we'll start seeing asparagus from a a bit closer places like Spain and France, not to mention the fat white asparagus from Germany, which are more highly prized here. I prefer green asparagus myself though.
This is green aspagarus with a ground sesame sauce, which would be called aemono (as explained in the broccoli ae recipe) if made with white sesame seeds, but since this version is made with black sesame seeds it's called gomayogoshi, or "dirtied with sesame". I don't think it looks dirty - I really like the contrast of the bright green asparagus with the black sesame sauce. You can, of course, use regular white (brown) sesame seeds instead, in which case it would be called asparagasu no goma ae. Whatever color sesame seeds you use, the sweet-salty, nutty sauce compliments the nutty earthiness of asparagus very well.
I've included step by step instructions for grinding sesame seeds in a suribachi. You can grind up the sesame seeds in a plain mortar and pestle instead. You may be able to buy pre-ground sesame (surigoma), though that isn't nearly as fragrant as freshly ground sesame.
It makes a great side dish, as well as a very nice bento box item.
Asparagus with black sesame sauce (asparagasu no gomayogoshi)
About 20 medium-thick asparagus stalks
3 Tbs. black sesame seeds
1 Tbs. sugar
2 tsp. mirin
2 Tbs. soy sauce
Equipment needed: a suribachi with surikogi, or mortar and pestle.
Trim the hard woody part off the base of the asparagus stalks. Cut the stalks in approximately 2 inch / 5 cm long pieces.
Bring a pan of slightly salted water to boil. Put in the asparagus stalk pieces in first, reserving the tips. Cook until bright green and still slightly crisp, a couple of minutes. Add the reserved asparagus tips and cook an additional couple of minutes. Drain, and blanch briefly in cold water. Drain well and set aside.
Roast the sesame seeds in a small dry frying pan over medium-high heat until the seeds start to pop. Immediately remove and put in the suribachi or mortar. Leave a couple of minutes to let cool.

Grind the sesame seeds. They will gradually get powdery, and will smell fantastic.

Add the sugar, and continue grinding.
Continue grinding until the sugar has disappeared into the sesame powder, and the whole looks quite grey.

Add the mirin and soy sauce, and grind to a paste.
Mix the sesame sauce with the asparagus. You may want to take a bit of care in arranging the asparagus attractively, since if you just dump it in a plate it may look a bit well, dirty. A white plate or bowl works best for this.
Notes
You can make this sesame sauce in advance and store it, well covered for up to a week in the refrigerator.
To make a longer keeping sesame paste, grind the sesame seeds even more, add sugar and a bit of salt (about 1 Tbs. of sugar and 1/8th tsp. of salt per 3 Tbs. of sesame seed). Store in a covered jar in the refrigerator. This is great on toast, and you can just add a bit of mirin and soy sauce and optionally dashi stock to make a sesame paste on the spot.
Language trivia: the term goma o suru or goma suri (to grind sesame) means to pay empty compliments to someone higher up in the ranks. It's sort of equivalent to the English term suck up.
Submitted by
maki
on 2007-03-13 14:04.
Filed under:
japanese
lighter
vegetables
vegetarian
bento
vegan
gluten-free