Japanese-style cucumber salad with a very versatile sesame dressing
The weather has finally gotten warm around these parts after a very cold spring, and we're eating more summertime food now. This is one of our favorite salad-type dishes. The sesame dressing is very versatile, and you can use it for any manner of things, but here I've just used it with cucumber.
Tip: the longer you let it rest before serving, the saltier the cucumber will get, so if you want to serve it as a salad you'd want to combine the cucumber with the dressing just before serving. On the other hand, if you let it marinate in the refrigerator the cucumber becomes assertive enough to eat with plain rice as part of a Japanese meal.
Recipe: Japanese-style cucumber salad with sesame dressing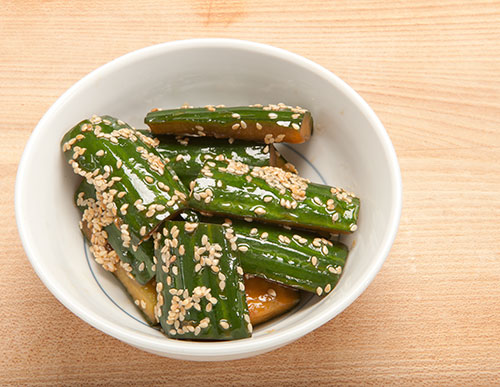 A simple cucumber salad with a very versatile sesame dressing. I like this with a ton of toasted sesame seeds.
Type: Salad, Japanese, vegan (use seaweed based dashi granules)
Prep time: 10 min :: :: Total time: 10 min
Yield: 2 to 4 servings
Serving size: 1/2 to 1 cucumber
Ingredients:
2

long English-style cucumbers

2 tablespoons

lemon juice

2 tablespoons

rice vinegar or white wine vinegar

2 tablespoons

soy sauce

a pinch

dashi stock granules (optional)

2 teaspoons

sugar

(or equivalent sweetener of your choice)

1 teaspoon

sesame oil

3 to 4 tablespoons

toasted sesame seeds

a pinch

salt (optional, to taste)
Directions:
Cut the cucumbers in half lengthwise, and scoop out the seeds with a teaspoon.

Cut up the cucumber into bite sized pieces. Bash them up a bit with the side of your kitchen knife - this allows the dressing to sink into them.

Toast the sesame seeds in a dry frying pan, shaking occasionally, until a few seeds pop. Immediately transfer the seeds to a plate (if you leave them in the pan they may get burned).

Mix the lemon juice, vinegar, soy sauce, dashi stock granules and sugar together until the sugar has dissolved. Taste, and add a pinch of salt if you think it needs it. Add the sesame oil (or you can just drizzle on the sesame oil when you assemble the salad).

Combine the cucumbers with the dressing and the sesame seeds. Serve right away or leave to marinate in the refrigerator for a stronger flavor.
Notes
If you're using small Japanese cucumbers any other small, immature cucumber, you don't need to de-seed them. Just cut them up and bash a bit. (This bashing thing, is a real cooking method in Japanese cooking. It helps the flavors to penetrate the bashed up vegetable better.)
If you use white balsamic vinegar instead of the rice or white wine vinegar, you can decrease or even omit the sugar.
Add some shredded poached chicken breast to the cucumbers for a more substantial salad.
This sesame dressing is very versatile. Try it with any number of vegetables. It's great on a leafy green salad. You can increase the sesame oil if you want it to have a richer sesame flavor. Add some chili pepper flakes to make it spicy, and/or some grated garlic for a more Korean-tasting twist.
(extra metadata for search engines...)
By Makiko Itoh
Published: June 24, 2013
Submitted by
maki
on 2013-06-24 13:04.
Filed under:
japanese
vegetarian
summer
vegan
salad