Mushipan: steamed bread/cake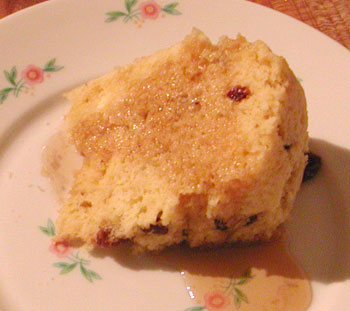 For Japanese kids, oyatsu is a big part of the day. It means snack time, and is usually in mid-afternoon. It's sort of like afternoon tea or elevenses in England. My mother usually was working when we were growing up so she didn't have much time to make us homemade oyatsu, but when she did one of the things she'd make was mushipan.
Mushipan literally means steamed bread, but it is more cakelike than bread-like. It's closely related to English steamed puddings. Sweet steamed bread/cakes are sold in Chinatown bakeries, next to the char siu bao, steamed roast pork buns. (I'm also a big fan of steamed buns, and I'll blog my recipe for that sometime.) Since it is quite filling, I wouldn't really recommend it for dessert - it's better on its own, as an afternoon snack. You could even have it for breakfast.
This mushipan has brandy-soaked raisins in it, making it look quite a lot like an English spotted dick. It's rather neutral in taste since it's not that sweet, making it a wonderful vehicle for all kinds of sweet things you can put on it. The slice in the picture above has some maple syrup that Max brought back from Ottawa a few months ago. It's also delicious with honey or preserves. My favorite way to eat this is to sprinkle it quite thickly with sugar while it's still steaming hot, then to squeeze some lemon juice over it. This forms a sort of lemony syrup and is quite addictive. You can keep this for a day; heat it up in the microwave covered in plastic wrap for a minute or two.
Since the original recipe is Japanese, the measurements are in grams rather than cups. I think you can safely round up the ounce measurements (7 ounces instead of 6 1/2, etc.). The batter is steamed in a sieve or colander, that's lined with a clean kitchen cloth (linen or cotton) or cheesecloth. The resulting bread/cake is round and quite adorable.
Mushipan, steamed bread/cake
Special equipment: a metal sieve or colander, about 20cm / 8 inches in diameter; a clean linen or cotton kitchen towel or cheesecloth, big enough to line the sieve or colander and to wrap around the top.
180g / 6 1/2 oz. white cake flour or all-purpose flour
3 tsp. baking powder
4 eggs, separated
160g / 5 1/2 oz. sugar
100g / 3 1/2 oz. butter
4 Tbs. raisins
2 Tbs brandy
1 tsp. pure vanilla extract
Soak the raisins in the brandy for about an hour before you start making the cake.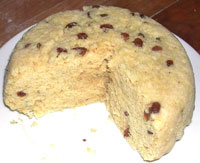 Sift together the flour and baking powder. Cream together the butter and half the sugar with a whisk, until fluffy. Slowly add the egg yolks, one by one to form a fairly smooth mixture. Add the brandy that the raisins were soaking in, and the vanilla.
In a separate, clean bowl, whisk the egg whites until foamy. Add the rest of the sugar and whisk until soft peaks form.
Mix half of the egg white mixture into the yolk-butter mixture, then gently fold in the rest of the egg whites. Sift in the flour-baking powder mixture, folding in but not mixing vigorously (you don't want the batter to become completely flat) just until incorporated. Fold in the raisins.
Moisten the kitchen cloth or cheesecloth in hot water, and wring out well. Line the sieve or colander with the cloth and pour in the batter. Fold the cloth loosely over the batter. Steam in a steamer for about 25 minutes, until it springs back when you press the middle with your finger.
Serve steaming hot with honey, maple syrup, sugar and lemon, preserves, or whatever strikes your fancy.
Submitted by
maki
on 2004-03-02 22:45.
Filed under:
bread
japanese
snack
quickbread
cake