Menchikatsu (or Menchi katsu)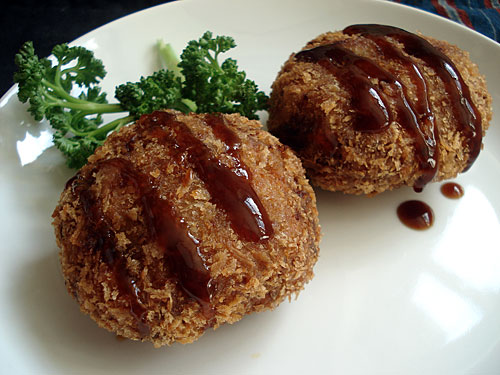 While I make Japanese style hamburgers all the time, I rarely make menchikatsu, its breaded and deep-fried cousin. I guess it's the breading and deep frying that deters me - it's a messy process, and I'm not sure it's worth the effort. So I made these ones for the blog! Fortunately they were consumed very eagerly.
The name is a combination of menchi or minchi, which comes from mince(d meat), and katsu, which comes from cutlet. So it's a minced meat cutlet.
The recipe for the meat mixture is the same as for the hamburgers, though you may want to moisten the breadcrumbs a bit more to give it a quite loose texture. You will also want to make each 'cutlet' smaller than the hamburgers. I made size little ones out of the same amount of meat that I made 4 hamburgers from. After dipping in flour, beaten egg and then breadcrumbs (panko are preferable here), it helps to let them firm up a bit in the refrigerator before frying.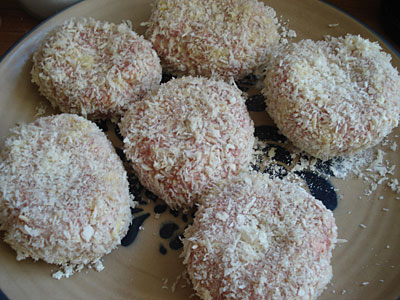 Then deep fry them in cooking oil (here I used peanut oil) at a medium-high temperature, about 150°C / 300°F, turning several times, until golden brown on the outside. If you put a discreet hold in the center with a skewer or chopstick and the juice that runs out is clear, it's done.
The best sauce to put on these is plain old Bulldog tonkatsu sauce, sparingly. They're best freshly made and piping hot, but are also not bad cooled, so they are popular for bentos.
Making these brought back memories of growing up in suburban Tokyo. Menchikatsu and korokke (potato croquettes that are similarly breaded and deep fried) were commonly available at a butchers; I think the menchikatsu were 100 yen each, and the korokke 80 yen each. They were my mother's fall-back okazu, when she was too busy to make something else. I remember being sent on emergency early-evening runs to the butcher for menchikatsu and korokke for dinner. My mother never liked to resort to them, but us kids loved them. Menchikatsu and korokke are easily available from butchers, department store food halls, convenience stores (kombini) and supermarkets. They're usually sold readymade, but you can get them frozen and ready to fry at supermarkets too.
Submitted by
maki
on 2008-03-29 19:35.
Filed under:
japanese
yohshoku
meat