Double chocolate pecan brownie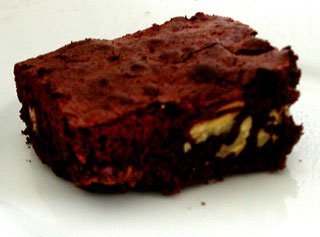 For Oscar night, I made these dense brownies. They disappeared very fast. The "double chocolate" part comes from the fact that there are two whole 100 gram (or 3 1/2 oz.) dark chocolate bars in it.
This is an extremely easy recipe. I don't even bother to chop the pecans with a knife; I just bash them in the bag. Same with the chocolate. For this reason, this would be a really fun thing for kids to make I think.
You can use chocolate chips instead of the bashed up chocolate bars, but I do like having some big chunks in there. The chunks melt while baking, and stay melted within the brownie, forming gooey pockets of pure chocolate. Also, the key to this brownie is to have the meanest, darkest chocolate you can stand.
You can substitute walnuts for the pecans.
Double Chocolate Pecan Brownies
2 100g / 3 1/2 oz. dark chocolate bars, with a high cacao content (70% and higher makes for a really intense experience)
3 large eggs
125g / 4 oz (1 stick) of unsalted butter
1/4 cup plain flour
1/4 cup cocoa powder
150g / about 4 oz pecan halves (about 1 cup)
1 tsp salt
1/2 cup white sugar
1/2 cup light brown sugar
Equipment: a 9 x 9 inch or 25 x 25cm cake/brownie pan
Preheat the oven to 160 ° C / about 350 ° F. Line your brownie pan with a silicon baking sheet or butter and flour it.
Bash the chocolate bars, still in their wrappers, hard against a counter top or table until they are in small pieces. If the wrapper breaks, put the chocolate in a plastic bag and bang away. Bash the pecans in the same way. You want the nuts to be fairly chunky still, not pulverized.
Melt the butter and one of the chocolate bars over a low heat, stirring, until completely melted. In the meantime, combine the flour, cocoa and salt. Add this to the melted butter and chocolate. Add the sugars and blend well. Take off the heat and allow to cool a bit.
Add the eggs and mix well until combined. Stir in the pecans and the rest of the chocolate, and pour the batter into the brownie pan, and bake for about 40 minutes.
Let cool and cut into 16 squares.
Submitted by
maki
on 2005-03-01 01:15.
Filed under:
chocolate
dessert
baking
nuts