This was me, yesterday.
I am mostly a plan-ahead, cautious type of person. But once in a while I like to do something just on a whim. Usually these whims turn out to be wonderful. (Sometimes not.)
Anyway, a couple of days ago, near the end of a rather difficult business trip, with my wrist/hand/arm still feeling stiff and wonky and feeling rather sorry for myself, I logged onto my [insert frequent flier miles program name] account and saw that I had a whole bunch of miles nearly expiring. And I decided I needed to spend them. Now.
So, some 48 hours later, I was at a location doing this: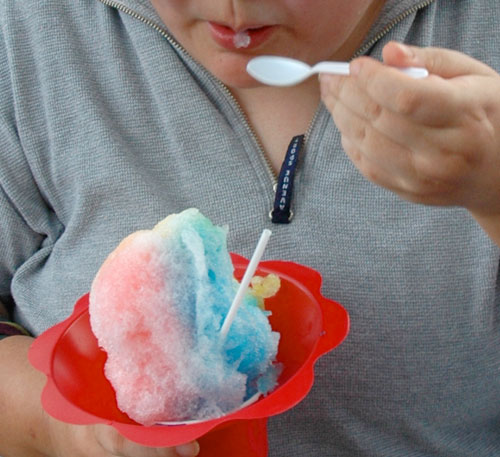 Where might this be?
(Yes, my wrist/arm now feel a whole lot better - thank you! May need some attending to when I get home but am functional. However, blog updates may be a bit sporadic until next week as I may be spending a lot of time you know, chilling out. Lots and lots of chilling out.)
[Update:] Yes about half of you were right. I am in Hawai'i, on Oahu to be exact. My FF mileage didn't quite add up to a trip to Japan (but that's ok...I'm planning a serious long trip there next year anywho). But no one got the shaved ice shop right though :) It's from Aoki's, just a few steps down from Matsumoto's. More to follow.
Submitted by
maki
on 2008-11-14 16:32.
Filed under:
food travel
usa
hawaii