Corn cream soup with intentional lumps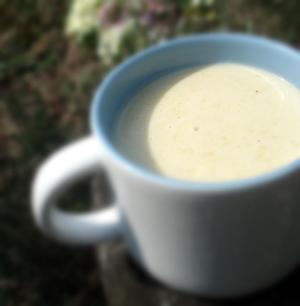 What's the soup of your childhood? The one that your mother made for you when you had a cold, needed cheering up, or just as a treat? For me, there's no question: it's corn cream soup.
Corn cream soup (and yes, it's called like that, not 'cream of corn soup' or 'creamed corn soup') belongs to the _yohshoku_ category of Japanese home cooking. It's an old fashioned, milk based potage, with creamed corn in it. It smells milky, and tastes sweet and savory. It's loved by Japanese kids.
Now, while my mother was a pretty good cook generally, she did have trouble getting some things right. Her curry for instance was always rather watery. And her corn cream soup, instead of being silky smooth, always had little lumps of undissolved roux. I loved those little lumps though - they tasted like tiny dumplings. Later on when I started to make my own corn cream soup I followed recipes, so my corn cream came out smooth and lumpless. That was fine, but I missed the lumps from my childhood memories. So, I incorporated them back.
Everyone uses canned corn to make a corn cream soup. You can be fancy and use fresh, but that lifts this humble soup into the realm of gourmet special-occasion big deal cooking, which is not what my memories are about at all. I have adjusted the usual way of making this soup by using whole corn rather than creamed, since whole corn cans have more actual corn in them and I suspect less added sugar, and I like the mixture of crushed/creamed and whole corn niblets. Besides, creamed corn cans are unheard of here in Switzerland.
Corn cream soup with intentional lumps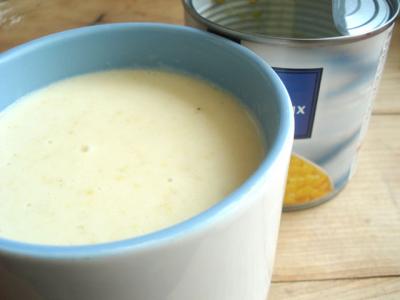 1 can of whole corn kernels
4 cups (about 1 l) milk, whole or 2%
1 medium onion
1 Tbs. butter
1 medium potato
1 bay leaf
1 stock cube
salt and pepper
Optional lumps:
2 Tbs. butter
4 Tbs. white flour
Equipment: immersion (stick) blender, regular stand blender or food processor
Slice the onion thinly. Cut the potato into small chunks.
Heat the butter in a thick-bottomed pan. Add the onions and sauté until the onion is translucent. Add the milk and all the other ingredients, reserving about 2 tablespoons of the corn kernels for later. Heat up slowly over medium-low heat, and simmer until the potato is totally tender. Take the bay leaf out.
In the meantime, make the lumps. (This is basically a badly made roux.) Melt the butter in a small non-stick pan over medium heat. Add the flour. Blend and stir until you have a rather lumpy mix. Set aside.
Blend the soup with an immersion blender, or in a regular blender or food processor, until smooth. Add a little water if if it's too thick. Add the reserved corn kernels.
Add the lumpy roux and stir briefly, but not too well - you don't want it to disperse evenly in the hot liquid, you want it to remain in little lumps.
Season with salt and pepper (taste first since the stock cube is salty). Take off the heat (if you let it keep cooking it will curdle).
Makes 6 servings.
You can make it prettier by sprinkling some chopped parsley on top, but I like the minimalist butter-yellow look.
Submitted by
maki
on 2007-03-30 15:03.
Filed under:
japanese
soup
yohshoku