Drunken Tangy Chicken Wings with Carrots (an everyday favorite)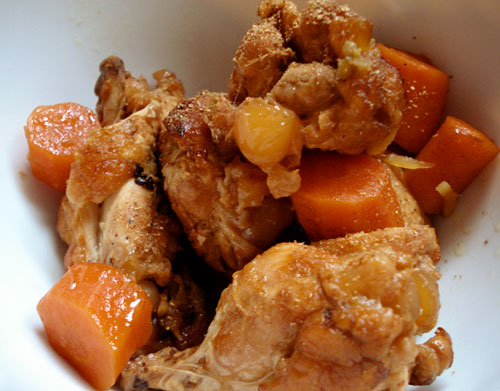 This is another everyday go-to dish around here. Chicken wings are not nearly as cheap as I remember them being during my frugal student days, due to the popularity of things like Buffalo wings. They're still a pretty good deal though. While we love crispy oven-fried wings and such, these deeply flavored braised wings are a great leave-to-cook favorite, especially when the weather gets cold.
This is a dish that is very easy to throw together. The only effort involved is in browning the wings and roughly chopping up the vegetables. Besides carrots, you can put in onions, potatoes, turnips, and other root vegetables, though my preference is to keep it relatively simple so that the chicken is the main player, rather than it being a stew. It can be cooked on the stovetop or in a slow cooker - you can't really overcook it, since the gelatin in the chicken wings keeps everything moist and succulent.
There are nearly 2 cups of alcohol in this, but it doesn't taste alcoholic in any way. Most of the alcohol cooks away, leaving the flavor and sweetness of the sake, so you can give it to kids without any worries. The vinegar and lemon juice in the cooking liquid cuts down on the fattiness and adds a little underlying tang.
Recipe: Drunken Tangy Chicken Wings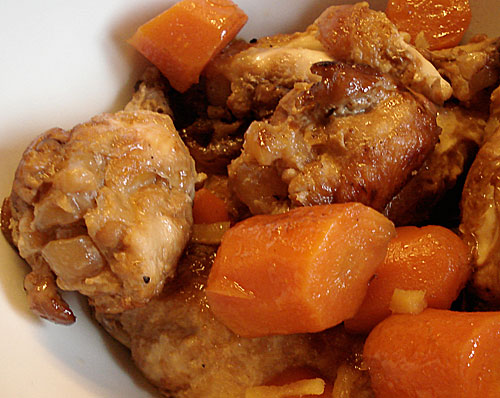 1 kg / 2.2 lbs. chicken wings
4-5 carrots
1 adult thumb sized piece of fresh ginger
1 1/2 cup sake - you could use a moderately sweet white wine instead too, even leftovers
1 1/2 cups water
1/4 cup mirin or sweet sherry
1/4 cup soy sauce
2 Tbs. rice vinegar, or apple cider vinegar
2 Tbs. lemon juice
Sansho pepper or black pepper
Julienned ginger or lemon peel
Suggested equipment: a large frying pan; a heavy bottomed pot like a Le Crueset or an electric slow cooker (crockpot)
Cut the wing tip section of the chicken wings off - save them in the freezer for making a soup. Cut the two remaining sections apart at the joint.
Peel and roughly cut up the carrots into chunks. Peel and finely julienne the ginger.
Put the chicken wings in one layer in the frying pan (add a bit of oil to the pan if it's not non-stick). Brown the wings on both sides. Take out the wings, drain out any grease in the pan, and return the pan to the heat. Add the ginger and carrots and sauté briefly (the pan should be oily enough still so you don't need to add more oil).
Put all the liquid ingredients into a pan and bring to a boil. Put the chicken, vegetables, and liquid all into the cooking pot you'll be using. If you are using a crockpot/slow cooker, you can just set it to cook for at least 2 hours. If cooking on the stovetop, lower the heat to a simmer and cook for 1 hour with a pot lid smaller than the one that came with the pot sitting right on top of the contents (an otoshi-buta - see the end notes here) with sansho pepper or black pepper, and optionaly garnish with finely julienned ginger or lemon peel. (If you can get a hold of it, yuzu peel is extra nice).
You can store this in the refrigerator for a few days, immersed in the cooking liquid. The liquid will firm up into a dark jelly-like state, which you can use as a basis for soup or sauce (scrape off the fat that will form on the surface).
To serve, arrange the chicken pieces on your serving dish or bowl, and arrange the carrots attractively around. Serve with hot rice and a side salad or a vegetable side dish (broccoli with wasabi sauce goes particularly well). Also good in bento, well drained of the cooking liquid.
Submitted by
maki
on 2008-10-23 14:46.
Filed under:
japanese
winter
chicken
favorites
slowcook