Konnyaku no Tosani and Konnyaku Kinpira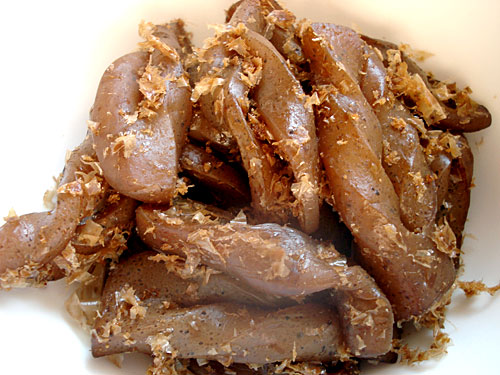 I have talked about konnyaku before, the almost zero calorie, rubbery-jellylike food that makes me really wonder at the ingenuity of people of the past. Why would they think that an almost flavorless, almost nutrient free substance would be edible?
Well, konnyaku is not about its innate flavor - it's all about texture. And since it really has so little calories, it's a great addition to meals for the dieter, giving a feeling of fullness.
Here are a couple of easy and traditionally Japanese side dishes uses konnyaku. Konnyaku no tosani is konnyaku that is cooked in a flavorful liquid and tossed with plenty of katsuobushi (bonito flakes). __Konnyaku kinpira_ is konnyaku sautéed with sesame and chili pepper.
I tend to make konnyaku dishes when I want to really watch the calories, but still have a hearty appetite.
Recipe: Konnyaku no Tosani (Konnyaku with bonito flakes)
Tosa (土佐)is the name of the region that is currently Kouchi prefecture, known for katsuo or bonito fishing, hench the name.
1 large block of konnyaku
2 Tbs. soy sauce or tamari
1 Tbs. mirin
1 Tbs. sake
1/2 cup dashi or water (or water with a pinch of dashi granules)
1 Tbs. sugar
2 small packets, or a large handful of katsuobushi (bonito flakes)
Optional: 1 tsp. dried red chili flakes
Drain and rinse the konnyaku. If you have a thick block (about 5cm/ 2 inches thick) cut in half lengthwise, then cut into thin strips.
This is optional, but if you cut the strips into tanzaku they are quite pretty. Take a look at this diagram: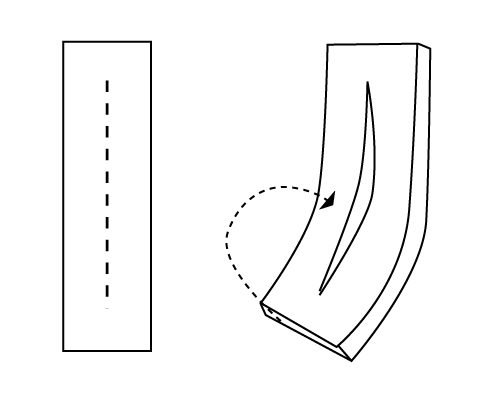 Make a cut in the middle of each slice, leaving a little bit uncut at both ends. Then, turn one end into the cut slit.
They turn into little twisted rope-like shapes, like these.
(Alternatively you can just cut the konnyaku into cubes or strips, or even tear the konnyaku into chunks with your hands and a spoon. For this bento I used cubed konnyaku no tosani.)
Boil the cut konnyaku shapes in plenty of water for about 5 minutes, then drain well.
Put the rest of the ingredients except for the bonito flakes in a pan and bring to a boil. Put the konnyaku in, and simmer over medium heat, stirring occasionally, until the liquid is almost all gone.
Add about half the bonito flakes and mix well - the bonito flakes should absorbe any remaining liquid. Top up with the rest of the bonito flakes and mix again. Serve warm or at room temperature.
Recipe: Konnyaku and Atsuage Kinpira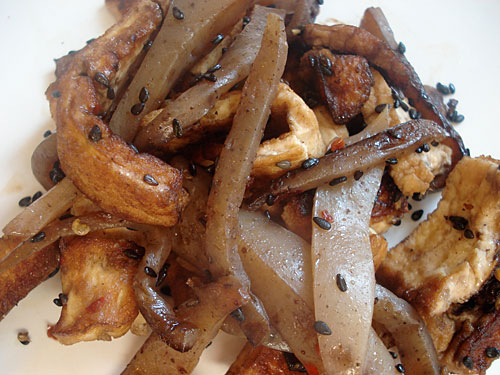 The world kinpira indicates that it's a spicy stir-fried dish with chili and sesame. (See carrot kinpira on Just Bento.) I've combined konnyaku with thick fried tofu (atsuage) here, but you could make it with just konnyaku too.
1/2 large or 1 small (thin) konnyaku block (about 200g)
1 small block (about 200g) atsuage or thick fried tofu
1 Tbs. sesame oil
2 Tbs. soy sauce
2 Tbs. mirin
1 Tbs. sugar
2 Tbs. sesame seeds, black or white/brown
1 tsp. dried red chili pepper flakes or 1 Thai chili pepper, finely chopped
Cut the konnyaku into thin strips. Boil in plenty of water for about 5 minutes, and drain well.
Cut the atsuage into thin strips.
Put 1/2 of the sesame oil into a large frying pan. Put in the atsuage strips, and gently fry until brown and firm. Take out the atsuage.
Put the rest of the sesame oil into the pan and add the konnyaku. Stir-fry until the konnyaku strips get a bit lighter in color all over. Add the atsuage strips back in the pan, and add the soy sauce, mirin and sugar, and toss around well to coat everything. Add the chili pepper and sesame seeds and toss toss toss.
Either dish makes a nice space-filler in a bento box, and will last for a few days (well covered) in the refrigerator.
Just one caveat about konnyaku: be sure to chew it well before swallowing. You will likely not choke on konnyaku strips, as the shape does not lend itself to clogging up your esophagus like fruit-flavored konnayku jellies can. But if you don't chew, the pieces will just travel down your gut..more or less whole. Which, in some people, may cause some distress. The same goes for the popular shirataki noodles by the way.
Submitted by
maki
on 2008-10-20 18:41.
Filed under:
japanese
lighter
washoku
vegetables
kinpira