MasterChef Goes Large 2007 (Season 3) starts today
Update: The season is over and the winner is announced.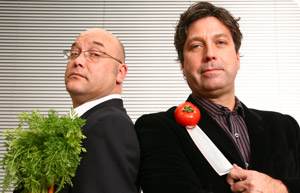 MasterChef Goes Large, the best competitive cooking show on television today*, starts its third round today. If you live in the U.K. or anywhere else where BBC Two is viewable (that includes Switzerland if you have a satellite dish aimed at Astra 2D or the right package from Cablecom) don't forget to tune in, or set your recorders, for 7:30 CET / 6:30 British time tonight! There will be a special, MasterChef - What The Winners Did Next, right after the first episode of this year's competition, following up on the three finalists from Season 2.
I won't be doing all the daily challenges as I did last year, since it sort of took over my life for a few weeks and I'm too busy, but I will probably pick out one or two interesting ingredient sets a week to try out. Following along last year really helped to expand my repertoire and made me think about what it takes to come up with 'original' menus and dishes on the spot. I highly recommend it if you're up for a great cooking challenge.
(It's much better than Top Chef, Iron Chef America, or any of the Food Network competition shows, and is on a par with (but totally different from) the original Japanese Iron Chef. Yep I've seen them all. I know, I need a life.)
Submitted by
maki
on 2007-01-22 14:49.
Filed under:
books and media
masterchef
tv
bbc