Menu For Hope raffle results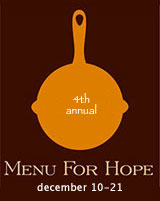 The raffle results for Menu For Hope have been announced on Chez Pim. This year, $91,188.00 was raised. Wow. Thank you to everyone who bought raffle tickets, and to my fellow food bloggers who offered such a great variety of prizes - a collective pat on our well padded backs!
The winner of the Just Hungry prize of a box of 53 bars of Swiss chocolate__ is __Sonja. Sonja please get in touch with me at maki at makikoitoh dot com so we can discuss the where, how and whats of your prize. (I will not, however, be responsible for Sonja's dental bills at the end of the year :))
Submitted by
maki
on 2008-01-11 07:43.
Filed under:
menuforhope