Mochitsuki in your neighborhood?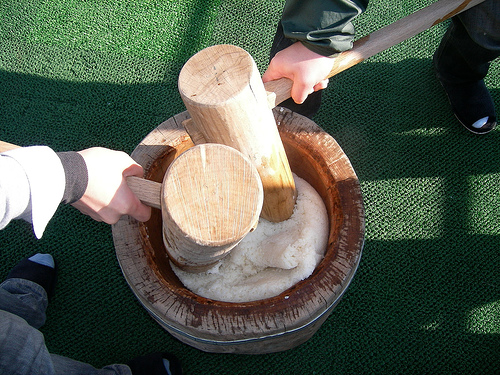 Mochitsuki (餅つき)is a New Year's ritual in Japan, where people get together to pound some steamed 'sweet' or sticky rice into gooey, sticky mochi in a big wooden barrel. Nowadays most mochi is made mechanically, but this energetic manual pounding is still practiced all over Japan. (My aunt and uncle still do it, even though they are both in their 70s.) If you've never had a chance to see a Mochitsuki in action, it can be really fun, with just a small thrill of danger (the mochi turner's hands could get crushed by the heavy hammer!)
This is the week to start looking for mochitsuki events where you are, even if you don't live in Japan. For example, in London, Japan Centre will hold their annual Mochi Pounding event in-store on January 2nd from 12 midday at 212-213 Piccadilly. In San Francisco, there will be a big Mochitsuki festival complete with taiko (big drums) at the Asian Art Museum on January 3rd.
I haven't been able to find a lot of info about mochitsuki events online that are current (I've found a lot of reports about past years' events) so look in your local papers, Japanese societies, and so on to see what's going on. (If you find out anything, please let us know in the comments!)
Submitted by
maki
on 2008-12-29 14:15.
Filed under:
food travel
japanese
uk
new year
holidays