Oranges and lemons, with lemon squares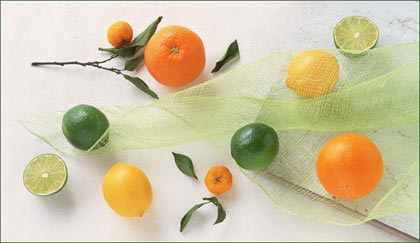 [Update:] A few people found this recipe to be not sweet enough. If you like your lemon bars to be a bit sweeter, try this recipe instead.
It's winter now and not much is in season fruit-wise. Of course we can get any kind of fruit and vegetables year-round now, but a winter strawberry is pretty tasteless. Fortunately, we have citrus fruits, shipped from warmer climates.
Alberto mentions the lemons of Capri on his blog Il Forno (with a delicioius looking recipe for a chocolate almond cake with lemon custard sauce), which brought back a flood of nice memories for me. When I was about 9, my parents took us on vacation to Italy. We stayed in Sorrento, and took daytrips. One of the daytrips was to Capri. All I remember of that day was being sick after going into the famous Blue Grotto, and the delicious lemonade my mother coaxed me into drinking afterwards. It more than revived me, and to this day that memory is what defines great lemonade for me. If I remember correctly, they made it by squeezing three or four whole lemons, dumping that into a glass of ice, with lots of sugar.
Another memory I have is of the big bowl of satsuma oranges (otherwise called tangerines or clemantines), that always sat on the kotatsu at my grandmother's house. A kotatsu is a table covered with a padded duvet of sorts, with a heating element underneath. Since the house was not heated, it was a really comfortable to snuggle up with our legs tucked under the kotatsu, eating orange after orange, until our fingers turned yellow.
Lemon squares are a very easy to make simple dessert or snack, especially if you have a food processor. They are great to have for tea, and are very lemony. You can also make them with limes, which makes pretty pale yellow-green squares instead of pale yellow squares.
Lemon or lime squares
1/2 cup (4 oz, or 120 g) unsalted butter, cut into pieces
1 1/2 cups flour - cake flour, or all-purpose, not bread flour
1/2 cup icing (powdered) sugar
1/4 cup granulated sugar
1/4 tsp. baking powder
2 eggs
1 Tbs. flour
1/2 cups fresh squeezed lemon or lime juice
1 Tbs. grated lemon or lime rind
Preheat the oven to 350°F / 180°C. Put the butter, 1 1/2 cups of flour, and icing sugar into the food processor. Process until mixed and crumbly. Alternatively, mix the ingredients together with your hands until crumbly. Turn out into a 9" x 9" / 20cm x 20cm square baking pan. Press the mixture around the bottom and sides. Bake for about 15 minutes until lightly browned.
In the meantime, make the filling. Add the remaining ingredients to the food processor and process until blended (or mix by hand). Pour the filling into the crust, and bake for an additional 15 to 20 minutes. Cool and cut into squares.
Makes 16 squares.
Submitted by
maki
on 2004-01-07 03:59.
Filed under:
dessert
snack
cookies
sweet
lemon