Smoked salmon temari zushi: Ball-shaped sushi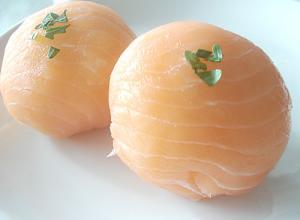 Following up on the previous recipe for shell shaped sushi, here is another kind of sushi that's great for parties. Temari are small cloth balls made from leftover scraps of kimono fabric, and temari zushi are meant to look like these colorful toys. You can make temari zushi with any number of things, such as thinly sliced sashimi grade fish, boiled and butterflied shrimp, thinly sliced and cooked or uncooked vegetables, and even thin slices of cheese.
For these, I've used thinly cut slices of pale pink smoked salmon, with tiny amount of cream cheese inside, rather in the same vein as a New York Roll - quite non-traditional but it's a great combination. The key is to make the temari zushi on the small side since they are quite rich.
As with the hamaguri-zushi, these don't require any soy sauce for dipping.
Smoked salmon temari zushi
Equipment:
Tiny bowl or small teacup with about 1/3 to 1/2 cup cup capacity
Plastic cling film
The procedure for making these is the same as for Onigiri 2.0, but even easier. A small teacup is lined with plastic wrap, then a slice of salmon, and filled with rice. Everything is gathered up and squeezed in the plastic wrap, and formed into a little ball.
Line the cup or little bowl (I used a tiny glass bowl that I use for holding small amounts of ingredients and such when cooking) with plastic cling film, then a slice of smoked salmon.

Fill with sushi rice. Poke a hole in the middle and put about 1/2 teaspoon of cream cheese in there. I used a kind with olive bits in it, which makes it even more interesting.

Gather up the cling film and twist tightly, and form into a ball. Unmold and sprinkle a tiny bit of green if desired.
If you are bringing these to a picnic or something, leave the plastic wrap on. Try to keep cool until you eat it, since this amount of smoked salmon on the outside will get nastily greasy if left too warm.
Variation
The pale pink sushi rice makes a subtle yet nice contrast to regular white sushi rice. You can make little balls alternating both, for a pretty display, to serve as a side dish or as the rice part of your bento box.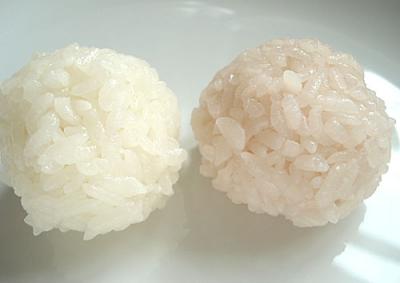 Submitted by
maki
on 2007-03-02 19:23.
Filed under:
japanese
party food
spring
rice
sushi
fish
bento