Sweet Potato, Coconut and Shrimp Miso Soup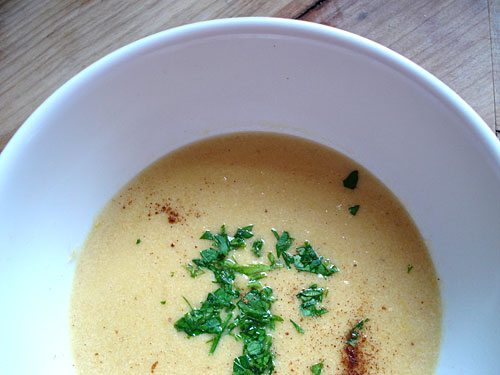 This rich fusion-esque soup is something I just came up with while fiddling around with the idea of a bisque-like soup without any cream or milk in it. After a few experiments, I'm happy with this version. I am not lactose-intolerent, but several members of my family are, especially my stepfather. Besides, even those of us with the sturdiest stomachs may have problems when there is tons of butter and cream involved.
This soup also happens to be quite frugal, since I use the shells and heads of peeled fresh shrimp that I stock up in the freezer to make the base stock. You don't even have to add any actual shrimp, though they can provide a nice texture contrast.
The key to this soup is to balance the sweetness that comes from the sweet potato and coconut milk with the spiciness of the cayenne or chili pepper, plus the sourness of lemon juice.
Recipe: Sweet Potato, Coconut and Shrimp Miso Soup
For the shrimp stock:
About 2 cups of shrimp shells and heads
1 small onion
1 celery stalk
Olive oil
1 bay leaf
Chop up the onion and celery, and sauté in the olive oil until limp. Add the shrimp shells and 5 cups of water. Bring to a boil, then lower the heat to a simmer. Simmer for about 20 minutes, skimming off the scum that rises to the surface. Strain through a sieve or a colander lined with a cheesecloth or gauze. You will have about 4 1/2 cups of soup stock. It will be more orange if you have more heads.
For the soup:
1 small onion, chopped
2 cloves garlic, chopped
1 large sweet potato (I used the white kind, but the orange kind will work too), peeled and chopped up roughly
1/2 large fennel bulb or 1 small fennel bulb, chopped up roughly (If you can't get bulb fennel, use a couple of stalks of celery finely chopped)
1-2 Tbs. Olive oil
The shrimp stock
1 cup coconut milk (use low-fat if you must, but full-fat will be richer)
2 Tbs. white miso
Juice of 1 lemon
Salt and pepper
Chopped fresh coriander or parsley
Hot red chili powder or cayenne pepper
A few shrimp (optional)
Equipment:
A heavy bottomed pan, or a slow cooker
A stick blender (mine is a 12+ year old Bamix that still works flawlessly)
In a large heavy bottomed pan (an enameled cast iron one such as Le Creuset is ideal) heat up the olive oil and add the onion. Sauté until limp, then add the other vegetables. Sauté until the vegetables are just turning a bit brown around the edges. (If using a slow cooker, do this part in a big sauté pan or frying pan or wok.)
Add the shrimp stock and bring to a boil. Lower the heat, and simmer gently until the vegetables are totally softened, about 30-40 minutes depending on how small you cut your vegetables.
With a stick blender, puree the soup until it's smooth. A few small chunks in there are fine. You can also puree it in batches in a blender.
Return to the pot and add the coconut milk. Dissolve the miso in a little of the soup, and add to the pot. Add the lemon juice and pepper. Taste and add salt if you think it needs it (probably around a teaspoon may be needed). You can add more lemon juice at this point too.
Optionally add a few small fresh peeled shrimp just before serving, and simmer just until the shrimp are cooked, a couple of minutes.
Serve topped with a sprinkle of hot chili pepper or cayenne pepper (or chopped fresh red chili peppers), and chopped coriander or parsley. Optionally drizzle a bit of basil scented olive oil or even butter on top. The only accompaniment you need is some good bread or plain rice.
Notes
If you want this to have an even thicker texture, add about 2 Tbs. of potato starch or cornstarch dissolved in a little water; simmer until the soup thickens. Add more of the starch-water mixture to your liking.
Submitted by
maki
on 2008-12-17 16:31.
Filed under:
soup
winter
fish
favorites
gluten-free
asian