Washoku, Japanese citrus and yuzu-cha (yuzu 'tea')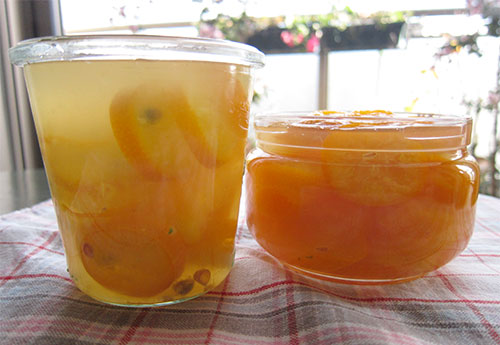 I'm catching up on a few things! First of all, I have a new article in a special Japan Times supplement. It tries to answer the question, "What is washoku?", or traditional Japanese cuisine. Back in December (previously) washoku was designated as a UNESCO Intangible Cultural Heritage of Humanity, and this is more about the subject.
Also (and I am a bit late posting this...) from this month my regular Japan Times column will have a recipe with the article. First up is an article about the different kinds of winter citrus fruit that you can get in Japan, plus a recipe for yuzu marmalade. Marmalade made with yuzu fruit is truly outstanding - so fragrant, with just a right amount of bitterness - so I hope you'll give it a try!
If you want to do something even simpler, try making yuzu-cha or yuzu tea. All you do is to freeze some roughly cut up yuzu, then add it to a sterilized jar. Add half its weight (or as much as you like) in sugar, and leave it somewhere where you will see it every day. You should use granulated or castor sugar (superfine sugar). The yuzu is frozen to break down its structure so that it releases more juice and oils, but you can just it fresh if you like.
Give it a good shake at least 2-3 times a day until the sugar has melted. You can use the whole fruit, as shown in the photo below (the container on the left), or use the peel only and the juice for something else. Store the jar in the refrigerator once the sugar has melted.
The yuzu-cha is added to hot water or tea to make a sweet 'tea', which is really refreshing. Try a tablespoon or so in a mug with boiling water.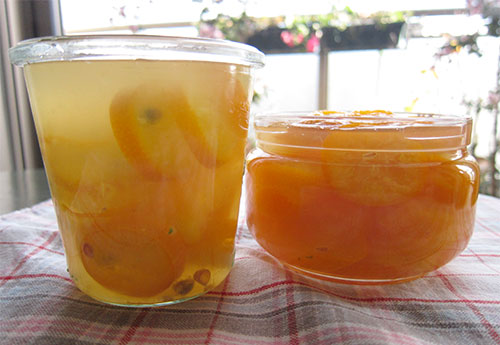 You can use honey instead of sugar, but I think in this case sugar works best since it doesn't interfere with the yuzu fragrance. (The jar on the right has kumquats in syrup. If there is interest I'll post that almost-not-a-recipe too.)
An even easier way to enjoy yuzu year-round (especially if you are trying to stay away from sugar...) is to peel off the yellow part or the zest thinly, and to just freeze it. You can julienne or chop it up if you like before freezing, or cut it up as you like when you use it. It adds that wonderful yuzu fragrance to soups and vegetable side dishes, to grilled or simmered fish, or anything you like. A bit of the peel floated on a cup of hot tea is really nice. We can get very expensive fresh yuzu here in France...it costs the earth, but I buy a few just because that fragrance is so irresistable.
And finally: just for people who have been kind enough to send me words of encouragement -- I just have two more seeks to go of this latest round of radiation therapy. It is making me kind of sick again but I can see the light at the end of the tunnel. Hopefully by spring I'll be out and about again!
Submitted by
maki
on 2014-01-24 16:45.
Filed under:
japanese
winter
washoku
writing elsewhere
japan times
citrus