The Winner of Masterchef 2007 is...
[Update: Steven has a very gracious post about his win on his blog.]
The winner of Masterchef 2007 is Steven Wallis, a trend analyst from London. Here's how he looked when he was proclaimed the victor.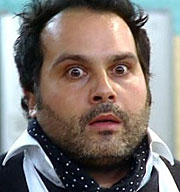 As with previous seasons the final three-course original menu test was the one deciding factor for determining the winner. While both Ben and Hannah tripped up a bit on at least one of their courses, Steven really excelled with all three of his dishes.
Unlike last season, where the perceived failings of eventual winner Peter in tasks leading up to that final three-course test lead to some dissatisfaction about his being declared the winner over crowd favorite (and hottie) Dean, this season's finalists were fairly even in the tasks during the final week. For me at least there was no clear favorite going into the final episode.
There were definite stylistic differences though. Ben was the avant-garde pseudo-molecular gastronomist - sort of like Marcel from Top Chef without the attitude and the hair. He had foam in one of his final dishes, and earlier on had an 'anise salt' on the plate of one of his desserts which got the jaded food critics who were the tasters on that occasion quite hot and bothered. His very ambitious dessert for the finals, which had a sweet biscuit (cookie for Americans) with olives in it and a sort of fennel marmelade, didn't quite do it for judges Gregg Wallace and John Torode (or as they are known affectionately on the BBC Food message boards, Pasty and Toad :)).
Hannah, labeled the 'country cook', seemed to do best when she cooked homey, no-frills, traditional English food. Although she did rise to the occasion at times and execute great looking fancy dishes, especially an amazing looking chocolate dessert plate that got raves from a panel of top class chefs including Raymond Blanc and Pierre Gagnaire, overall she had ongoing self confidence problems which lead to a lack of finish. Her final dishes, while really mouthwatering (especially that squid starter!) really didn't look as finished in presentation as those of the others, though the judges raved about the way they tasted. But, what ultimately let her down was the fact that she undercooked the lamb for her main dish. She had timing problems before, and it hurt her again at the last hurdle.
Steven, who had serious problems with time management mainly due to being over-ambitious or over-fiddly, really got it together for the final round. Here are his three winning dishes (screenshots here since the BBC Food site doesn't have them).
Starter: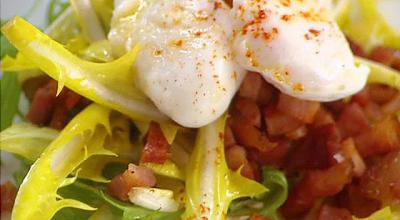 Dandelion salad with poached quail eggs, lardons and mustard vinaigrette (recipe on the BBC food site)
This really got my attention. So simple, yet potentially tricky - poaching quail eggs perfectly? Yipes! And it looked so amazing. It was as sophisticated as Ben's dishes, but not as precious, and more elegantly presented than Hannah'sdishes.
Main: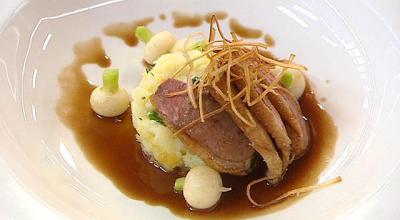 Duck breast with smoked potatoes, glazed baby turnips, leek crisps with buttered winter greens and duck jus (Recipe)
Smoked potatoes! I just have to try this. The baby turnips looked amazing (that's how they are often prepared in Japanese cooking, incidentally, with a bit of the green tops left on). The duck breast with jus sounded perfect.
And dessert: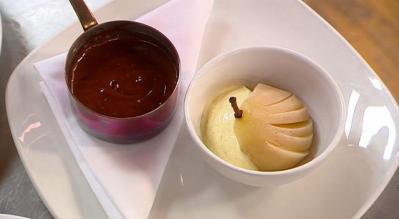 Poached pears with vanilla ice cream and a serious to-die-for chocolate sauce (a.k.a. Poires Belle Hélène) (Recipe)
Ohhh my god, was all I could think. Vanilla ice cream studded with vanilla seeds! Perfectly poached pear! And...that chocolate sauce!
So, Steven really deserved to win I think. I hope he can achieve great things from this.
Overall it was another great Masterchef competition. Once again they proved that it isn't necessary to put ridiculous gimmicky twists on things or to dwell on the interpersonal soap-opera aspects, to make a cooking competition exciting. If I lived in the UK I would seriously consider applying myself, but alas, unless they extend their eligibility to the rest of Europe that is not possible. Even if one doesn't win, if one can make it to the finals, the experiences that contestants get to experience are just amazing. I'm not sure about the tasks like cooking for an army battalion or lunch for schoolkids (though both of those would be a serious challenge and could be fun), but what serious cook wouldn't love to do things like this:
Work in a starred restaurant kitchen. The three finalists got to work a lunch shift at three starred Paris restaurants: Le Meurice, Hélène Darroze and Le Relais d'Auteuil, and had the respective head chefs of said restaurants to comment on their dishes.
Be judged by a panel of top class chefs like Pierre Gagnaire, Raymond Blanc and Michel Roux.
Get a personal instruction session with Heston Blumenthal (that was in season 1)
Cook for dignitaries or food critics in settings like the Ritz, the Savoy, or even 10 Downing Street - for Tony Blair and the Irish Prime Minister.
I guess the only minor nitpick I have is that the winner seems to be determined 100% by the two main judges, Gregg and John, who have their own personal prejudices and such. It would be fun to invite in a guest judge or two with real say in the proceedings, especially for the final round.
My predictions for where the three finalists will end up, culinary career-wise:
Steven - becomes a 'food consultant'
Ben - becomes a caterer in Cheltenham (where he has a cheese shop)
Hannah - gets hired as the head chef in a historical country estate-turned-catering hall (she looks the part)
Links
All four finalists from this year have blogs:
Official site links:
Submitted by
maki
on 2007-03-16 05:55.
Filed under:
books and media
masterchef
tv
bbc