Winter fish article in the Japan Times and an evening meal at my mom's
I've been so busy these last few days trying to cram stuff in (while also battling a strained back) before I go back home in a week, that I completely forgot to mention that there is another new article and recipe (actually two recipes) by me in the Japan Times, about winter fish and how to cook it. The main recipe is for a really simple but very tasty marinated buri (yellowtail), and there are also instructions for how to grill a whole fish such as mackerel. The marinated buri recipe can be adapted to any oily fish such as salmon or swordfish, and is really terrific in bentos.
Here is how we had the marinated buri (not the same one in the Japan Times article photo, but very similar) one night.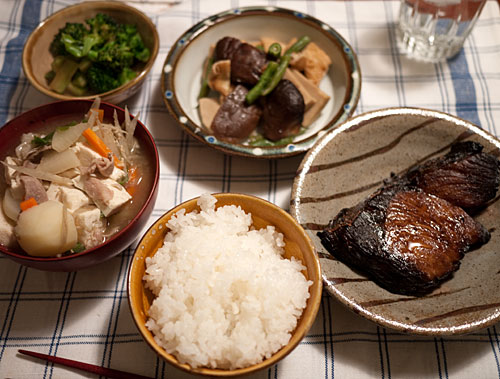 In the center is a bowl of plain shinmai or new harvest rice. There's a steaming bowl of kenchinjiru soup with tons of vegetables; some boiled broccoli with a bit of soy sauce, dried shiitake mushrooms and _koyadofu_ (freeze-dried tofu) plus a handful of green beans simmered in dashi stock with a bit of soy sauce and mirin; and last but not least, the marinated buri.
This is a fairly typical dinner at my mother's house - a lot of food but pretty healthy. It looks like a ton of work, but it's not too bad, since the simmered mushrooms and tofu was made in advance (refrigerator stash) and the fish had been marinated in advance of course. The rice was rinsed and put in the rice cooker with the timer set so that it finished cooking around dinnertime. It took us about 20-30 minutes to cook and assemble this whole meal. It was of course, delicious! I really love oily fish marinated like this. It has crispy-salty-sweet bits on the surface and is creamy and rich inside.
Afterwards, we had some fresh kaki (persimmon) for dessert. Later on we all nibbled on some pound cake that I had baked. Despite the frequent evening snacking and meals centered around rice or noodles almost every day, my blood sugar levels are holding at just about high-normal level since I got to Japan. Go figure.
(See also: The anatomy of a Japanese meal.)
Submitted by
maki
on 2010-11-30 06:11.
Filed under:
japanese
fall
winter
fish
japan
seafood
washoku
in the media
writing elsewhere
japan times