Late Spring Makeover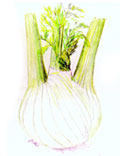 It's been more than a year since the last design for this site was implemented, so it's about time for a new one. I managed to break the whole site horribly earlier today, especially in Internet Explorer, but it should be fine now. If the pages look wonky please try clearing your browser cache. It should look rather green, since at the moment I am really into green, especially of the vegetable variety.
Anyway, please enjoy the greenness. If something is really severely broken please let me know.
Submitted by
maki
on 2006-05-23 21:48.
Filed under:
site news