Book review and giveaway: Izakaya, the Japanese Pub Cookbook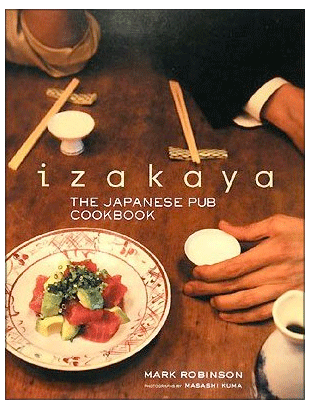 When a Japanese person dreams of quitting his or her rat-race job and opening a restaurant, the type of restaurant they usually envision is either a kissaten or kafe (a café-restaurant) or an izakaya. An Izakaya (居酒屋)is a small traditional pub that serves food, rather like a Spanish tapas bar. Many are quite tiny, with just the counter and maybe a few tables. The best ones are run with a lot of passion and love, and have fiercely loyal customers.
Izakaya, the Japanese Pub Cookbook conveys the atmosphere and love of food and good sake that are hallmarks of good izakaya perfectly. Written by Mark Robinson, an Australian journalist who fell in love with izakaya establishments in Tokyo, with gorgeous photography in both color and black and white by Masashi Kuma, it is part cookbook and part ode to the cult of the izakaya. You don't just get recipes here, even though it's called a cookbook. There are profiles of izakaya masters, useful advice on izakaya etiquette, notes on sake types, anecdotes and a lot more. I think it can reside as happily on a bedside table as in the kitchen - a quality I look for when I buy cookbooks.
The recipes themselves vary in difficulty. The main difficulty you will encounter is the availability of ingredients. But the photos and descriptions are so enticing, that you'll want to try them out anyway. And there are plenty of simple, home-cooking type recipes here, since izakaya cooking is nothing fancy. It's really a refined form of good old 'mom's' home cooking, as opposed to the haute cuisine that is served in formal restaurants - friendly and accessible.
Some recipes that caught the eye of The Guy, who just loves this book (and loves sake more than I do):
Japanese Style German Potatoes (potatoes with onion and bacon, flavored with soy sauce and butter)
Motsu Nikomi (Beef intestine stew)
Ichiyaboshi (Overnight dried fish)
Simmered Eggplant and Pork Loin
Gomadare Udon (Udon noodles with spicy sesame sauce)
Another likely outcome of reading this book is that you'll start researching airfares to Tokyo right away. I'm scheduled to go to Japan for a long-delayed satogaeri (homecoming) in the new year, and it reminded me to make some time for a little izakaya-hopping, even though I'm not much of a sake drinker.
Izakaya: the Japanese Pub Cookbook
Author: Mark Robinson
Photography: Masashi Kuma
Publisher: Kodansha International
And...of course there's a giveaway!
Yes my friends, I have one copy of the book to give away, courtesy of the publisher. If you would like to get your hands on this lovely book, just leave a comment here. Make sure to include your email address in the comment form section that says email address (not sure why many people miss it...but well, don't). And, to make it more fun, tell us what your favorite tipple is, and what you like to eat with it (doesn't have to be Japanese)!
The deadline for getting your comment in is 23:59:59 CET on Friday, September 18th. (Note: There was a problem with the spam filters protecting this site yesterday which preventing people from commenting, so I've extended the deadline by a day.)
The giveaway is now closed. The winner will be announced next week. Thank you for entering!
Submitted by
maki
on 2009-09-10 12:48.
Filed under:
books and media
japanese
washoku