Celery with chili pepper pickles (Serori no pirikara zuke)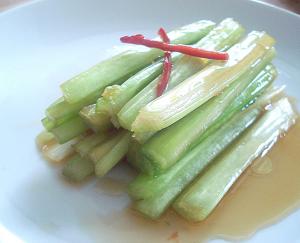 Celery isn't a very Japanese vegetable, but with the addition of the right flavors it can be turned into a refreshingly crunchy pickle that goes well with white rice, which is the base criteria for determining whether a pickle fits a Japanese meal or not. Besides, I always seem to have some celery in my fridge (who doesn't?), and this is a good excuse to use some up.
This is a nice salad-like pickle, that's best eaten with some of the pickling liquid spooned like dressing over the top. There's a nice bite and a color zing from the thin slivers of red chili pepper. (Pirikara means spicy-hot.) There's a little sake and mirin in the dressing, which gives it a twist.
Since celery is more fibrous than cucumber, it needs to marinade for a bit longer. Give it at least 3 hours, or overnight. It doesn't keep too well at room temperature, so reserve this for eating at home. It assembles as quickly as the other quick pickles in this series.
Celery with chili pepper pickles (Serori no pirikara zuke)
For the pickling liquid:
2 Tbs. soy sauce
2 Tbs sake
1 tsp. mirin
1/4 tsp. salt
1 Tbs. sugar
3 Tbs. rice vinegar
The vegetables:
4 medium length celery stalks, preferably the tender ones from the heart
1 mildly spicy red chili pepper
Addition at the end:
Equipment:
2 plates of equal size with flat bottoms
A weight of some kind, such as a can of tomatoes
Ye good old plastic ziplock bag
Combine the pickling ingredients in a small pan. Heat up while stirring to dissolve the sugar and salt. Let come to a boil (to evaporate some of the alcohol) and let cool.
Wash and cut the celery stalks into short lengths, and cut them into matchsticks.
Cut in half, de-seed and devein the chili pepper. (Don't use a very hot chili pepper like habanero...you want something with bite but not mouth-numbing.) Julienne very finely.
Put the pickling liquid and the vegetables in a plastic zip bag, close up and toss well. Lay it down flat on a plate, distributing the celery out fairly evenly. Put the other plate on top. Weigh down with a weight on top of the upper plate. Let marinade in the refrigerator for at least 3 hours but no more than a day.
To serve, arrange on a plate, spoon over some of the pickling liquid, and drizzle with a little sesame oil.
Submitted by
maki
on 2007-03-21 16:23.
Filed under:
japanese
lighter
vegetables
vegetarian
vegan
salad
tsukemono