Craft and 'wichcraft: two sides of Tom Colicchio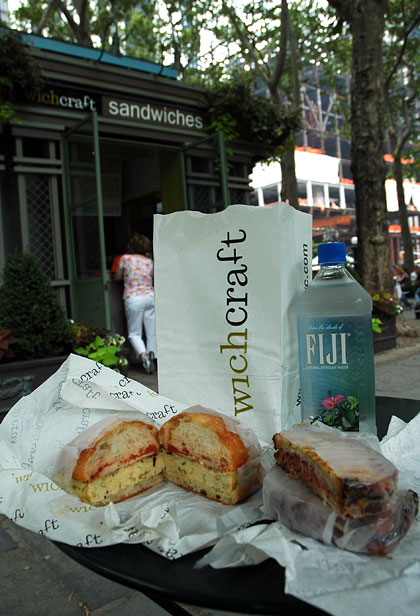 Yes, I admit it - my intensive viewing of the Top Chef reality show gave me a renewed interest in Tom Colicchio. I have been to Gramercy Tavern, but I'd never had a chance to go to Craft, which presumably is his more personal vision of what American cuisine should be. I'd also never made it to 'wichcraft, his growing mini-chain of take-out sandwich joints.
Yesterday I ended up having a Tom Colicchio Appreciation Day. We already had dinner reservations for Craft, and we happened to pass by Bryant Park around lunchtime.
'wiches and more
Bryant Park, which is behind the New York Public Library on 42nd Street between Fifth and Sixth Avenues, used to be a really nasty place, but has been totally transformed in the last decade or so. It's now arguably the most attractive small park in the city, and a true oasis in this noisy and hectic part of the city. 'wichcraft has 4 small booths at the Sixth Avenue end; one dedicated to sandwiches, one to coffee and pastries, one to ice cream, and one to soups and salads. There are plenty of chairs and tables around at which to enjoy the goodies.
Since it is after all called 'wichcraft, we headed straight for the sandwich booth. The booth itself, shaded by big trees, is one of the prettiest food booths I've ever seen.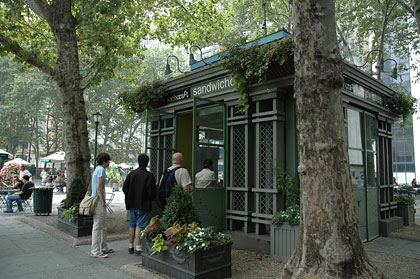 The sandwich selection is not huge - about 12 in all, some cold and some warm. (Their menu is on their web site.) I decided to go for the onion fritatta on a ciabatta roll, and my lunch buddy went for the pastrami on rye bread; this one was basically a pastrami panini (a grilled/pressed sandwich). These sandwiches are pictured in the photo at the top of this article. The verdict was mixed - we both loved the frittata sandwich, though it was just a trifle greasy. The pastrami, while tasty, was a bit too greasy, and also quite small. It didn't really compare favorably with the myriad of good pastrami sandwiches available around the city. The lunch buddy was still hungry after devouring that plus a big bite of my frittata sandwich, and went to order a second sandwich, the grilled gruyère & caramelized onions on rye bread.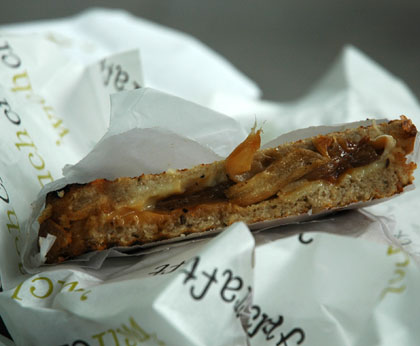 This was was quite tasty - maybe even more so than the frittata, though it was close. It was a bit heavy on the onion and light on the cheese.
Instead of another sandwich, I decided to have a chocolate cupcake. It came in this adorable plastic container - which is basically an upside down plastic cup container, but putting the logo sticker on the bottom and presenting it so is a neat idea.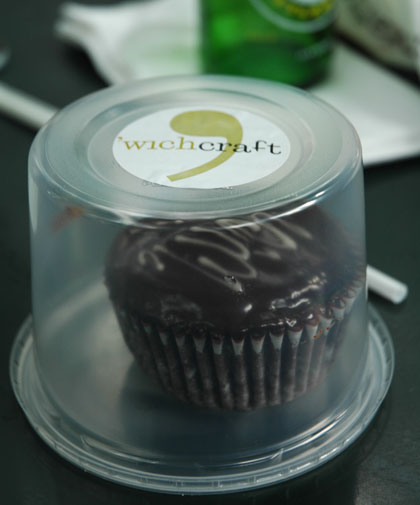 The cupcake itself, a glorified version of a Hostess cupcake, was dense, moist and delicious.
I think the biggest problem with 'wichcraft in New York is that this is a city that simply abounds with good to great delis and sandwich places. 'wichcraft to me seems just a tad too pricey in that context. The sandwiches are very good though, and the concept of standardized, freshly made sandwiches, salads and related items that are several cuts above your average fast food, should be a successful formula. The packaging of the product is very attractive - and you can't discount the power of attractive design...just look at Starbuck's. I can imagine a 'wichcraft in upscale shopping malls all over the country. They already have a mall location in their Las Vegas branch (you do know that the Las Vegas Strip is one big mall, with some casinos) and their San Francisco store is going to be in a mall too.
Incidentally, Top Chef fans may remember the sandwich challenge in Episode 7, won by Harold. [Edit: As Kymm points out in the comments, it was Miguel who came up with the deconstructed falafel sandwich idea.] The "chopped chickpea" sandwich on the current New York menu sounds a bit like that the falafel sandwich. Otherwise though the menu is a bit thin on really vegetarian options, though there are a couple of cheese based sandwiches.
Crafting American cuisine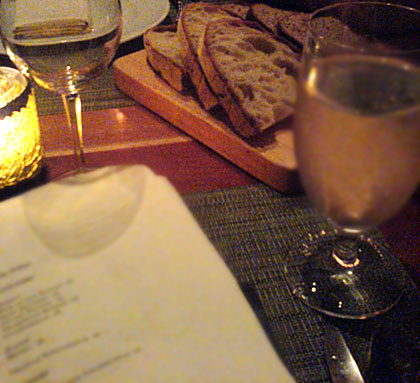 I just love the atmosphere of Craft. The dining room is not too large, nor is it over-decorated in the way some other restaurants in the city are. It was pretty full when we got there, and quite lively, but the noise level is not so high that you have to shout at your dining partners. The piped in jazzy-swingy music adds to the convival atmosphere. The lighting is also quite dark but not so dark that you have to peer at your food to see what you were eating. It's a very adult place, but still young.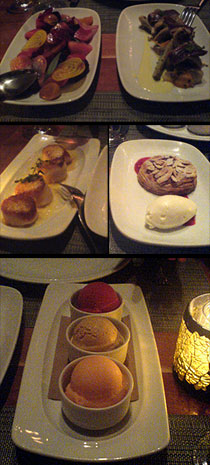 I also love the whole concept of fairly small portions of food, each dish served on its own plate, that you are encouraged to share. Whenever I eat out I share anyway, but it's a bit more relaxing when the restaurant says it's a good thing to do so.
The menu itself, printed on a single sheet of landscape mode paper, is divided into four columns: the first column is first courses, the second is main dishes, and the last two columns are side dishes. As someone who usually likes and remembers the side dishes more than the main meat or fish, this made me smile too. At our very friendly (yet not over-friendly, important that) waitress's suggestion, we ordered a first course each, a main each, and two side dishes. This was just the right amount, even though we were starving since got there at 9:30. (We had an earlier reservation, but there was a flash rainstorm in the evening yesterday that drenched us from head to toe.) The wine list was fairly reasonably priced, extensive and interesting. We had a very nice, dry rosé from North Fork, Long Island, by the way, which fitted very well.
Okay, so what about the food? Well, it was very good. It's quite obvious the chef is using fresh, in-season ingredients. The highlights for me were the beet salad, a colorful melange of red, yellow, white and spiral-colored chiogga beets, and the fava bean side dish which had macadamia nuts in it. We also had an artichoke salad with duck ham and cheese, scallops, sweetbread, and salt cod and eggplant risotto. For dessert, we had an assortment of ice creams and sorbets, and a sour cherry almond tart. A very nice touch was the blueberry muffins we received as a going-home gift of sorts. They were delicious for breakfast.
It was all excellent, really - but did it reach orgasmic heights? Well, no. There was an unfortunate tendency to give just about every dish a sort of sweetish-sour flavor for one thing - I suspect an overuse of balsamic vinegar and maybe ponzu. I can understand that with the salads, and possibly with the sweetbreads, but the salt cod and eggplant risotto, the only dish that was actually bit of a disappointment, also had that flavor. There was a bit too much sameness to everything. I think that may be why the fava beans stood out for me, because they didn't have that flavoring. If I were a Michelin critic (one that's not overly biased towards French cuisine, mind you) I think I would give the place one star, or maybe make it a provisional one star worth revisiting next year.
Still, I would go back there again in a heartbeat. If you have overseas guests and you want to take them to a really good restaurant that serves top notch American cuisine, you can't go wrong with Craft.
So, all in all my Tom Colicchio day was pretty successful, and tasty. It's very interesting to see how a chef's vision is being played out from different vantage points and price ranges.
Technorati Tags: craft, newyork, nyc, restaurants, tom collicchio, wichcraft
Submitted by
maki
on 2006-07-13 22:34.
Filed under:
restaurants
top chef
new york
chefs