Keeping Japan Going, Part 1: Kuroneko Yamato
In a couple of days it will be 2 months since the March 11th East Japan Earthquake. While there is still a huge amount of cleanup work, resettlements, and other very serious issues in the Tokoku region, life here in the Tokyo-Kanto area has settled down considerably. For one thing, the aftershocks have considerably lessened in both strength and frequency, though everyone will feel a lot better when the earth finally decides stop wiggling and shaking around beneath our feet for a bit.
It's rather hard to explain to people who have never been to Japan, or to be precise the Tokyo-Kanto area, just how convenient and smoothly-running life generally was here before the earthquake and its after effects. Living in Japan is not worry-free of course by any means, but provided you have a decent source of income and a decent place to live, it's not bad at all, relatively speaking; crime rates are low, healthcare generally works, food is delicious and abundant, the education system manages to get kids educated, and so on and so forth. And even if the economy has been, in the reckoning of many people, in the doldrums, jobless rates were still relatively low and the standard of life was generally high.
Right now, life in general in the Tokyo-Kanto area is perhaps 5% less convenient and smooth running compared to that very high, well-oiled norm. The main thing affecting people is the power shortage due to several power plants (not just those news-headline grabbing nuclear ones in Fukushima) being out of commission since March 11. But even there, things are not that dire in my opinion. There was indeed a bit of a mess in the first couple of weeks, when people were not sure what was going on. But since then, due to concerted efforts to cut down on electricity use (setsuden) by individuals and businesses alike, only a couple of rolling blackouts took place, with no more scheduled for the time being. And those reduced train schedules? Well, the local line I use the most has gone from running trains every 2 to 3 minutes during rush hours to about every 4 to 5 minutes, and during off-peak hours the trains are only running every 8 minutes or so. So trains are a bit more crowded at times. Lights in train stations and in the trains themselves are often dimmed, and half the escalators are not moving. In some places that have huge banks of vending machines, half the machines are stopped half the time. The nighttime security watch at my mother's apartment complex is even checking up on excess power-use (i.e. lights on late into the night and so on) and sending polite reminders to certain households. (My mom got one when she forgot to turn a light off overnight. She hasn't forgotten since.)
Life is not totally back to normal for sure. There's even some discussion about whether the way things were before should be 'normal', especially in terms of electricity use. The outspoken governor of Tokyo wants vending machines and pachinko parlors to be abolished. Things probably won't go that far, but life may change in interesting ways.
Kuroneko Yamato keeps on delivering
One cog in the wheel of Japanese society that kept on going even on March 11, with the exception of the truly hard-hit disaster areas, are package delivery services (takyuubin).
Yamato Transport is usually referred to by its informal name, Kuroneko Yamato (Black Cat Yamato), which comes from their company logo. The logo depicts a black mother cat carrying a kitten in her mouth. It signifies the care with which they handle your packages, according to the company blurbs.
There are other package delivery services, but Kuroneko Yamato has the largest market share in a highly competitive field. (Yamato's two major competitors are Sagawa and the Japan Postal Service, which used to be a government agency but is now privatized.) Package delivery in Japan is quite amazing to me. They deliver from morning until around 8 at night. They delivery on Sundays and holidays. You can order overnight delivery of course, plus same-day delivery, time-specified delivery, and so on. Let's say I wanted to have a cake sent to my mother on Mother's Day. If the sender is willing, Kuroneko Yamato or Sagawa can probably do it.
You can find Kuroneko Yamato vans everywhere. Here's one in a very picturesque old town (Murou) in Nara prefecture.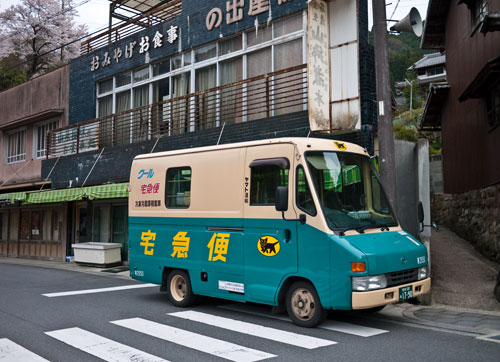 The cat motif is used extensively in their corporate gear. Here are the hands of one delivery person, wearing company-issue gunte, protective knit cotton gloves. (Gunte are worn extensively in Japan in all kinds of situations. You may have seen them worn by workers, volunteers and others in footage from the disaster-struck areas. They are as ubiquitous as face masks.)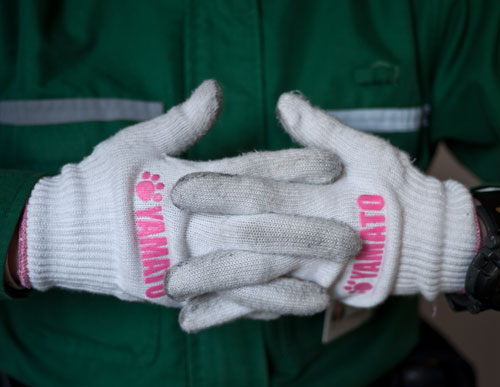 This is Ms. Yamamoto, one of our local Yamato delivery people. She's in her mid-30s, and always looks immaculate in her uniform, even when she's hauling some pretty big packages out of her van. You can't see it in the photo, but she's wearing little pink crystal studs in her ears and a pink scrunchie to tie back her ponytail.
When I asked her how soon she started working after the big earthquake of March 11, she looked surprised and told me they never really stopped - they were delivering as usual on the day itself, and the next day too. She said that service in the Yokohama and Tokyo area wasn't really disrupted. I asked her about the gasoline shortages and the power outages, and she said that they have just worked around them, to get packages delivered. I loved the matter of fact way in which she told me all of this. I guess she gets clear directions from up above and acts on them, which is nice to see.
Kuroneko Yamato itself is also back to full delivery service in the hard-hit areas of northeastern Honshu. Early on, they sent an Emergency fleet of 200 vans and 500 employees to the area to help with getting much needed supplies delivered to various addresses - something they should know a lot about. I don't want this to sound like a promotion for Kuroneko Yamato, but I think the service they, and their competitors (Sagawa especially) offer is quite awesome, and defintely a part of the fabric of Japanese life that works. (Incidentally, Yamato is donating 10 yen for every package they deliver in 2011 to disaster relief. If they match the number of packages they delivered in 2010 , it should amount to around 13 billion yen (approximately US $160 million).
Sagawa fits into the neighborhood
This is not about the Tokyo-Kanto area but I thought I'd include it anyway; it's Kyoto. I've mentioned alread, Sagawa is the second largest package delivery service in Japan, and Yamato's main competitor. I prefer Yamato myself because they're just a bit more efficient and friendly. However, I give Sagawa big kudos for this.
This is the Gion, Kyoto office os Sagawa. Gion is a carefully preserved traditional neighborhood that is also known for the maiko and geiko (geisha) that live, train and work there. The Sagawa office, decked out to look like a 19th century style delivery service operating from a machiya (traditional Kyoto-style wooden town house) blends in perfectly and looks great! Local deliveries are made with that bicycle.
I did not manage to capture an image of a maiko walking past this storefront, but you can imagine one doing so, and see that she and the store go together perfectly.
You can check out both the Sagawa store and maiko in Kyoto, in the areas just south of Shijo Dori, down Hanakomichi. (The best time to catch a glimpse of a maiko on the street is around 5pm, when many are out and about going home from okeiko (lessons) or off to some job. Please don't try to stop them or surround them or grasp at them though.) By the way, in Kyoto, Osaka, or any area to the west and south of Japan, life really is unaffected. No aftershocks, no dimmed lights.
This is Part 1 of 2 in a series. Part 2, about konbini or Japanese convenience stores, is now up! You may also want to check out the piece I wrote for BlogHer a couple of weeks ago profiling three women in Yokohama. Life does go on!
Submitted by
maki
on 2011-05-09 07:18.
Filed under:
japan
tokyo
earthquake