Spiced chocolate cupcakes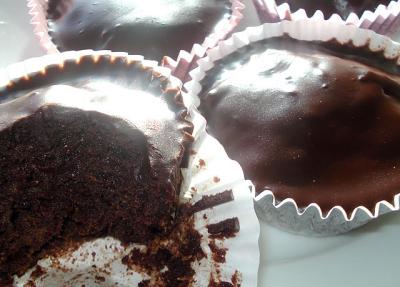 In the movie Chocolat, Juliette Binoche plays a somewhat mysterious woman who opens a chocolate shop in a small French village. She uses ancient Aztec spices in her chocolate confectioneries, which soon prove to have almost magical, often aphrodesiac, properties. While Chocolat is not in my top 5, or even 10, favorite food-theme movies (see here for that list), the idea of spiced chocolates has intrigued me ever since I saw it. One of my favorite chocolate bars is the Masala one made by Dolfin.
Making a spicy chocolate confection is a bit of a tricky affair though. You don't want the spices to overwhelm the chocolate - it should just form a sort of interesting background, yet provide a bit of a surprising bite and a warm, 'what is that?' quality.
These cupcakes have a rich but not too sweet bisquit (cake) base, with the warmth of curry powder and the bite of coarsely ground pepper. They are moistened with a teaspoon per cupcake of mocca liqueur, which increases its intensity and pushes it into the realm of an adult indulgence. The chocolate ganache has a pinch of cayenne pepper in it. The marriage is quite successful (or so the Tasters emphatically agreed). I'm not sure if they work at aphrodesiacs, but if your sweetheart is a chocoholic, you never know... They make a terrific Valentine's Day dessert or treat in any case.
Spiced chocolate cupcakes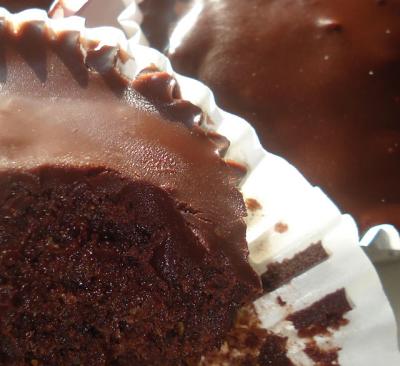 Makes about 16 medium cupcakes
For the cake:
Spices and almonds:
40g / 1 1/2 oz. ground almonds (about 1/3 cup)
1/2 Tbs. coarsely ground black or mixed-color peppercorns
1 tsp. curry powder
Dry:
80g / about 3 oz superfine raw cane sugar (you can also whirl granulated sugar in a food processor until it's finer)
120g / 4 1/4 oz. cake flour (about 2/3 cup)
2 Tbs. best quality cocoa powder
1/8 tsp. (a big pinch) baking powder
Moist:
200g / 7 oz. (two standard bars) dark chocolate with at least 70% cacao content
150g / 5 1/4 oz. (1 stick plus 1 1/2 Tbs.) unsalted butter, room temperature
4 eggs yolks from 'large' eggs
1 Tbs. instant coffee granules
Egg white:
4 egg whites from 'large' eggs
1 pinch salt
Booze:
about 1/2 cup mocca liqueur or rum
For the chocolate ganache:
200g / 7 oz (2 standard bars) dark chocolate with at least 70% cacao content
100g / 3 1/2 oz (1 stick less 1 Tbs.) unsalted butter, room temperature
1 pinch salt
1/8th tsp. cayenne pepper (add more at your discretion, but be careful)
1 Tbs. mocca liqueur or rum
Special equipment and supplies: a standing or handheld electric mixer, sifter, cupcake cups
Preheat the oven to 150°C / 300°F. Put the cupcake cups in muffin tins, or line up double or triple-layered cups on a baking sheet (of your cupcake cups don't fit your muffin tins or you don't have muffin tins).
Sift together the dry ingredients (flour, cocoa, sugar, baking powder). If you end up with some sugar grains in the sifter, just dump them back in.
Put the ground almonds in a clean, dry small frying pan over medium-high heat. Toast, stirring constantly, until a light brown in color. Add the curry powder and the pepper and stir until the whole smells like toasty curry. Remove immediately from the pan and put into another container (or it will continue cooking and may burn).
Chop or bash the 2 chocolate bars into small pieces. Put the pieces into a microwave-safe bowl, and nuke at medium-low level for 3 minutes. Take out, stir and nuke for an additional 2 minutes. By this time the chocolate should be melted; if not, nuke for additional minute or so - don't overdo it or your chocolate will turn grainy and icky. Stir well.
Add the butter in pieces to the warm chocolate and stir very well - it should be smooth and glossy. Add the coffee granules and the almond-spice mix. Keep warm.
In a clean, totally dry bowl, mix together the egg whites and pinch of salt. Whip until it forms soft peaks (an electric mixer is a very good thing to have for this task).
Add about 1/3rrd of the whipped egg white into the chocolate-butter mixture, to lighten it. Now, add the dry mixture by the tablespoon or two to the wet mixture, folding it in - don't overmix or your cake will be a bit tough. Fold in the rest of the egg whites gently (if the batter is a bit streaky it's fine).
Fill the cupcake cups about 2/3-rds full with the batter, using two spoons - it's about 1 very heaped tablespoon per cup. (Use one spoon for scooping, and the other one for sliding the batter off the first spoon.)
Put in the preheated oven for 20-25 minutes. The cake should rise a bit, and still look a bit moist.
While the cupcakes are still warm, drizzle each with a teaspoonful of mocca liqueur or rum. Let cool to room temperature.
In the meantime, make the ganache. Melt the chocolate as described before, and beat in the room temperature butter into the warm chocolate. Add the salt, cayenne pepper and liqeur, and beat very well. Put it in the refrigerator to firm up a bit.
When the cupcakes are cool, spoon on the ganache. Put the cupcakes in the refrigerater until the ganache is firm.
Notes
To make ahead, make the cupcakes, and spoon on the ganache about 1/2 hour before serving. Be sure to serve at room temperature or warmer (not cold straight out of the fridge).
Alternatively, add 1 to 2 tablespoons of heavy cream and/or liqueur to the ganache to make turn it into chocolate sauce.Pour the warm sauce over warm cupcakes (taken out of their cups, and nuked for 1 minute in a tucked in plastic bag in the microwave), and serve with a scoop of vanilla ice cream or whipped cream.
To make these kid-friendly, omit the liqueur.
Submitted by
maki
on 2007-02-11 17:31.
Filed under:
chocolate
dessert
baking
sweet
cake
cupcakes
valentine