Quinoa kedgeree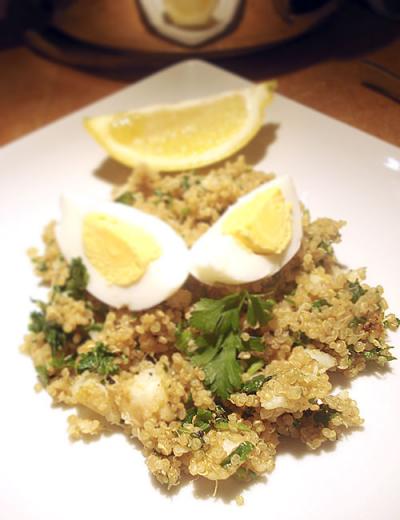 Here's another very easy 'dry' type curry dish that's a favorite in our house, though it's not Japanese. Kedgeree is a very British dish, that doesn't seem to be well known outside of the U.K. It was originally created by the British colonists in India, who took the spices and grain of the land they were in with the smoked haddock from their homeland. It used to be served for breakfast, but nowadays it's a supper dish.
This version of kedgeree uses quinoa as the grain (technically it's a seed but it's used as a grain in cooking, so that's what I'll call it). Quinoa has a unique bubbly texture and a neutral flavor that takes on any flavors added to it. It's also very filling, which makes it rather ideal when you're trying to watch the intake. It's very easy to cook, and never seems to go too watery and so on. I'm just a recent convert to quinoa, but I love it already and have it at least a couple of times a month.
I've used cod as the fish here but you can use any fish you like, even canned tuna or salmon. It doesn't taste 'fishy' in any way - the lemon and the curry take care of that. The key to making this kedgeree taste fresh and bright is to add tons of parsley (instead of the traditional coriander) and lemon juice. It turns into something that's like a warm, spicy dinner salad. To keep the whole healthy thing going I've used olive oil instead of butter.
Any leftovers store nicely in the fridge, and like the previous dry curry makes a great obento lunch too. It tastes fine cooled or at room temperature.
Quinoa Kedgeree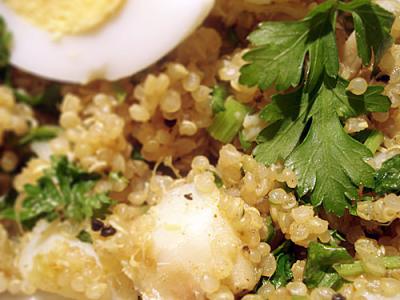 Note: this makes quite a lot, since I like to plan on purpose for leftovers to eat during the week.
The fish:
200-300g / 8 - 10 oz fresh or canned fish (see notes)
1/2 lemon
1 bay leaf
Water to cover
The quinoa:
250g / about 9 oz quinoa (note for American measurement fans: 1 cup of quinoa contains about 170g)
1.2 l / 5 cups water, OR the fish poaching liquid plus added water to come up to that amount
1 vegetable stock cube (I prefer Knorr)
1 medium onion
1 small piece fresh ginger
1 garlic clove
1 Tbs. olive oil
2 Tbs. garam masala
Putting it together:
2 Tbs curry powder
Salt and pepper
Juice of 2 lemons
3 cups chopped fresh parsley
Garnish:
First poach the fish. Put the piece of fish into water to cover, add the half lemon and bay leaf, and bring up to a boil. Simmer very gently until cooked, about 10 minutes. Take the fish out, and debone, deskin and flake it. If you're using canned fish, skip this step.
Finely chop the onion, ginger and garlic.
In a heavy bottomed pan, heat the olive oil and sauté the onion until limp. Add the ginger and garlic and sauté a bit more. Add the garam masala and stir.
Add the the water and stock cube (alternatively, use the strained fish poaching liquid plus water and stock cube, OR the drained liquid from the canned fish plus water and stock cube. The total liquid amount should come up to1.2 liters or 5 cups). Bring up to a boil, then add the quinoa. Lower the heat and let simmer for about 20 minutes, until the quinoa is tender and the liquid is gone. If there's any excess liquid, drain it off, but the grains should be a bit moist.
Cook the eggs in the meantime if you're using them.
In a small frying pan, dry-roast the curry until it's fragrant. Stir into the quinoa. Add the flaked fish, lemon juice, and salt and pepper to taste. Add the chopped parsley, reserving a little bit for the top. (The parsley will soften just a bit due to the heat of the quinoa.)
Serve either hot or at room temperature with wedges of egg and the reserved parsley on top.
Notes
The traditional fish used is smoked haddock. Any firm fresh fish works here - I've used cod, salmon, even salt cod. And for a quick and easy everyday dinner, canned tuna or salmon is fine.
I like this with quite a lot of lemon, so I serve it with lemon wedges.
If you want the flavor of coriander in there, substitute some of the parsley for coriander.
You can of course make it spicier by adding more curry powder.
Here is how to make perfect hard-boiled eggs: Put the eggs in cold water to cover in a pan. Bring up to the boil, rolling the egg around if you want the yolk to be in the center. As soon as it reaches boil, put a lid on and set the timer for 12 minutes. Dunk the eggs in cold water, crack all over and peel. With this way you will never get those nasty blue rims on the yolks. (Via a tip in Julia Child's The Way To Cook, my favorite all time cookbook.)
Submitted by
maki
on 2007-02-16 12:27.
Filed under:
lighter
curry
quinoa
grains