Recipe: Brussel sprouts with shallots and zucchini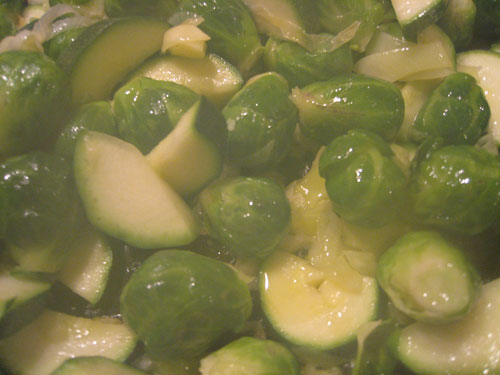 Brussel sprouts are one of the few vegetables that are actually in season in winter, and that's probably how they ended up as part of a traditional Christmas feast menu. But it's a sadly maligned vegetable, since it's a bit tricky to cook. If it's overcooked it's pretty awful. Whatever you do, don't toss brussel sprouts into a soup or stew, cute as the may look. The best way to cook brussel sprouts is just to sauté them or roast quite quickly.
Most Christmassy brussel sprouts recipes seem to involve gussying them up with bacon or loads or butter or chestnuts and such. While bacon and/or butter can make anything tastier, I rather prefer my side dish vegetables to a rich meal to be lighter. So this is one of my favorite ways to serve up brussel sprouts. Some shallots are sliced thin and wilted in good olive oil, then the sprouts and sliced zucchini are tossed in and sautéed at high heat for a few minutes until they are crisp-tender. (Yes I know, zucchini are not exactly winter vegetables, but they are easily available year-round and don't change that much in taste out of season.) The blandness of the zucchini is a nice match for the assertive brussel sprouts, and the pickier members of the dinner party can just eat those, if they must. It's all-vegan too, which can be a good thing if you have a culinarically mixed group coming over.
This is my last post before Christmas. Just Hungry will be back the week of the 26th. Merry Christmas and Happy Holidays! I hope you get the presents you want! (The recipe is after the fold.)
Brussel sprouts with shallots and zucchini
450g / 1 lb or so of fresh, very firm, as small as possible brussel sprouts
1 large or 2 small shallots (or substitute yellow onions)
2 medium zucchini
good quality olive oil
salt and pepper
Equipment needed: a heavy-bottom sauté pan or wok
Wash the brussel sprouts and remove any loose leaves. Trip the stem ends if needed and if leaving them whole, make a small cross-cut in the stem. If you have rather large sprouts, cut them in halves or quarters.
Slice the shallot very thin. Cut the zucchini into slices.
Heat the pan with the olive oil and shallots, and sauté over a medium-low heat until the shallots are wilted. Turn up the heat and toss in the sprouts. Cook for a couple of minutes then add the zucchini. Sauté until the sprouts are a very bright green and tender-crunchy, and the zucchini is just a bit limp. Maximum cooking time should be around 10 minutes - any more and you'll bring out that bitter cabbage-iness of the sprouts.
Season with salt and pepper and serve.
Submitted by
maki
on 2006-12-22 12:19.
Filed under:
vegetables
winter
vegetarian