Baked Kuri Kabocha Squash and Apple Maple Pudding (and it's vegan too)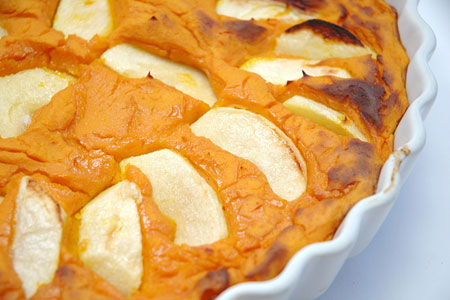 (The 10 year anniversary of JustHungry is at the end of this month. To commemorate this event I'm highlighting some of my favorite posts from the archives. This very healthy squash pudding or crustless pie would make a very good side dish for Thanksgiving dinner. It's vegan, so anyone can enjoy it without worry! It is not that sweet - probably less sweet than many traditional side dishes. I hope you give it a try! Originally on published November 19, 2007, and tweaked a bit since. If you want this to be gluten-free, choose an appropriate type of miso. The miso adds a small but critical bit of umami and richness.)
You know how certain diehard carnivores react to words like 'vegan' 'no dairy' and, gasp, 'tofu in a sweet dish'. There's no reason to tell them that all of these phrases are applicable to this smooth, creamy baked squash pudding, until they've actually eaten and enjoyed. It even is devoid of white sugar, though it is sweetened with maple syrup. The simple combination of creamy squash pudding, flavored and sweetened with real maple syrup with the pure sweetness of the squash shining through, and sweet-sourness of the apples works perfectly together. (The tofu merely adds the creamy texture; you don't taste it at all.) It's rich, but rests very lightly on your stomach - not a bad thing after a heavy main course.
This recipe is adapted quite heavily from one in a Japanese cookbook, _Saisai Sweets_ (Vegetable Sweets), by the wonderful Yumiko Kano, who I have mentioned previously. The original recipe called for soy milk, but I've used silken tofu instead for a richer, thicker consistency. I've omitted other things like rum-soaked raisins, and upped the maple syrup for more sweetness.
Vegan Baked Kuri Kabocha Squash and Apple Maple Pudding (or crustless pie)
This will make a pudding or a crustless pie that is about 10 inches / 28cm or so in diameter, enough for 6 to 8 servings (though I've seen one disappear in one person recently).
I've given weight measurements rather than cup measurements, because the proportion of squash to tofu is what's the most important thing here. Scale up or down according to your needs.
1 lb (450-500g) of cooked red kuri or Hokkaido squash, skin on, or roasted butternut squash or other sweet, dense kabocha or winter squash, flesh only (see below for how to cook the squash)
1 block (300g / about 11 oz) silken tofu, well drained
1/4 tsp. cinnamon
A few gratings of nutmeg (about 1/4 tsp.)
2 Tbs. neutral tasting vegetable oil, such as sunflower
1/2 tsp. sea salt
1 Tbs. mild, smooth white miso
8 Tbs. real maple syrup (not 'pancake syrup' or 'imitation maple syrup'), plus extra for drizzling on top
2 medium sweet eating apples
1 Tbs. lemon juice
Equipment needed: food processor, a pie or quiche or tart dish
If you are doing this for Thanksgiving, cook the squash ahead of time - up to 2-3 days in advance.
To cook the red kuri squash, either: cut in half and scoop out the seeds and fluffy bits in the middle. Poke several holes in the skin side with the point of your knife. Lay cut side down in a baking dish filled with about 1/2 inch / 1 cm of water. Bake at 350° F / 180° C until soft - a skewer poked through the skin side should go through easily. Drain away any left over water.
Alternate method in a pan: de-seed, de-fluffy bit and cut up the squash into about 1 inch / 2cm chunks. Put in a very heavy pan (such as a cast iron enamel one) with enough water to come up to about 1/2 of the squash chunks. Simmer, lid on, until the chunks are tender; drain away any excess water.
If you are using butternut squash, which has a much harder skin than red kuri squash, bake in the oven cut in half as above until tender.
Cool the squash after cooking to about room temperature. Store, tightly covered, in the refrigerator.
To make the pudding:
Preheat the oven to 350°F / 180°C (if it's not already on of course.)
Put the cooked squash (skin and all if you are using red kuri squash - see notes), tofu, oil, salt, miso and maple syrup into the bowl of a food processor with the steel chopping blade. Process until totally smooth - you may need to scrape down the sides of the bowl a few times. Taste at this point, and see if you want to add more maple syrup (but remember you will be drizzling more syrup on top later).
In the meantime, peel and core two medium eating apples. (I used Cox's Orange. You want a sweet, eating apple, not a hard, sour cooking apple here. Golden Delicious is a universally available type that will work fine here.) Slice into thin wedges, and toss into some acidulated water (water with a little lemon juice in it) to stop the slices from turning brown. Drain well and pat dry with a clean kitchen towel.
Fill the tart or pie dish with the pumpkin cream. Arrange the apples in a nice pattern on the cream, pushing down each slice a bit (they will sink a little, but this is a very dense cream.) Drizzle the top with more maple syrup. Alternatively, sprinkle with maple sugar if you have it.
Bake for about 30 minutes, until the top is lightly browned.
This pudding, or crustless pie, is great warm, at room temperature or chilled.
Notes
If you don't have real maple syrup, try a flavorful clear runny honey instead.
If you can't get a hold of kuri squash, you can substitute another squash, preferably a kabocha type, that is denser and sweeter than most other types. Try butternut squash, rouge d'Etampes or Muscat (Musque de Provence). Do not use regular pumpkin - it is far too watery and fibrous.
The orange skin of the kuri squash cooks up quite soft, and the orange adds to the vibrant color of the pudding. If using other, more tough-skinned squash varieties, or you have a green-skinned variety and want to keep the pudding orange-colored just scoop out the flesh and discard the skin.
If you don't care about keeping it all vegan, use butter instead of the oil. Dot the top with more butter, for a really rich flavor.
Try ripe pears instead of apples.
Submitted by
maki
on 2013-11-12 20:33.
Filed under:
dessert
fall
sweet
tofu
vegan
squash
thanksgiving