I have seen the peanut brittle light, and it shines from Virginia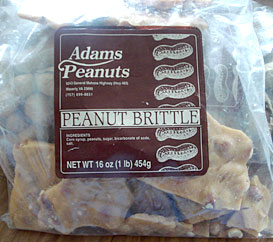 One of the (many) food obsessions I have is nut brittles. Peanut brittle, macademia nut brittle, almond brittle (which, when pulverized, turns into praline). I love that combination of caramel and nut flavor. Peanut brittle is the most handy kind to get a hold of, and make. I make it as often as my teeth and waistline allow.
But, I realized yesterday that I have never had truly good peanut brittle.
Max was in Virginia last week for business. Driving down a secondary highway, he happened to pass by Calvin L Adams Country Store, which also sported a large sign saying Adams Peanuts. Knowing my fondness for peanut brittle, he got a bag.
At first I was not wowed - it looks quite plain, in fact, with a dull rather than gloss finish. But one bite into a piece, and I knew that this was peanut brittle nirvana. It contains whole, unskinned peanuts. The brittle part is light and airy, not hard or chewy at all. It breaks into little pieces as soon as you crunch down. The not-too-sweet caramel of the brittle, the peanutty peanuts, and the very slight bitterness of the skins combine to form a heavenly experience.
How could I have lived for so long, not knowing that peanut brittle could be so good? I curse my wasted life so far.
And, joy of joys - Adams' Peanuts has a web site! Though, worryingly, they don't list peanut brittle on their Products list. If they don't ship peanut brittle, a trip to Waverly, Virginia is in my very near future.
Here are some photos of Calvin L. Adams Country Store, aka Adams' Peanuts:
The interior. The hams, the hams!
Mr. Lionel Adams, the proprietor:
A couple more are on flickr.
Submitted by
maki
on 2007-05-15 10:37.
Filed under:
snack
sweet
shopping
favorites