Wafuu Pasuta (wafuu pasta): Japanese style pasta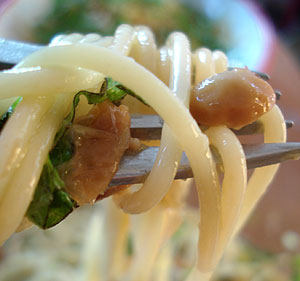 The word wafuu may sound like someone trying to say yahoo and not quite succeeding, but it actually means "Japanese-style" in Japanese.
Italian style pasta has been popular in Japan since the post war period. In the beginning it was served with Italian, or at least Western European, style sauces, but some time in the '70s or so people started to experiment with Japanese flavors. Essentially, things that are usually eaten with white rice were mixed into or put on top of spaghetti and other pastas. These are known as wafuu pasuta or wafuu supagetti (say these out loud and you'll know what they are), and became popular on the menus of Japanese cafés (kissaten) and the like.
There is at least one restaurant in the U.S. that I know of that has a couple of wafuu pasuta dishes on their menu - Basta Pasta (warning: icky Flash-only site!), in New York. They don't really go far enough in my opinion though. If you love Japanese flavors you'll probably love wafuu pasuta too.
Most wafuu pasuta recipes are very quick and easy to make, so they are great for quick dinners. Incidentally, to achieve a more Japanese texture cook the pasta about a minute or so longer than you might otherwise, so it's a bit past al dente. Japanese people generally prefer softer pasta.
Following are three of my favorite quick and easy wafuu pasuta dishes.
Tarako and ponzu capellini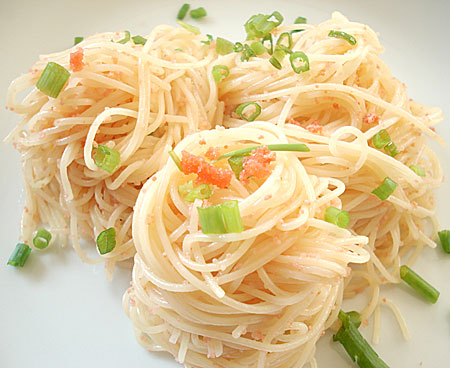 Tarako is salted/marinated pollock roe (although 'tara' means cod). It can be eaten uncooked in its soft, paste-like state or cooked until the eggs turn firm, or anywhere in between those two states. You may only have encountered cooked tarako in furikake or as onigiri fillings, but the real thing is much better of course. In its uncooked state it has a rich, rather unctuous texture - and the flavor of concentrated salty fish egg. The ponzu cuts through the richness a bit.
To make this dish, mix together 1 pair (two pieces) of tarako with the membrane removed with 1 to 2 tablespoons of softened butter. Mix this well with about 2 cups of hot capellini (angel hair pasta) until the pasta is thoroughly coated. Mix in about 2 teaspoons of ponzu vinegar, and finely chopped green onions. Serve topped with more chopped green onions.
Since this pasta is very rich, I prefer to serve it in small portions as an appetizer on its own.
For a spicy version, use mentaiko instead of the tarako. Both should be available, often frozen, at Japanese groceries.
Hijiki and dried shiitake mushroom spaghetti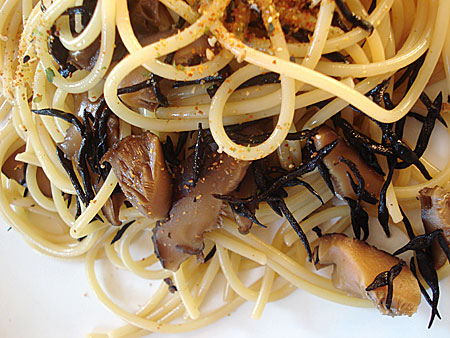 This dramatic black and white pasta has no added fat. But it has lots of carbs of course. The hijiki and shiitake are both full of fiber and umami.
Rinse and then soak about 3 tablespoons of dried hijiki (here I have used mehijiki (hijiki shoots)) and two dried shiitake mushrooms in warm water until they are softened and swelled. Sliver the shiitake cap, removing the stem. Cook them in a cup of the soaking liquid, 2 tablespoons of soy sauce, 2 teaspoons of sugar and 1 tablespoon of mirin while you boil the spaghetti. Toss into the hot spaghetti and sprinkle with some 7-flavor pepper powder (_nanami tohgarashi_).
To make it even healthier, use whole wheat, soy or other alternative spaghetti.
Natto, shiso and green onion spaghettini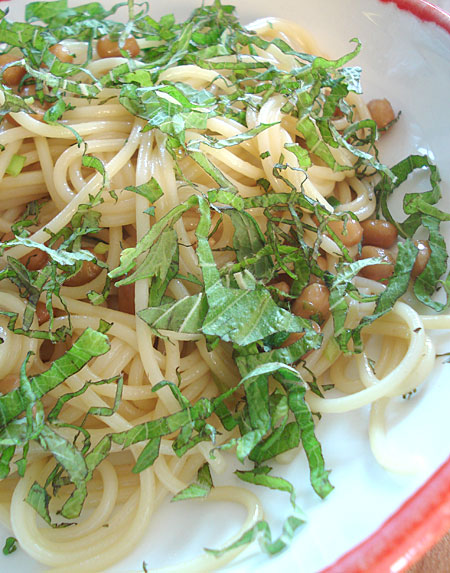 Natto lovers will love this pasta dish, and natto haters will, well, hate it. The combination of warm pasta and natto really brings out the distinctive odor and flavor of the fermented soybeans.
Mix a regular sized packet (50g) of natto well, until the sticky strings form. Add 1 tablespoon of soy sauce, the mustard pack if the natto came with one, a handful of chopped green onions and a big handful of shredded shiso leaves (use parsley or shredded nori if you can't find shiso). Toss with hot spaghettini and top with more shiso. Optionally add a little sesame oil.
Sticky, smelly and fragrant goodness! However, I recommend you don't use grated cheese on this, because natto and cheese combine in a very unsettling way.
Submitted by
maki
on 2007-11-01 16:25.
Filed under:
japanese
natto
quickcook
yohshoku
pasta