The winner of MasterChef 2008 is....
The three finalists of the BBC's MasterChef 2008 wait anxiously for the winner to be proclaimed...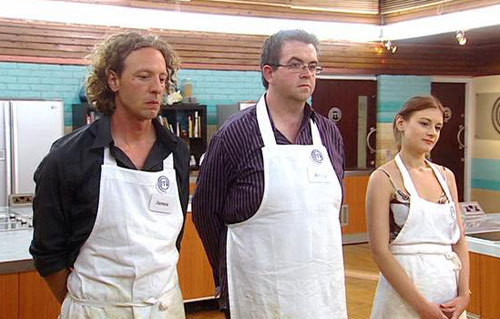 And the winner is James Nathan, an ex-barrister.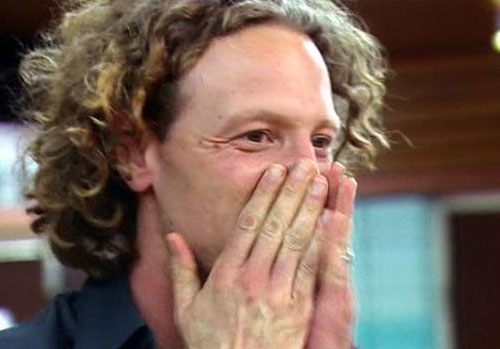 This was his final winning 3 course menu. The starter was smoked mozzarella ravioli with cherry tomato sauce and basil cream: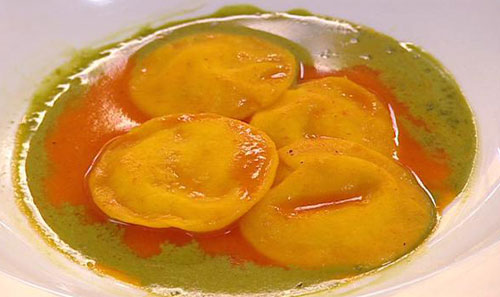 The main was tea infused venison with roast potatoes, pickled red cabbage and rich port sauce: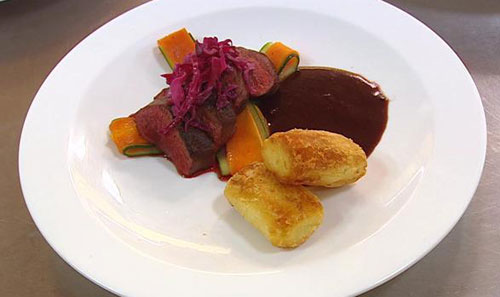 And his dessert was chocolate and orange sponge pudding.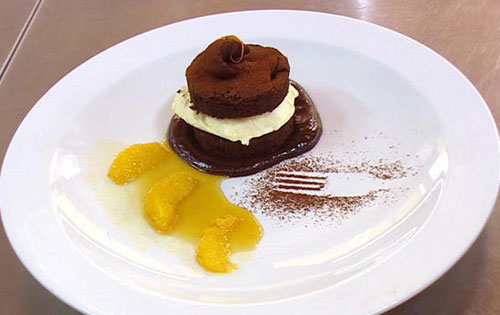 There's no denying that James deserved to win. He was the most consistent contestant in most of the final week challenges, and the semi-final week challenges too. He's undoubtedly a very good cook, and he has a good chance to fulfill his stated goal of opening his own restaurant. For that matter, so does Jonny Stevenson, the banker slash single father from Belfast, who makes simple, hearty, crowd-pleasing type of food that I'd be happy to eat any day of the week.
But around Chez Just Hungry the contestant that excited us the most by far was the youngest MasterChef contestant ever, 18 year old Emily Ludolf. Our nickname for her was "Hester Blumenthal". In a nutshell, she's a budding molecular-gastronomist type of chef, but unlike Marcel from Top Chef 2, who was clearly copying the ideas of his mentors for the most part, Emily was entirely original. She made us sit up and take notice when she made a chocolate dessert that she called a 'mud pie' - inspired by, she said, mud pies she used to make in the garden. It was a chocolate mousse with raspberries and sugared tarragon leaves. She also made amazing things like a rhubarb soup.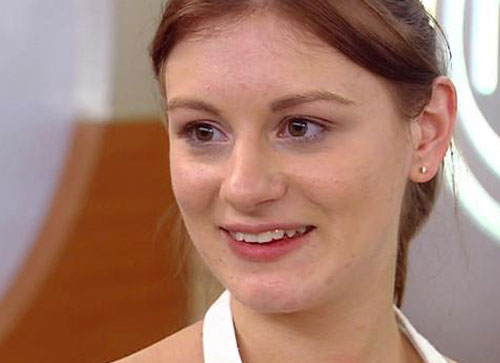 Then, in the semi-final rounds that aired last week, she made this dish which she called "bacon and eggs", which was actually chorizo, ricotta and soft egg ravioli with crisp parma ham and pea shoot coulis. It made three very jaded newspaper food critics exclaim "WOW".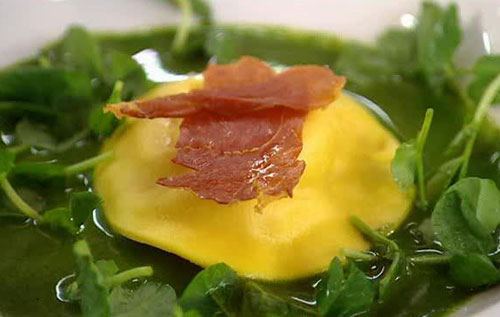 These were Emily's final three dishes, starting with "Tagiatelle" of beetroot juice and smoked salmon with apple, mint and horseradish: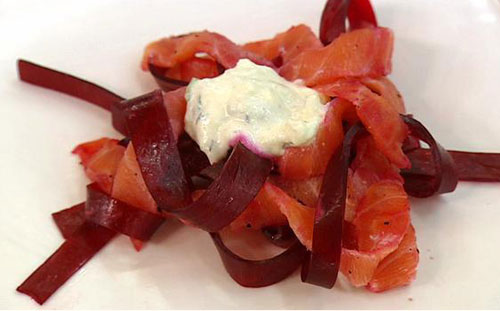 The main she made was rabbit saddle and languoustine mousseline with carrot, lemongrass and ginger purée. I think this dish let her down, as beautiful as it is. Rabbit and langoustine together? It also has a pear and water chestnut salad. (I am assuming she used regular Western pears. Maybe Asian pears might have worked better.) Nevertheless I'd love to taste it.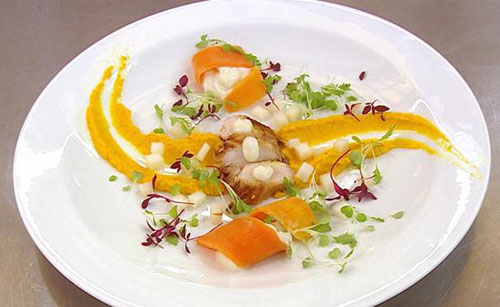 Her dessert was similar in concept to her earlier mud pie, a chocolate and paprika sorbet with marshmallows, truffle and pine nut sugar and passion fruit syrup. It was, she said, inspired by memories of toasting marshmallows and such on a campfire.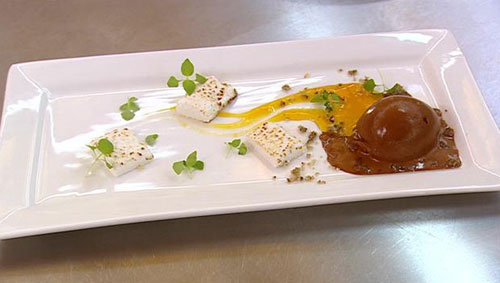 I am fascinated by what this young 18 (now 19) year old girl will do in the upcoming years. It seems she's now at university enduring student food. She says she wants to combine English skills with her 'hobby' - "perhaps by becoming a food critic". Nooooooooooooooooooo. The world does not need yet another food critic or 'tv food personality'. I really hope Emily pursues her cooking career seriously and becomes a brilliant multistarred chef. Then she can use her earned celebrity chef status to write books or whatever she likes.
So, another terrific series of MasterChef, the show that puts every other cooking competition TV show anywhere to shame, is done. I can't wait for the next one next year, and seeing how the 2008 finalists progress with the pursuit of their dreams.
See also
Submitted by
maki
on 2008-02-29 00:58.
Filed under:
books and media
masterchef
tv
bbc