Is my blog burning?: Spring fried rice with chive blossoms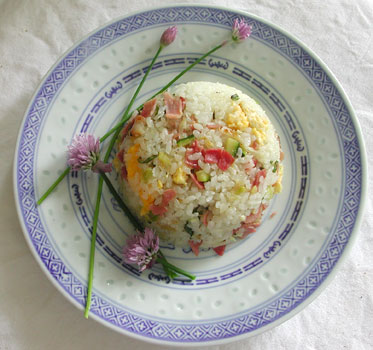 The theme of the fourth edition of Is My Blog Burning is Around the world in a bowl of rice, hosted by Chez Pim. I was going to do something sushi-esque, but I'm leaving in a couple of hours for a weeklong business trip and didn't have time to do the shopping needed for what I had in mind. So, I decided to do something with the ingredients I had already....which lead to that good old standby, fried rice.
Fried rice, aka cha-han, is another Chinese dish that has been adopted and adapted into everyday Japanese cooking. It can be elaborate, or a convenient way to use up leftover meat and vegetables, or both. The basics are rice - either freshly cooked or cold; some sort of aromatic vegetable, usually spring onions and/or fresh ginger; and eggs.
I was out of spring onions and the shops were closed already, so I hit upon the idea of using the chives that are growing right now in the wilderness that is the garden in front of the house. (Thank goodness we have no lawn patrol here.) I used both the leaves and the pretty purple blossoms. The results were really quite good - mildly onion-y and garlicky, and tasting quite spring-like. Using chive blossoms as garnish enhances the flavor as well as making plain old fried rice look very pretty.
Spring fried rice with chives
2 cups of cooked rice. I use regular Japonica rice, but you can use any kind of rice you like.
1 cup of chive leaves and blossoms, roughly chopped
1/2 cup of chopped ham
2 eggs
a small piece of fresh ginger, peeled and chopped fine
1/2 zucchini, finely cubed
Oil for cooking
Salt and pepper
Soy sauce
Chicken stock granules (optional)
The key to making fried rice is to have a pan that can get very hot, so an iron wok on gas heat is ideal. Unfortunately, here in Switzerland gas cooking are practically unheard of, and I just have an electric range. I do however have a halogen quick-heat hob, which helps. I can't use a normal rounded-bottom wok however, so I make do with a flat bottomed one. The results may not be as good as if I cooked in a proper hot iron wok, but it is not bad.
Heat the oil in the wok or pan. Add the ginger and fry until just turning a bit brown. Add the ham and the zucchini; sauté until the ham is turning a bit crispy.
In a separate pan, cook the eggs, mixing around vigorously to make little bits.
Add the rice to the pan and sauté, tossing and turning it to separate the grains and coat each grain with the oil. Add the chives and keep tossing. Add the eggs, and if you are using it a sprinkle of the soup stock granules. Clear a space on the bottom of the wok and drop in about a tablespoonful of soy sauce (adding to the hot pan surface makes the soy sauce take on a nice toasty flavor). Toss well; add salt and pepper to taste.
To serve, press the rice into a bowl, and turn it out onto a dish. Garnish with chive blossoms.
Submitted by
maki
on 2004-05-23 06:39.
Filed under:
japanese
spring
rice
garnish