Oahu, Hawai'i Part 2, Waikiki, Farmers' Market and Beyond
Continuing my trip report! As I mentioned, I moved down to a regular hotel in Waikiki for the last 4 nights of my stay. (Several people mentioned that I should have rented a cottage or condo, and even sent some useful links. I actually prefer to do this most of the time when I travel, but because of the short notice and some other reasons, I wanted to stick to hotels this time.)
Waikiki
I don't have a lot to say about Waikiki actually. It is beautiful, pristine, crowded, and full of tourists.
To be honest it really isn't my style, but for someone whose ideal vacation is lots of beach time interposed with lots of shopping and eating out, a little clubbing time and some spa treatments, it's perfect. Food wise, there are tons restaurants there, in all price ranges, to suit every taste. If you are a timid eater there are national chains, and if you like Asian food you'll be in heaven. And the ubiquitous ABC Stores, where snacks and drinks among many other things are sold, are so thick on the ground that you can't go half a block without hitting one.
(Derail: Nowhere is it more evident how much Japanese tourists are catered to on Oahu than in Waikiki. I have heard that some people are not too happy about this for various reasons, but just from a very brief observation it's not really surprising. The beach is crowded with people of all ethnicities and nationalities, but in the shops you mostly see Japanese tourists, especially in the high end ones. This is something you still see in other cities too - for instance, the last time I was in Milan a year or so ago, the Dolce and Gabbana store was packed with young Japanese girls. I popped into Kate Spade in the Royal Hawaiian Center (I love her handbag designs, though I actually only own one), and during the 15 minutes or so I was there, only Japanese tourists came in - and yes I do know they were Japanese and not other Asians. I've always found this shopping habit of Japanese people from Japan to be bewildering and vaguely embarrassing as a fellow Japanese person. It may be that young Chinese girls are following in the footsteps of the Japanese girls in their pursuit of high end brands, and that would be sort of bad, imho. But enough about that...)
The best touristy thing we did in Waikiki was to go to the House Without A Key at the Halekulani Hotel around sunset, for tropical drinks and dinner. The food was okay, but it's the setting that makes it all worthwhile.
I think next time I will skip dinner and just have drinks and snacks there. Here's a mai-tai with the cold pupu (appetizer), which has a refined version of ahi tuna poke.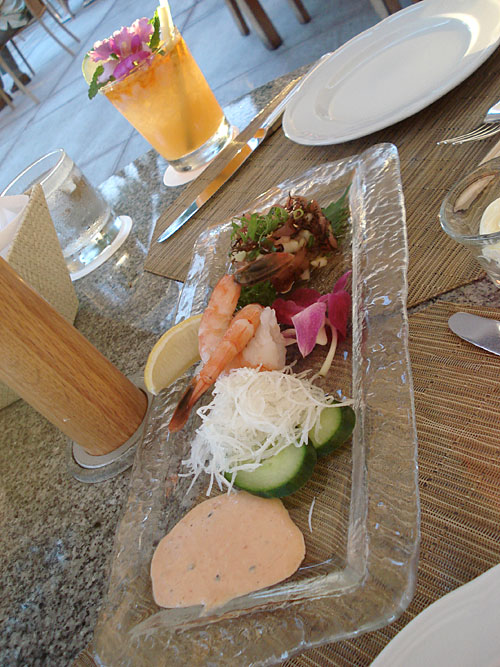 Honolulu
I actually didn't get to see much of Honolulu due to a lack of time. I did do a bit of Japanese-food browsing, which I've written about on Just Bento. I think that if your time is very limited, Shirokiya is the best store to go to for your Japanese-stuff fix. It's in the Ala Moana Center, which has lots of other shopping for your pleasure. The only other store I went to there though was the Crack Seed Center to pick up some li hing mui powder (a highly addictive red sweet-sour-salty powder that is popular in many Asian countries, though not in Japan).
Here's a rainbow that broke out in the early evening sky as we drove through Honolulu:
It rained quite a lot almost every day, but it never was a downer, since the rain cleared up quite fast. Besides it was still warm, and it was fascinating to see the sky above us changing - blue sky over there, dark clouds rolling over there - as we rolled down the road in our rental car (yep we got a convertible), or sat lazily on the beach. Tropical paradise, indeed.
Saturday Farmers' Market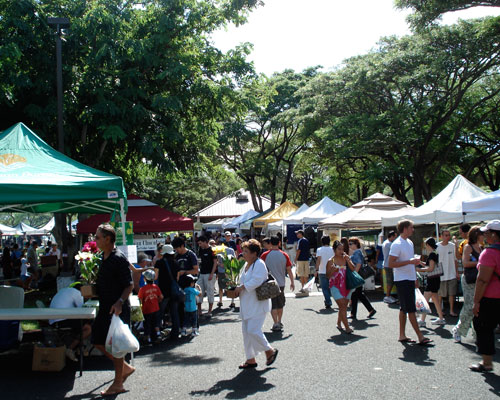 Wherever I travel, I make it a point to go to a local market or marché (such as at my yearly summer destination, Provence), and this time was no exception. The highlight of my Oahu trip food-wise was the wonderful Farmers' Market. It's held every Saturday morning at Kapiolani Community College and elsewhere on other days (website). I went to the Saturday market, which is a just a short drive from Waikiki. (I think you can also take the bus there.) It's not huge, but had everything a good farmers' market should have: great local produce, plenty of ready-to-eat snacks, and a lively, friendly vibe.
I loved the displays of locally grown tropical fruit.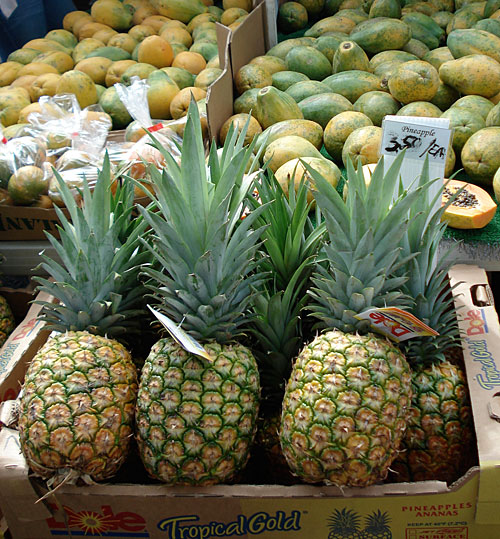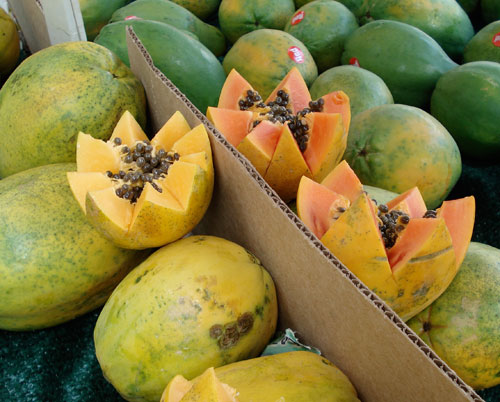 I'd never seen rambutan on branches before. I think we pay about this much for a single rambutan here in Zürich.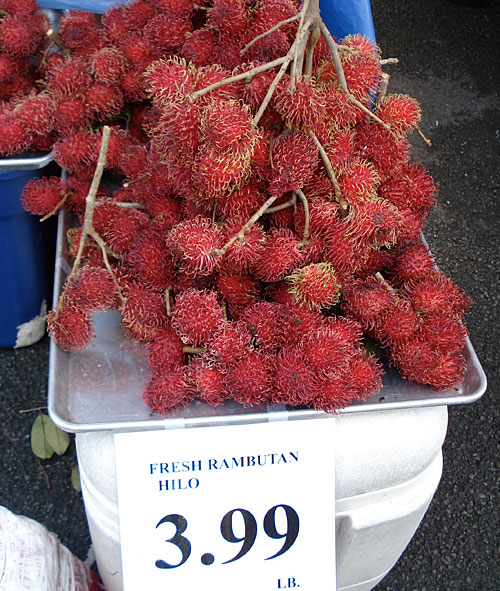 Happy eggs, flowers and baked goods - must-haves at any market.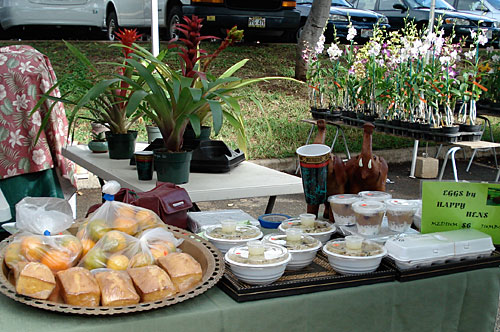 Sweet corn and sweet onions grown on the North Shore. I loved this tablecloth.
There were also fish (locally caught and/or aquaculture) and meat (locally and organically grown) stalls. The colors of the stall here just shout Hawai'i to me.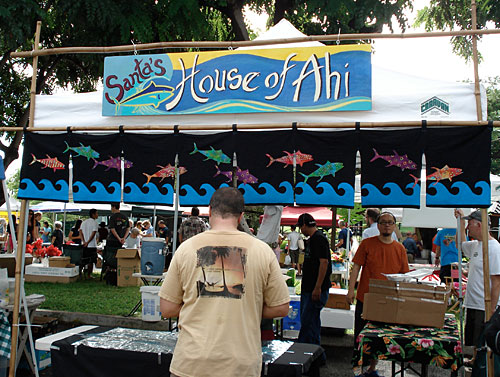 I was a bit wary of these sea asparagus inarizushi, but they were delicious. The sea asparagus (which I know better as samphire, also known as glasswort and sea bean) are hydroponically grown locally by Kahuku Sea Asparagus.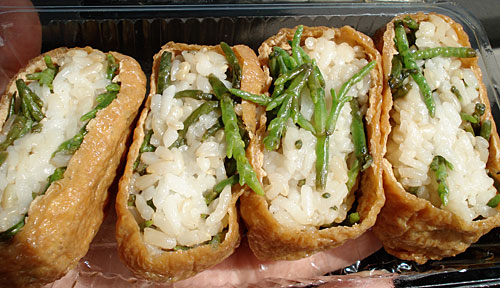 The Two Hot Tomatoes stall was doing a brisk business in freshly deep fried vegetables. The sausage stall right nearby was also good.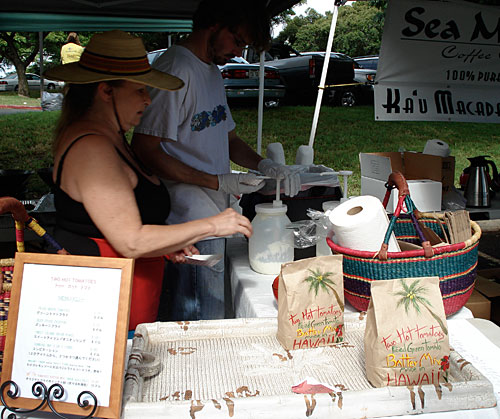 Mmm, fried green tomato.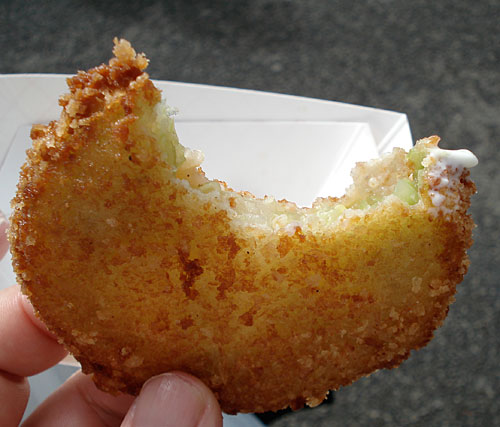 I also tried a huge strawberry daifuku, a refreshing ginger-pineapple ale, poke, and too many fruit samples to count. (I saved the daifuku, inarizushi and a bag of macadamia nuts for a picnic later at the beach.)
Needless to say, I highly recommend going to one of the farmers' markets if you're even vaguely interested in great local food. There's more bang for your buck there than any high-end restaurant.
Some other culinary notes
I did not get to really a whole lot of Hawaiian food, because I just ran out of time. Also, I had some stomach troubles for about a day and a half, during which I just had onigiri (rice) from ABC and fruit, which I did not mind at all. (Fresh coconut...apple bananas...bright pink guava slices...incredibly sweet pineapple with li hing mui powder...) Next time I'll try all those things that people urge me to.
I tried a loco moco...it's a hambaagaa with a fried egg on top, rice and gravy. Was not bowled over. (My hambaagaa is much better than the one I had, which didn't help.)
The Dole Plantation was quite Disneyesque, in its bland all-American-ness. The gift shop looked just like a Disney boutique. The best snack there is probably the Dole Whip, but the last time I had a Dole Whip was at Adventureland in the Magic Kingdom at Disney World. We were there just briefly, mainly to look at the pineapple display garden out back. The little farmer's market stall outside was good though (though you can find similar stalls along the North Shore roads.)
The Macadamia Nut Outlet is another tourist trap, but more endearingly down to earth. We got some coffee coated macadamias there.
Lead by a rave write-up (and a coupon) in one of the free Japanese magazines, not to mention the name, we went to Makino Chaya, a buffet in the Aloha Center. It was ok, but to be perfectly honest, they have better buffets of the type in the Northeast (specifically, Minado). But I did get to eat an indecent amount of poke there.
Wrapping up
Only 6 nights, which allows for 4 full days plus an evening and a morning if you come in from the mainland, was just too short a time to spend on Oahu. Next time I will plan a whole lot better, give myself more time, and will venture to the other islands too. I will be back for sure!
Some additional notes
If you're at all interested in getting out of Waikiki/Honolulu and exploring the rest of Oahu on your own, a car is really good to have, even though the bus system covers the whole island basically. We rented a convertible, which was totally worth it. We also rented a GPS, which was not. It wouldn't pick up a signal in some parts of Waikiki, probably due to the density of the buildings, and could not give instructions to natural landmarks like beaches or such - which is a serious oversight for Hawai'i! A good street map was way more useful.
Quite a few people have suggested it's better to rent a condo or cottage in Hawai'i. I would agree. However, if you're looking for a hotel, especially in Waikiki, be aware that most of them charge $20-30 per night for parking. The main reason we picked the Waikiki Parc was that the rate (which I found on Expedia) included parking. (The other reason was that it had access privileges to the Halekulani's spa and things, for less than half the price. We ended up not going to the spa at all, and the House Without A Key was accessible to anyone, but at least the 'free' parking was worthwhile.)
Even if you don't understand Japanese, it might be worth picking up a copy of the free KAUKAU magazine, which you will find at several magazine stands around Waikiki. It is packed with coupons for restaurants, shopping, spa treatments and such, and each coupon does have an English description. Oahu Gold (an English publication) has lots of coupons too, especially for things like tours and such.
Don't be as unprepared as I was, and bring sandals and flip-flops from home! I ended up buying a pair of both, which ate a bit into my budget. The best footgear is a really good pair of walking sandals, which you will wearing around town as well as on the beach. Socks are like, so superfluous.
Web sites I found very useful include 'Ono Kine Grindz, Go Visit Hawaii, and this forum thread on Trip Advisor. Someone took the advice offered there and made this handy Google Map of Oahu.
Submitted by
maki
on 2008-11-22 15:21.
Filed under:
food travel
usa
hawaii