A tour through a fabulous Japanese department store food hall - Yokohama Takashimaya
One must-do in Japan for anyone interested even remotely interested in food is a visit to a depachika(see footnotes), or department store basement food hall. One of the more impressive food halls that I have seen is in the Yokohama branch of the Takashimaya department store. I recently had a chance to tour of the Yokohama Takashimaya food halls, with permission to take photos to my heart's content (something which is usually not allowed in department stores).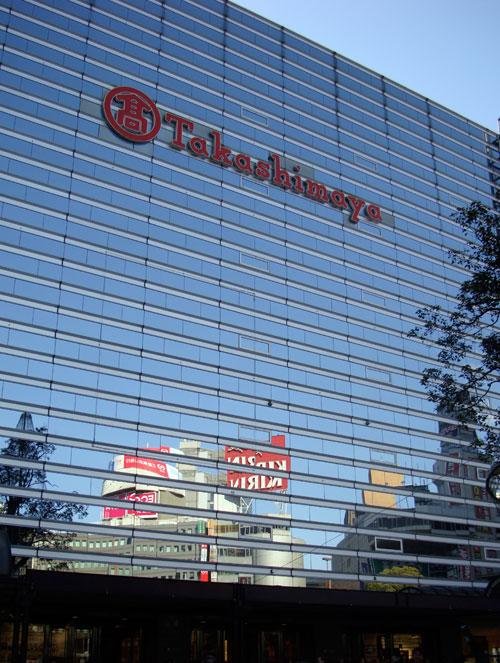 Takashiyama is one of the oldest and most respected high-end department stores in Japan. The Yokohama branch (link to English floor guide download page), while not the biggest in terms of floor space, is the one with the most foot traffic and the highest sales in the entire chain, and the food department is a definite highlight. There are several other department stores clustered around the huge, bustling Yokohama train station, but for some reason the Takashiyama food hall floors are always the most busy by far -- it always seems to be packed, especially in the afternoons and evenings. My mother, who is even pickier about the quality of her food than I am, swears by Takashimaya's food halls.
I'm a big fan of department store food halls, and try to go and visit them wherever I go. In my opinion, in terms of quality, Yokohama Takashimaya doesn't have to take a back seat to anyone, anywhere in the world.
Yokohama Takashimaya's food halls are spread out over two underground floors. The upper level (B1) is taken up by counters operated by various well known vendors of prepared foods, from pastries (both Japanese and Western) to tempura to bentos to pickles, tea and more, plus a dry goods department. The lower level (B2) is where the fresh produce, meat, fish and so on are sold. While the upper level has a lot to offer, it's the lower level that impresses me the most.
The first thing that catches your eye is the big vegetable display. All kinds of vegetables, both familiar and not so familiar to Western eyes, are sold here. Even in the middle of winter it's a sight to behold. I can vouch for how fresh the produce is -- their leafy greens for example are still in perfect shape a week after purchase and storing in the refrigerator. They have a mix of organic and regular produce, and everything is clearly marked by their place of origin (sometimes even down to the county or town.)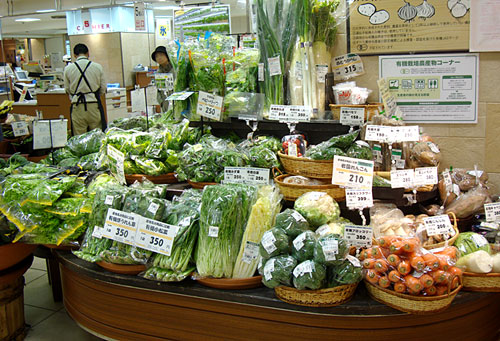 Gorgeous turnips and daikon radish, two quintessential winter vegetables: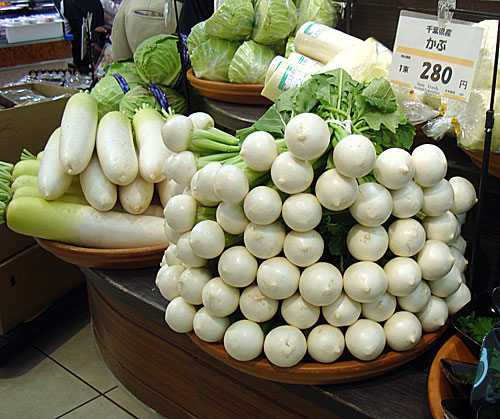 A beautiful cucumber display. (These cucumbers are quite tiny by Western standards by the way, about 8 inches / 22cm long at most and 3/4 inch / 1.75 cm or so in diameter).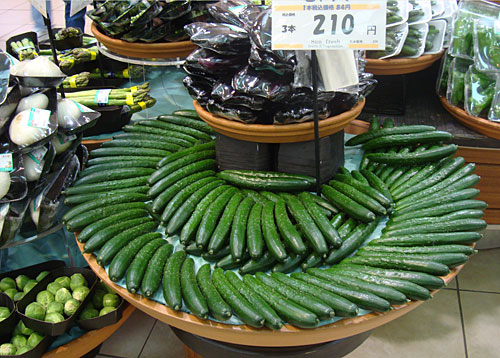 Their fruit is just as great. They were just starting to sell early strawberries (this was in early February) when I took these photos. You might think that strawberries in February would be hard and tasteless, but not these. They not only looked good, but tasted wonderful (there are lots of free samples on offer). Take a look at these monsters, a special kind of strawberry from Hakata on the southernmost main island of Kyush.! They too, tasted great, despite their huge size. (There is also a 'fruit parlor' where you can sample delicious, albeit rather expensive, sorbets and juices on the same floor, beyond the elevators.)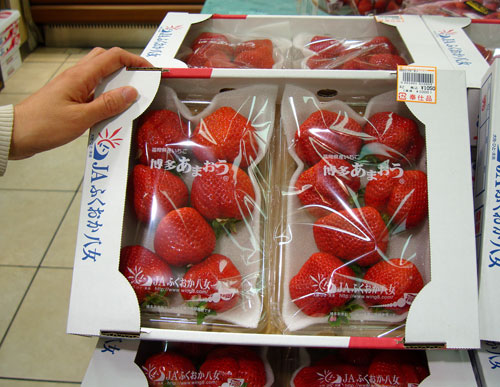 Then there's the absolutely fabulous meat counter, which is operated by a famous butcher and prepared foods store based in the Ningyocho area of Nihonbashi in Tokyo, Imahan (Japanese only web site). I never really thought of meat (not charcuterie like ham and so on, but just meat) as being beautiful to behold before...but their display cases say something else. Everything they sell is domestically produced. Here's some thinly cut wagyu beef with the most amazing marbling, for sukiyaki use: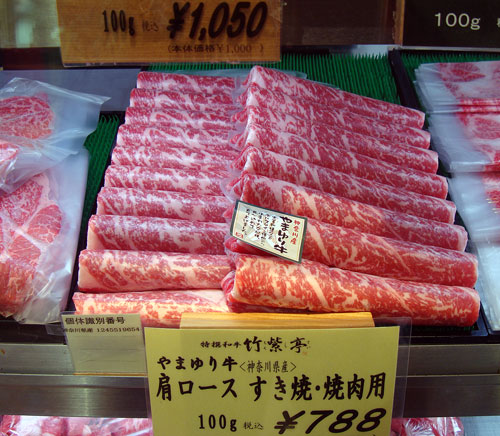 Here's some more wagyu, this time as steaks. Yes, they are rather mind-bogglingly expensive. (The price you see is yen per 100 grams, so a pound of the more expensive one on the left is around US $130 per pound...though that's about what Lobel's charges for American wagyu tenderloin steaks...):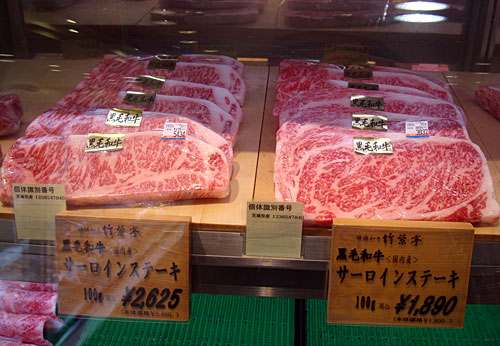 Even their ground meat looks great though. The upper level has pork, while the lower level has ground beef and and 'aibiki' (mixed pork and beef, a common combination in Japan):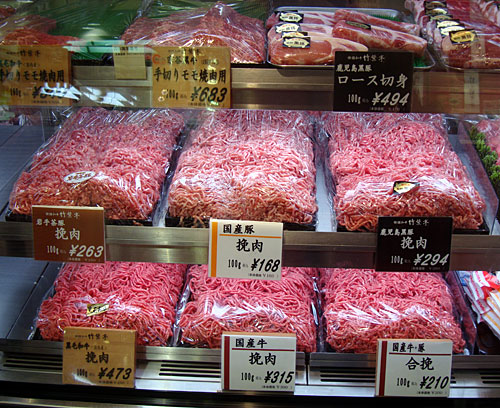 Here's a section of their chicken counter. The upper level has 'jidori' or free-range, organically grown chicken with the place of origin clearly marked. The lower level has all the bits - heart, kidneys, liver etc.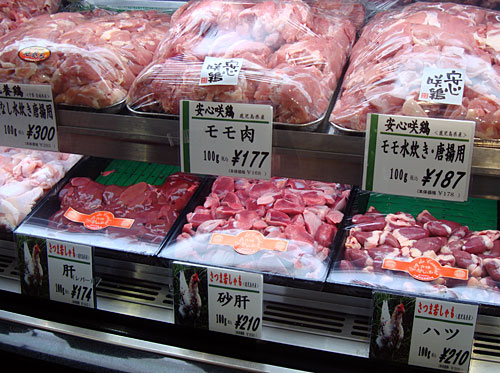 And of course, there are the fish counters...from fresh to dried and everything in between. Everything is of the highest quality, and quite a lot of it is caught locally (in the seas around Kanagawa prefecture, where Yokohama is located).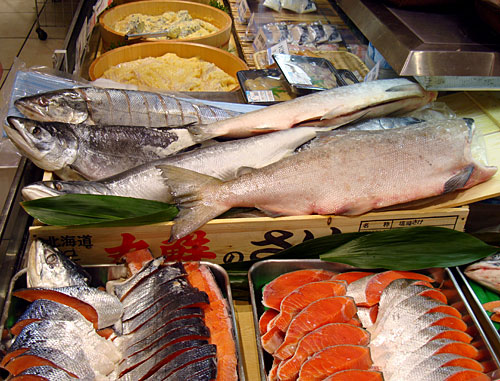 These are some himono (干物), or semi-dried fish. They are salted and sometimes flavored with something else, and dried for a short while. They are eaten simply grilled.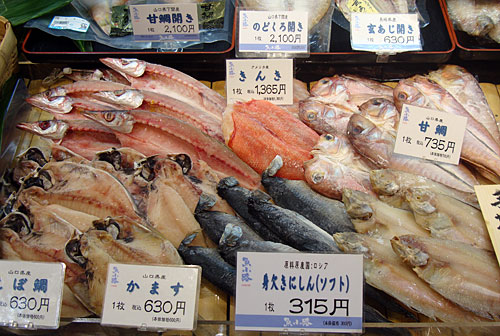 Sashimi, ready to go...just put out on a plate and eat! A popular choice for a quick dinner.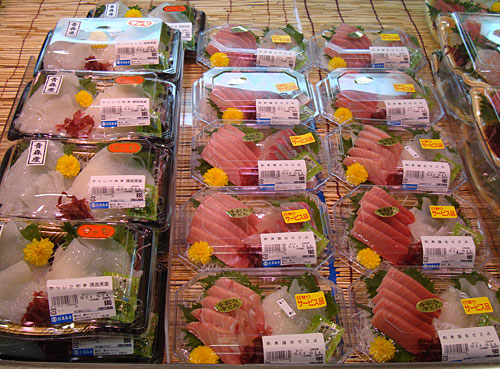 Prepping some asari (small clams).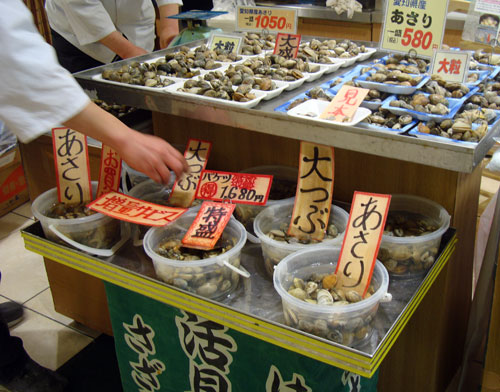 These are urume iwashi, semi-dried sardines. They are also eaten simply grilled.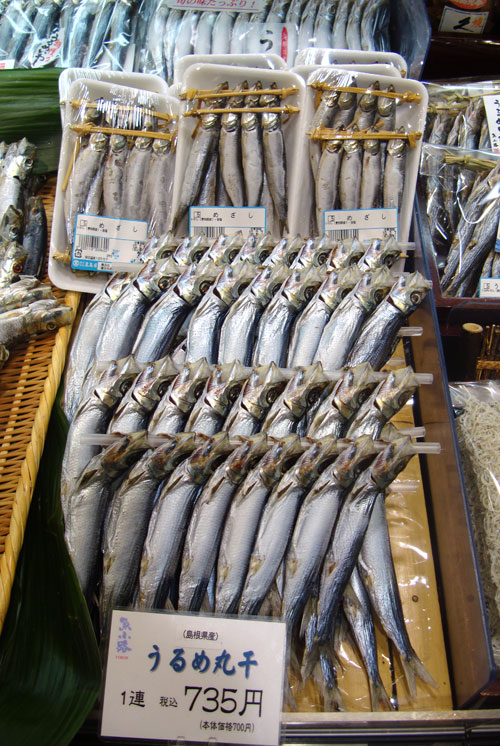 I only took a few photos of the upper floor, since it was already getting way too crowded by the time I got up there (around 11am on a weekday). This is the place to purchase prepared foods, both for consuming yourself or as gifts. You can also pick up some great bentos here for lunch or dinner in your hotel room, but you need to get there by 11am or after 3:30 or 4pm to grab one of the popular ones.
Just a selection of their soy sauces...you barely, if ever, see any of these brands outside of Japan.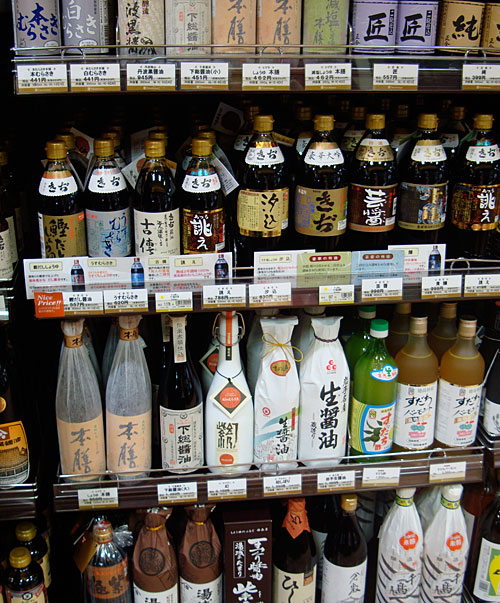 A shelf full of special-brand curry powders, roux and ready-to-eat cans. Again, all brands you don't really see in supermarkets.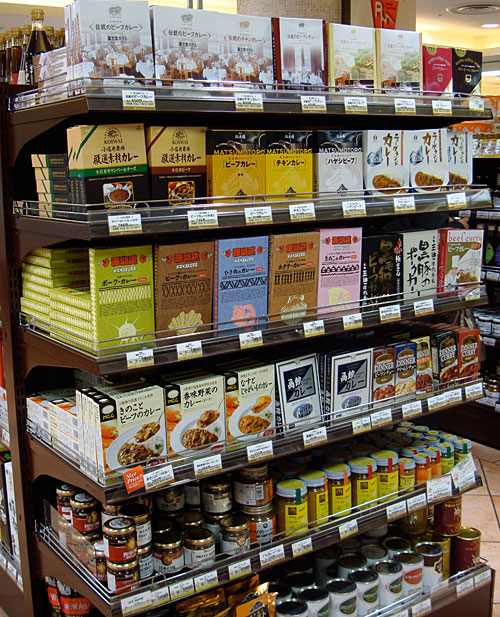 A peek at one of the several patisseries....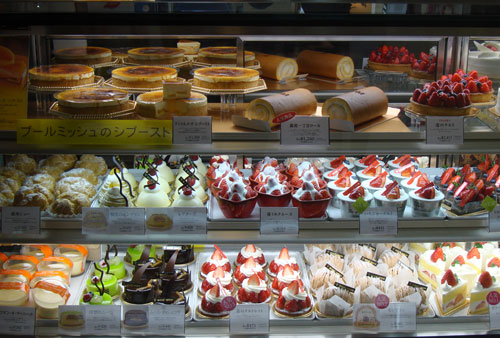 Some melon pan on display at a bakery counter (operated by a famous old-time bakery in Ginza).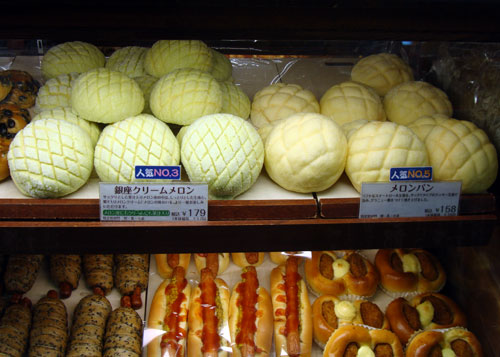 (Want more photos? You'll find them in my flickr stream.)
There seem to be several keys to the Yokohama Takashimaya food hall's success. First and foremost, each section of their food halls is operated by a real expert, not just any department store employee. For instance, as I mentioned above, the meat counters are under the care of an outside vendor who is renowned for their quality. The same goes for portions of their fish department too. The guys in charge of the fresh produce are also real greengrocers who know when something is in season and when it's not. (A couple of weeks after I took these photos, I went back there with my mother, who was after a certain type of satsuma orange or mikan. One of the greengrocers steered her to another type of mikan because he said the ones she wanted peaked earlier than usual this year, and that the lesser known type were at their real peak. The difference between the two in terms of high season was only about 2 weeks! But we could really taste the difference -- even though they were both priced the same.)
Another key is that, beyond knowledge, the service is absolutely great. From the speed and neatness at which the cheerful lady workers pack your groceries for you (with little ice packs, which are returnable and reusable) to their very reasonable same-day delivery service, they really have your back in so many ways. Here's Mr. Asano, who posed rather shyly behind one of the meat counters for me: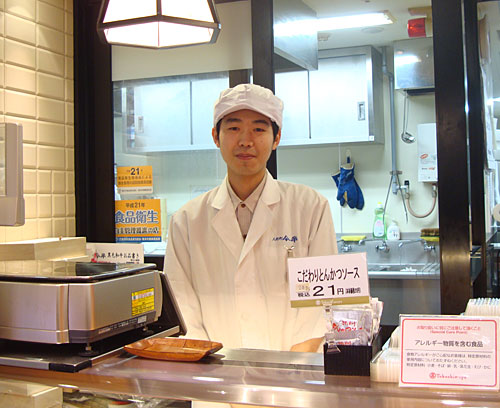 There's also the fact that the outside vendors that are invited in are under quite a lot of pressure to perform or else. If they don't have good sales, they are pushed out and replaced by another vendor. So the competition between vendors is quite fierce indeed, and their products simply have to be good to attract customers.
Finally, there's the fact that Yokohama station is one of the busiest in the country. Six train lines converge there, not to mention buses, so there's lots of foot traffic (Takashimaya can be accessed directly from the station via the basement level, and the main entrance it just steps away from the ground level train station exit). Still, as I mentioned already there are several other department stores with similar easy-access from the station, that are not nearly as busy. Sogo on the other side of the station for example is never really that busy -- even though they have quite a few of the same outside vendors that Takashimaya does! But then, their greengrocer for example is not nearly as good as Takashimaya's. And they certainly lose out in terms of the level of service.
In any case, it was certainly a very enlightening experience to be able to get a glimpse of the workings of a successful department store food hall.
One Hundred Flavors Festival (Aji Huyakusen) and other Takashiyama fun
Besides the food halls, Takashimaya also periodically has a food festival called Aji Hyakusen (100 Selected Flavors), usually on the 8th floor. Various vendors from all over the country are invited in to sell their stuff, and it's kind of a party atmosphere, with lots and lots of samples to try and little elderly ladies with sharp elbows and shopping bags poking you in the ribs or lower. (Incidentally I'm only 5 foot 3 or about 158cm tall but I'm still on the tallish side in Japan...) I have some pictures from the Aji Hyakusen held in February on flickr.
If you can manage to make it to any branch of Takashimaya before opening time (which is usually 10am), try to get to the main entrance with a good view of the glass doors. You may see the greeting ladies or girls, decked out in uniforms complete with hats, marching in rhythm and lining up in preparation for the opening. It's pretty amusing in a sort of fascist kind of way, if that makes any sense. Certainly something you don't see happen in American or European department stores!
I talked earlier about the great customer service Takashimaya offers. You'll find this on any of their floors. For example, the other day I had to get a small non-stick frying pan in their kitchen equipment department. I finally decided on the cheapest 3,000 yen model, and asked for assistance. The store assistant led me to the counter, asked me to take a seat there, fetched the pan from storage, gift-wrapped it for me, and otherwise made it a most pleasant experience -- for a cheap 3,000 yen frying pan!
Practical Notes on Yokohama
Yokohama Main Station (just called Yokohama, vs. Shin Yokohama, which is the Shinkansen station) is just about a 20-30 minute or so ride from Shibuya (depending on if you take a local, express or a special express train), on the Tokyu Toyoko line. Takashimaya can't be missed - there are big signs pointing to it, and it's right outside the West or Nishi entrance. There's also access from within the station.
If you make a trip to Yokohama, you should also visit Sogo, which is at the East or Higashi entrance. Even though I did rather dismiss their food halls, they do have a branch of a pretty amazing dry goods store there called Tomizawa Shoten. They sell about 20 kinds of white wheat flour (for bread and pastries) alone. It's sort of dizzying. Sogo also has a big branch of LoFT and a Muji (Mujirushi Ryohin) on the 7th floor. For bento and kitchen supply fans, there's also a large Tokyu Hands about a 5 minutes walk from Takashimaya.
If you have the energy, you can combine a trip to Takashimaya and so on with one to Yokohama's Chinatown, the oldest and most populated Chinatown (or so they say) in the world (outside of China, where they don't actually have Chinatowns, obviously). Yokohama's Chinatown or Chuukagai (中華街) is on the Minatomirai line, which connects directly to the aforementioned Tokyu Toyoko line.
Another place you can visit in Yokohama is the Shin Yokohama Raumen (Ramen) Museum (English site). This is near the Shin Yokohama station, which is a 10 minute ride on the Yokohama City Metro (Yokohama shiei-chikatetsu 横浜市営地下鉄)from Yokohama station. My report on that soon...
Other food halls
Most if not all department stores have food halls. One of the biggest and most impressive is the Tokyu Food Show, which is in the Tokyu Toyoko store in Shibuya station. Isetan in Shinjuku also has a very well regarded food hall.
Footnotes
In other cities, I might recommend going to the open-air markets for serious food action, but in the Tokyo metropolitan area I think it's safe to say it's the better department store food halls where the action is. (There is the Tsukiji market, but that is basically for wholesale.) Department stores are where regular people shop for 'gourmet' stuff, and competition between stores is fierce, thus raising the overall quality.
You may be familiar with the Takashimaya store on Fifth Avenue in New York; that store is really an anomaly since it's more of a specialized boutique than a department store. The Takashimayas in Japan are regular department stores, selling a wide variety of products.
The term depachika (デパ地下), which is an abbreviation of the words depaato (デパート) or department store and chika (地下)actually has derogatory connotations, so people who work there and so on don't really use the term anymore, if they did at all. A depachika onna (デパ地下女)is slang for a woman (usually a bored housewife) who goes around tasting all the free samples on offer in a food hall, and never buys anything!
My thanks to Ms. Yokota of the Public Relations department for showing me around and letting me take tons of pictures (as well as patiently answering my questions!) 本当にどうもありがとうございました!
Submitted by
maki
on 2010-02-23 13:56.
Filed under:
food travel
japanese
shopping
japan