Heston Blumethal's wacky Christmas
(Before we commence, a final reminder that the Menu For Hope charity event ends tomorrow! If you have not donated yet, you still have time! Think of all the chocolate!)
If you missed Heston's Perfect Christmas Dinner, which aired on BBC Two last night, you just have to catch a rerun, or otherwise (!) try to see it. It was the craziest 'food' show I have ever seen, bar none, and I have seen lots of them from all over the world. Despite the rather somber mood around here these days, we were laughing out loud several times as we watched it.
The second season (series) of Heston Blumenthal: In Search of Perfection, which ended on Tuesday (season/series 1 reviewed here) was a bit disappointing to me - I felt as though he was sort of stretching things a bit too much sometimes. But the Christmas show was just astonishing, and so much fun.
Among other things:
The guests were greeted with what looked like Christmas balls, which were actually filled with salmon mousse
Heston went to Amman to get real frankincense and myrrh, and turned it and gold leaf into a 'Gifts from the Three Magi' themed sort of soup
He made a special feed for the goose he was going to use for the dinner, mixing in some pine tree essence and sage and onion stuffing in the feed to pre-flavor the goose with Christmas flavors (Actually his assistant had to mix up the feed, in a cement mixer. I wonder if that was in his job description.)
He went up to Siberia to feast on reindeer (and bring some home, from a farm though)
At one point, he put a tampon in his mouth, for scientific purposes. (Note: he repeated this recently when he was on Friday Night With Jonathan Ross, but he put the tampon in Jonathan's mouth. Apparently it's very absorbent and really affects the taste of things.)
And a lot, lot more.
The guests, which included Terry Wogan and Richard E. Grant (who is a lot of fun to watch with food since he has this strange habit of putting his face almost IN his food to sniff at it) were like children in their astonishment, which made it even more fun to watch. Here they are seated for dinner...in a sort of winter wonderland setting, to which they all exclaimed as they stepped in, "Narnia!"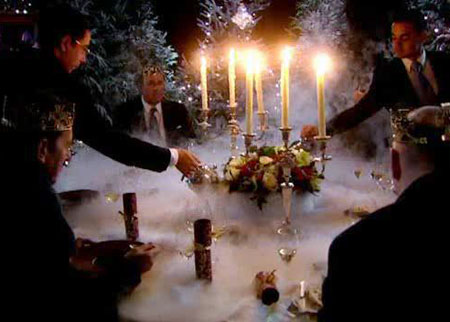 It was like a combination of science, food and a Harry Potter movie.
Here are the re-airing times on the BBC:
December 21 at 3:25AM GMT / 4:25AM CET on BBC One with signing
December 23 at 2:45PM GMT/ 3:45PM CET on BBC Two
Submitted by
maki
on 2007-12-20 14:56.
Filed under:
tv
bbc
chefs