Nabe (hot pot) basics in the Japan Times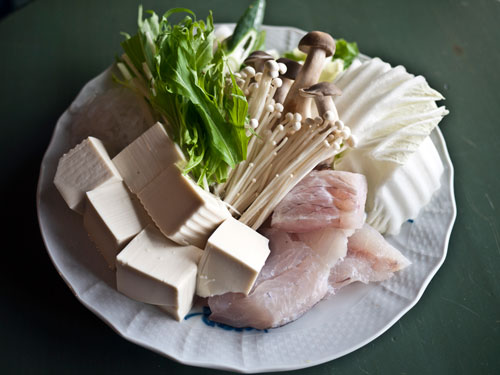 This month's Japan Times column is about the basics of nabe, or hot pots that are usually cooked at the table, with everyone taking what they like from the pot as it cooks. It's a fixture at dinnertime in the winter - it's fun, the just-cooked piping hot ingredients really warm you up, and prep is fairly easy since all you need to do is to cut up everything and so on. I've included a recipe for tarachiri, or cod hot pot, which is great if you can get fresh cod or other firm white fish.
Incidentally, a donabe donabe or earthenware hot pot is a nice thing to buy at Kappabashi or anywhere in Japan where you can buy kitchenware. It doesn't have to be a huge big one either - a small one- or two-person one may be fine for your needs, and is a nice thing to have on display in your kitchen too!
Check out the other nabe recipes on Just Hungry also (links below):
Submitted by
maki
on 2014-11-21 03:41.
Filed under:
japanese
washoku
nabe
writing elsewhere
japantimes