Righteous tofu pudding in under 5 minutes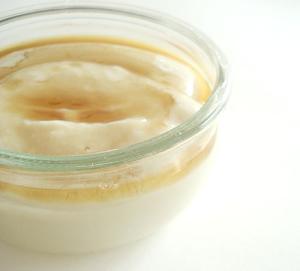 One of the things I like to do with tofu that didn't quite come together is to turn it into a pudding. Now I do not pretend to you that this tastes like a proper pudding or mousse made with cream and such, and if anyone tries to convince you that a tofu based dish like this is 'just as good/rich as the real thing' they are either lying or have no taste buds. It's different, but still good. It's a lightly sweet, cool and creamy dish that will quiet a sudden urge for Something Sweet. Since it's quite healthy it will leave you feeling righteous, thus the name.
It's also a dish that you can whip up in no time at all. I realize that many of the recipes here take a lot of time, effort or both, and I'm going to try to rectify that. Look for recipes with the quickcook or under 10 tags.
Righteous tofu pudding
1 cup of mashed up fresh tofu (a small block of either silken or firm tofu, or a mixture)
3 Tbs maple syrup, sugar, or sweetener of your choice (see notes)
Flavoring: a few drops of vanilla extract, almond extract, or 2 Tbs. cocoa powder (optional)
If the tofu seems a bit watery, squeeze it lightly in a non-terry cloth towel or several layers of paper towel.
Place the tofu, sweetener and flavoring in a blender and blend until totally smooth. If you don't have a blender, push it through a fine meshed sieve or mash it up as fine as possible with a fork.
Serve cooled with optional extra syrup, honey etc. on top if you so desire. The one in the photo is flavored with maple syrup with additional maple syrup on top.
Notes
Try to use a superfine sugar - granulated may be a bit gritty. You can of course use an artificial sweetener.
Silken tofu will make a rather loose pudding, while firm tofu will make a more substantial pudding.
Submitted by
maki
on 2007-02-23 14:32.
Filed under:
dessert
lighter
vegetarian
sweet
tofu
quickcook
vegan
under10