Some links and random thoughts
Here are a bunch of unrelated-to-each-other links and thoughts that have accumulated recently.
Product linkage, edible
For UK and Europe readers: Japan Centre has a sale on this week for Yamamotoyama Soy Rappu, colorful soy based wrappers that are an interesting substitute for nori seaweed when making sushi rolls. I haven't really tried them myself yet, so I placed and order and will see how they work.
And speaking of Japan Centre, they now stock Grape and Orange flavored Calpis! Ah, Calpis, the guilty pleasure of my youth. I'll be writing up an unnecessarily long and rhapsodical ode to this most curious fermented milk beverage sometime soon, before summer runs out.
Allez Cuisine into the deep
For U.S. cable TV viewers, Fine Living is going to be running a Sea Monster Week of Iron Chef episodes starting on Monday the 18th, starting off with Battle Octopus, then on to Battle King Crab on Tuesday, Battle Giant Eel on Wednesday, Battle Squid on Thursday, and ending with Battle Ashura Oyster. Sounds like good slimy fun.
Not edible, but still so sweet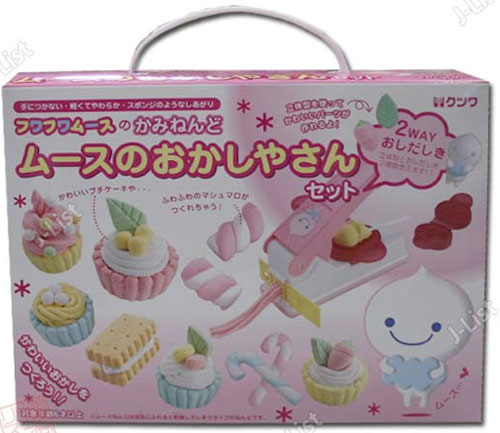 Recently it's become very popular in Japan to decorate various things including cellphones and iPods, mirrors, bags, even your car's rearview mirror, with fake confectionery made of clay that look just like the real thing. They are made with various air-drying clays. Take a look at this Google image search for some amazing examples. Remember, none of what you see there is edible!
If this intrigues you or your kids, J-List/JBox has an exceedingly kawaii paper clay cake making kit aimed at children. It comes with lightweight air-drying paper clay.
Update on what's up with me and stuff
And finally, some personal notes... As I've written about here previously, I'm in the middle of the process of selling a house (actually two houses, since this is a Doppelfamilienhaus), finding a new place to live, and then eventually moving from here to there. I've tried not to let the two food sites slip into non-updated oblivion, but I haven't been able to spend as much time on them as I'd like, not to mention any kind of time consuming cooking. (My two other blogs have already gone rather quiet). Anyway, if you see a lack of answers to questions, or note the fact that most recently posted recipes are very, very simple, you know what the reason is! In the next few weeks I may be absent for some stretches so that I can go do some serious house hunting, and when we do find a new place to live it's likely things will be quite hectic for some time after, but I hope you bear with me!
Submitted by
maki
on 2008-08-15 02:46.
Filed under:
site news
tv
offbeat