chestnuts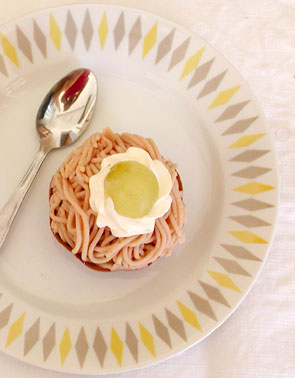 I'm afraid the photo came out with a slight yellowish cast to it since I took it in the afternoon sun.
Let's face it, any woman (or man) who works, presuming s\he's the one in charge of the cooking duties in the house, appreciates a one-pot meal. A one-pot meal not only has to fit in one pot, but the contents of said pot should be nourishing and satisfying enough so that you do not find the people you are trying to feed looking forlornly in the refrigerator one hour after dinner.
A soup that falls into the hearty category like this one, fulfils that requirement admirably. When the weather turns cold, there is nothing like soup with legumes in it to warm your tummy as well as filling it.
Lentils are the handiest legume ever, since you don't need to soak them beforehand. You can just throw them into a pot and say, 20-30 minutes later, they are nicely cooked. Esau's potage (see Old Testament) is supposed to have been made of lentils. Lentils also have a slightly peppery flavor which perks up the flavor of the soup. For this soup I prefer to use red lentils, but the grey ones work fine too.
The other main ingredient is chestnuts. This is a bit tricky, actually. If you have time and patience, you can buy raw chestnuts and either boil them or roast them (on your open fireplace, if you have one, in a tin made for this purpose, or else wrapped in double-triple-layers of foil and places near the edge of the fire). But who has the time for that? Here in Switzerland, as well as in Austria, Germany and France, it's easy to buy bags of "heisse Marroni" (hot roasted chestnuts) on the street during the cold months. You do need to peel them but the shell does pop off easily. Try not to pop too many in your mouth while you peel them.
If you have money to burn, you can substitute chestnuts-in-honey or syrup or whatever you can find at your local gourmet store. This is what Nigella Lawson does in the original recipe from which this recipe has been freely adapted. I would not be so crazy as to use real, beautiful marron glacé though. Here we can also buy peeled frozen chestnuts at the supermarket, which do the job just fine.
If you don't have any chestnuts, I would (and have) substitute an equivalent amount of cut up sweet potatoes, or Japanese-type squash (kabocha). Butternut would be okay too. You just need a rather dense, sweetish, floury ingredient. Plain potatoes lack the sweetness factor.
For this sort of soup you don't need to get too fussy about the stock. Plain water plus a vegetable stock cube does the job, provided you start with the sauteed vegetable mix.
This is a pureed soup, so you need a stick blender. Believe me, a stick blender is well worth getting, and they are really cheap. Even if you have a food processor or blender, it's way easier to just puree a soup in the pan. I don't worry about tiny little lumps being left - it just makes it more rustic and satisfying.