soup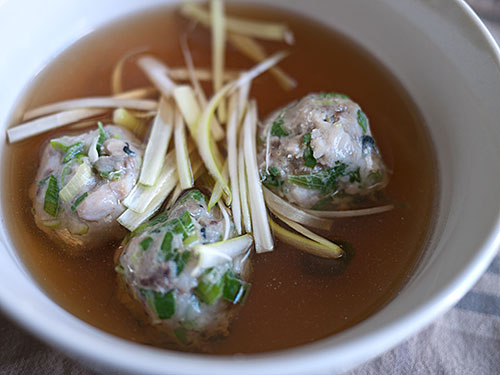 Now that you know how to gut, bone and clean sardines, one of the nicest ways to eat the sardines is to turn them into little fish balls which can be floated in a hot pot, pan-fried, and so on - or most classically, served in a clear soup. The ginger and onion takes away any kind of 'fishy' taste. You can even serve this in cold soup for a refreshing change. (Warning: Not many fish guts below but there is a lot of raw fish!)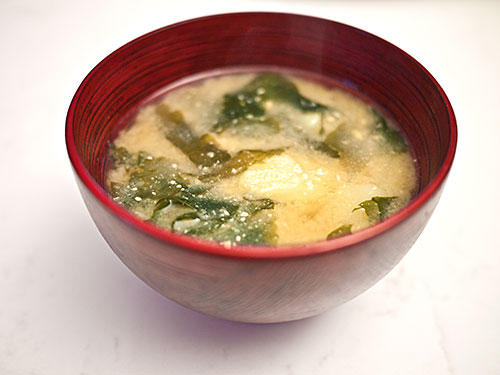 Now that you know how to make a proper dashi, you're 90% on your way to making delicious miso soup and clear soup. If you have ever wondered why your miso soup doesn't taste quite right, and you were omitting the dashi part…you're in for a treat!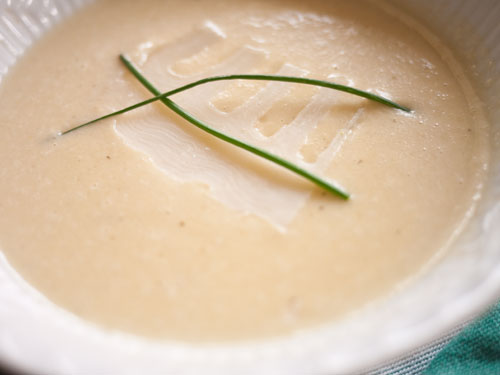 A very simple creamy soup, made with a quintessentially Japanese spring vegetable, bamboo shoot or takenoko.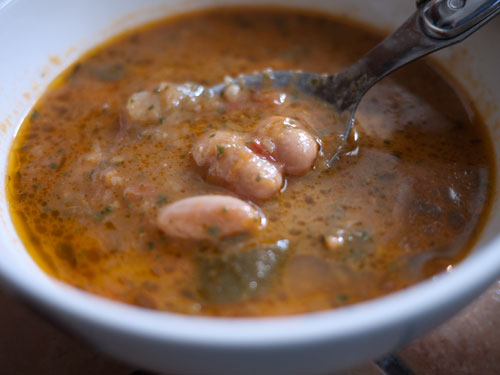 Recipes abound in print and online for Soupe au Pistou, a bean and vegetable soup that is a Provençal classic. Mine is not much different from the rest, but it's here because I love it so much. It reminds me of why I wanted to move here in the first place. When a pot of Soupe au Pistou is simmering away on our crappy hotplate (yes, it can be made on a hotplate) it makes my continuing kitchenless state somewhat tolerable. A big bowl warms me up when the temperature drops to the single digits celsius, and the chill seeps into this old stone house from all the gaping gaps in the doorways and windows and walls.
I make it around this time of year with fresh, undried beans - coco blanc and coco rouge - that we can buy at the markets here. They are so gorgeous, before and after shelling. However, it's probably a lot easier for most people to get a hold of dry beans so the recipe calls for them. If you can get fresh beans, just use a tad more - 3 cups total - and skip the soaking and pre-cooking part.
For the first time on Just Hungry, I've included a Japanese version of the recipe too. This is mainly for my mom and aunt to read, but take a look if you are studying Japanese - or point your Japanese friends to it. It is not a translation of the English, but a version specifically for making this soup in Japan.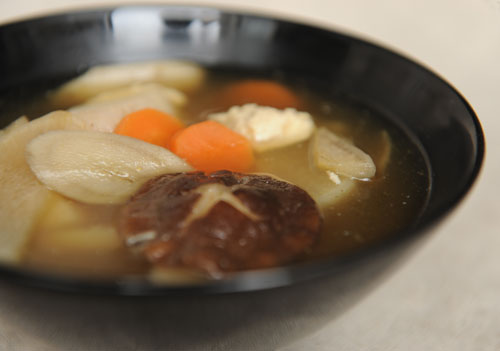 It's been a cold and snowy winter so far around these parts, which usually means soups and stews for dinner. This classic Japanese soup is hearty yet low in calories, full of fiber, and just all around good for you. It helps to counteract all the cookies and sweets you might be indulging in at this time of year.
The name kenchinjiru (けんちん汁)derives from the Zen Buddhist temple where it was first made (or so it's claimed), Kencho-ji (建長寺)in Kamakura. (Kamakura (鎌倉) was, for a brief while, the capital of Japan in the 12th and 13th centuries. Nowadays it's a major historical tourist attraction, and a fairly easy day trip from central Tokyo.) Since kenchinjiru is a shojin ryouri or temple cuisine dish, the basic version given here is vegan. It's still very filling because of all the high fiber vegetables used. You could make a very satisfying vegan meal just from this soup and some brown rice.
We left Provence this week for a little trip to the Midi-Pyrénées in the southwestern part of France. We've been trying to save money by cooking at home most of the time since we started our nomadic existence in France (see previously; not that that's much of a hardship, since the produce and other foodstuffs in Provence are spectacular). But this week we've been staying in an apartment in a 17th century townhouse right around the corner from the Toulouse-Lautrec Museum in the heart of Albi, the capital of the Tarn Department. Since there are tons of great little restaurants here, we've been indulging ourselves a bit.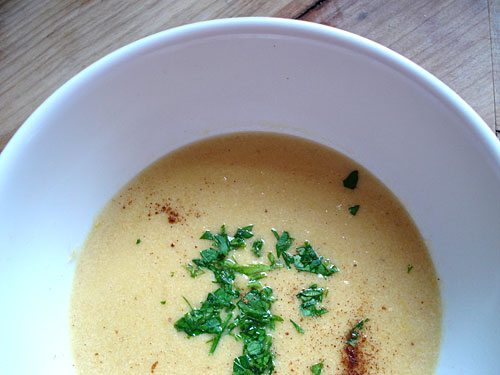 This rich fusion-esque soup is something I just came up with while fiddling around with the idea of a bisque-like soup without any cream or milk in it. It is fairly frugal despite its richness.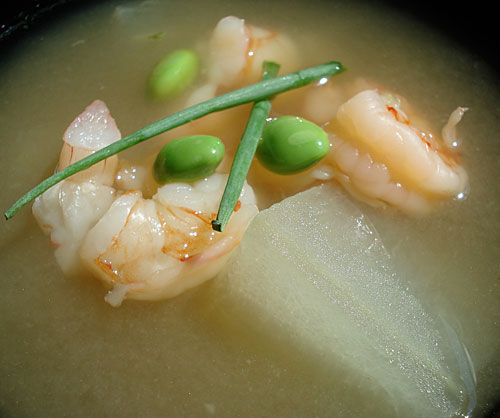 These days, the house generally looks like a warzone because of the packing, and I am not in the mood for involved cooking. So I'm making very simple bentos, and mostly one-dish/one-pot type of things for dinner. A great one-pot meal is soup of course, but it is also summer, when we aren't always in the mood for a steaming hot bowlful.
The answer is chilled soup that can be made ahead and just taken out at dinnertime. This one is really easy to make too, which is a big plus. Winter melon has a inherently cooling quality according to old (Chinese) medicine, so this is really nice to have on a warm evening.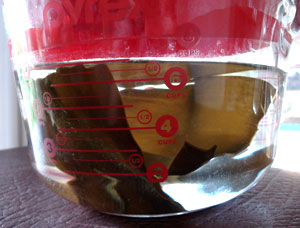 As I've stated many times here over the years, the basis of most Japanese savory foods is a good dashi, or stock. Dashi is not just used for soups, it's used for stewing, in sauces, batters, and many, many other things.
The regular way to make dashi was one of my first entries on Just Hungry. It uses kombu seaweed and dried bonito flakes (katsuobushi). Some people use niboshi, small dried fish, in addition to or instead of bonito flakes.
Katsuobushi and niboshi are both fish-based, so not vegetarian. So how do you make a good vegetarian, even vegan, dashi?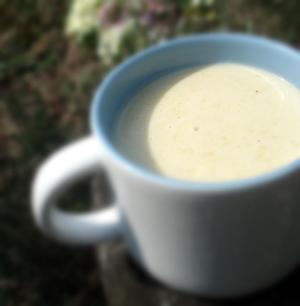 What's the soup of your childhood? The one that your mother made for you when you had a cold, needed cheering up, or just as a treat? For me, there's no question: it's corn cream soup.
Corn cream soup (and yes, it's called like that, not 'cream of corn soup' or 'creamed corn soup') belongs to the yohshoku category of Japanese home cooking. It's an old fashioned, milk based potage, with creamed corn in it. It smells milky, and tastes sweet and savory. It's loved by Japanese kids.
Now, while my mother was a pretty good cook generally, she did have trouble getting some things right. Her curry for instance was always rather watery. And her corn cream soup, instead of being silky smooth, always had little lumps of undissolved roux. I loved those little lumps though - they tasted like tiny dumplings. Later on when I started to make my own corn cream soup I followed recipes, so my corn cream came out smooth and lumpless. That was fine, but I missed the lumps from my childhood memories. So, I incorporated them back.
Everyone uses canned corn to make a corn cream soup. You can be fancy and use fresh, but that lifts this humble soup into the realm of gourmet special-occasion big deal cooking, which is not what my memories are about at all. I have adjusted the usual way of making this soup by using whole corn rather than creamed, since whole corn cans have more actual corn in them and I suspect less added sugar, and I like the mixture of crushed/creamed and whole corn kernels. Besides, creamed corn cans are unheard of here in Switzerland.