leftovers
I am still not up to much cooking, but I did want to share this in case anyone ends up making the hot cross bunny buns, or just regular hot cross buns, for Easter, and have leftovers. I did the trial run for the bunny buns a couple of days before I went to the hospital. Eight (!) of them were consumed almost right away, but the rest ended up getting hard and forlorn since (cough) someone forgot to put them in the freezer fast enough.
Never fear though, they made great bread pudding. It was so good that even I was able to eat a little, in my current uncomfortable-swallowing and lack of appetite state.
Sorry for the lack of photos…it got devoured before I had a chance to shoot. I'll put some in next time I have leftover hot cross bunnies.
Posted by Max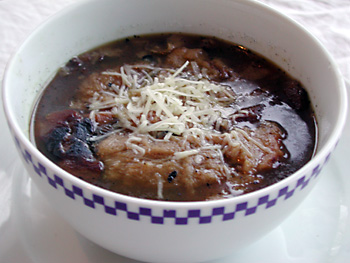 In the small household I grew up, there was always an issue with bread. Either it was gone because it was fresh and very good, or it was not that fresh anymore, and stayed until stale. To clear up this stale bread, my mother made a simple soup out of it. This simple recipe fits very well in Is My Blog Burning, edition 25, hosted by Derrick Schneider's An Obsession with Food.