Food Destinations 4: Schweizer Heimatwerk, Zurich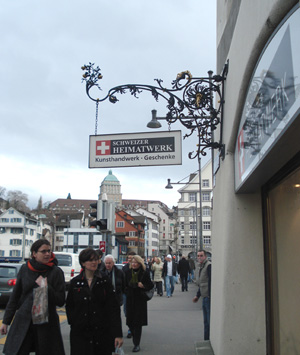 The theme of the fourth round of Food Destinations, hosted by Paula of Mango and Lime, is My Favorite Gourmet Gift Shopping Spot. I've already written about some of my favorite spots to shop for edible goodies in Zürich, not to mention my favorite place to buy chocolate, always an appropriate gift for a food lover. There are times though when you need an extra-special gift. In addition, I often find myself in a situation where I need to get something for someone abroad, and since I'm going there from Switzerland they expect something Authentically Swiss. Those are the times I turn to Schweizer Heimatwerk, or Heimatwerk for short.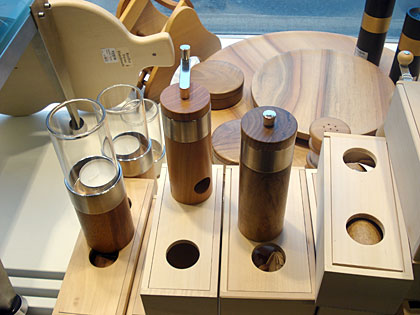 Heimatwerk means home craft, or local handcraft or folk art, in German. (I can't think of an equivalent English word for it, but in Japanese it's close to mingei-hin); so, the name of the store translates to Swiss Handcrafts. From this you might assume that the Heimatwerk store carries stereotypical Swiss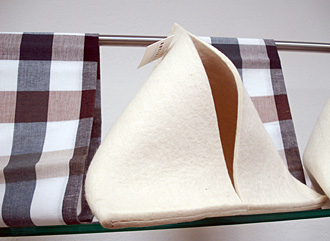 items like cowbells, music boxes and cuckoo clocks. While it does carry a small and very select selection of the two former things (there are no cuckoo clocks since the cuckoo clock is not really Swiss, it comes from the Black Forest region of Germany), most of the store is dedicated to the works of contemporary Swiss craftspeople and artists.
About one third of the store is devoted to food-related items like dinnerware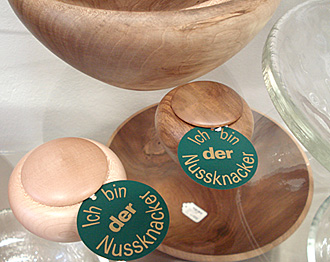 and various kitchen supplies (there are also toys, fabric and clothing items, and decorative objects). If you want a piece of traditional Swiss folk cart, it is possible to get, for instance, a handpainted fondue set decorated with cows, made in the Appenzell region. But whenever I go there I'm drawn to the more modern design items. For instance: the clean, modern lines of a thick felt bread warmer; beautiful pale ceramic plates or brightly colorful dinnerware; glass-stamped items for the table; candlesticks made from blocks of wood; simple wooden, hand carved bowls and nutcrackers. Swiss people love modern design, natural materials (especially wood), and bright colors, and this is reflected in the selection at Heimatwerk.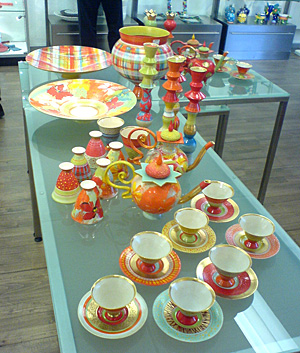 There's one drawback to Heimatwerk: the prices are astronomical, even for pricey Switzerland. While they direct a lot of their marketing towards visitors, a lot of casual tourists who wander in there looking for a cheap souvenir get sticker shock and leave without buying anything. For instance, that wonderfully minimalist felt breadwarmer is 90 CHF, about US$73. A hand-hewn wooden bowl, studded with wonderful knots, was on sale at 255 CHF ($210). It's really a shame - but I guess there is a price to pay for top quality craftsmanship. I can't afford to shop for myself there too often, but I do own a few items that I've splurged on over the years; a wooden salt and pepper set, a set of wooden coasters, each coaster made from a different kind of tree, some hand-made St. Gallen lace tablemats, and so on. I've never regretted any of the things I've gotten from there.
The plus side of course is that everything at the stores is of top quality. And there are some inexpensive items if you look closely, such as hand-screen glasses with cute designs on them, kitchen towels that would last you forever, and the original (or so they claim) vegetable peeler. Another bonus: they will wrap even the smallest purchase for you,if you request it, exquisitely.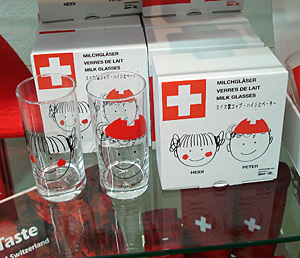 Perhaps not surprisingly the store is quite popular with Japanese tourists - I always think that modern Japanese and Swiss design sensibilities are quite similar.
If you find yourself in Zürich, be sure to at least stop by a Heimatwerk store, especially if you love modern design. There are 4 in the area, including 2 in the airport, and each has a different selection of items. The location with the best selection of high-end craft and design items is the flagship store on Uraniastrasse on the Limmat, the main river that runs through the city. They also have smaller stores in Basel and Geneva.
Schweizer Heimatwerk
Main store: Uraniastrasse 1, 8001 Zürich (a couple of blocks towards the Limmat from the Bahnhofstrasse. map)
1 other location in the city, 2 in Kloten airport, and 1 each in Basel and Geneva
http://www.heimatwerk.ch
Be sure to check Mango and Lime for the Food Destinations #4 roundup!
Submitted by
maki
on 2007-01-06 20:19.
Filed under:
food destinations
food events
swiss
shopping
zurich