Food Destinations: Zürich, Switzerland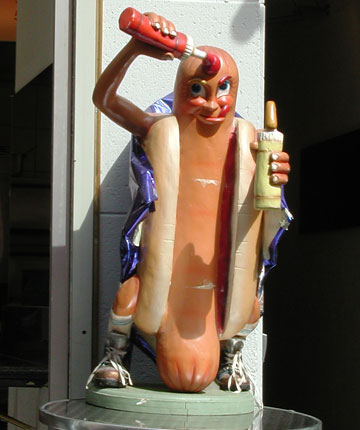 This is my entry for the Food Destinations event - a day late!
Introduction
Zürich is the largest city in Switzerland, and the center for banking and commerce. With a population of around 350,000 for the city proper, and about 1 million for the greater Zürich area, it's not a large metropolis by international standards, but it's certainly very cosmopolitan. The entire population of Switzerland itself is around 6 million, so you can see that Zürich is quite dominant population wise.
This is a city that flaunts its prosperity in a subtle yet quite emphatic way. From the moment you land at the airport in Kloten and work your way through the granite-clad, spotlessly clean corridors, you are surrounded by a very Swiss kind of luxury. Trains are always on time, and always impeccably clean. Crime is barely an issue. People pay for their groceries at the supermarket with CHF 500 (Swiss Francs - currently roughly US $400) bills and the cashiers don't bat an eye. The shop windows along the Bahnhofstrasse, the main street leading from the imposing Hauptbahnhof (main station) are filled with understated displays of astonishingly expensive watches and jewelry.
This means that eating out in Zürich can be rather expensive. However, there are still many ways to enjoy the rich variety of food that is available here without breaking the bank. It's quite easy to find an expensive and fairly good restaurant here, but for my Food Destinations essay for my adopted city of the last decade or so, I'm going to concentrate on some great non-restaurant food experiences, with just one exception. (Max will be covering the restaurant scene in more detail in his post.)
Practical notes for visitors:
Almost everyone speaks at least a little English, so you don't have to worry about communications. Swiss-German sounds nothing like regular German by the way!
As in most European cities, service is included in the bill at restaurants and cafés. Most people leave some small change when they pay.
All resturants have smoking and non-smoking areas, and now the trains are all non-smoking.
The best way to get around town is on the pretty blue-and-white trams. All the destinations I've listed are close to a tram stop. The easiest way to use the tram system is to get a Tageskarte, or Day Ticket - available from the ticket offices in the main station, or from any vending machine at the tram stops.
Add 0041 to the telephone number and omit the first 0 (e.g. if the number starts with 044, just dial 0041 44 etc.) if calling from overseas.
So, here are my chosen destinations, in no particular order.
Confiserie Sprüngli, Paradeplatz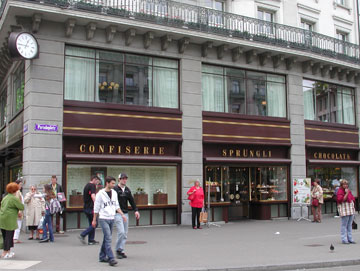 Paradeplatz is the center of the city. Several tram lines converge there, and it's surrounded by chic boutiques, popular restaurants and expensive hotels like the Savoy. Dominating one corner is the flagship store of Confiserie Sprüngli, a true Zürich institution.
A confiserie is a store that sells both sweet and savory items; pastries, cakes, chocolates, sandwiches, and even ice cream. (Incidentally, the German term Konditorei is not that often used here, even if this is the German speaking area of Switzerland.) Sprüngli sells all of these items in their always busy ground floor boutique. Whether you want a box of chocolate pralines or truffles, a small yet delicious sandwich, a selection of delicate savory nibbles made from buttery puff pastry, or a beautifully presented slice of cake, you can find it here. A couple of specialities include the Cru Sauvage truffle, made from a wild cacao bean that grows in Bolivia, and the Luxemburgerli, a tiny meringue sandwich with a flavored cream filling.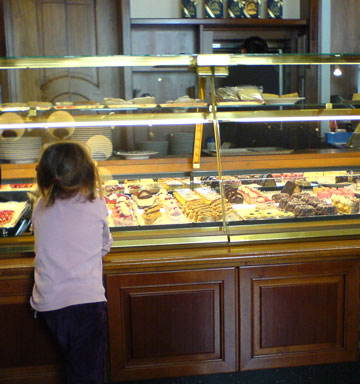 Upstairs is an elegant Edwardian-style decor café/tea room, where you can sample a slice, or two, of those irresistable cakes, or have a salad or hot dish for lunch. One speciality that may sound strange but is surprisingly delicious is a sort of deluxe bowl of Birchermeusli (the bowl of fibre-filled cereal goodness invented in Switzerland). The Sprüngli version is soaked in milk until it's soft and mushy, mixed with crushed berries, and optionally topped with cream. The tearoom gets very crowded from around lunchtime until 3 in the afternoon, especially on weekends. One impressive thing about Sprüngli is that no matter how busy and hectic it gets, the ladies who serve you are always cheerful and unruffled. You never get the kind of attitude here that you might get at Fauchon in Paris for example - and the pastries are just as good. It is, however, a bit pricey.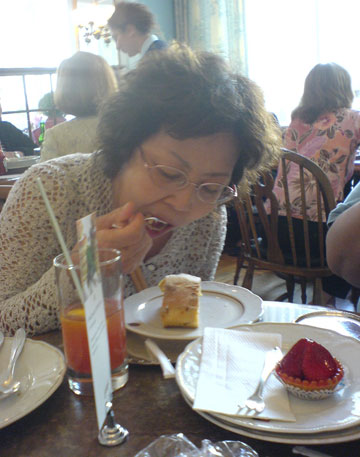 Incidentally, there are smaller Sprüngli stores all over the city, so if the main store is too crowded, try another one if you only want to buy something. There is a Sprüngli conveniently located at the airport, plus 3 in the Hauptbahnhof. The distinctive blue-and-white Sprüngli wrapping has a certain cachet, so if you need to bring a gift to a Swiss friend you can't go wrong with something from here.
Globus am Bellevue
Theaterstrasse 12, phone 044 266 16 30, http://www.globus.ch
Trams 2,4,5,8,9,11,15 to Bellevue or S-Bahn Stadelhofen (one stop from the Hauptbahnhof)
Unfortunately they didn't let me take any pictures here. Nevertheless, this branch of the Globus department store is a worthy stop for any foodie.
The three-story store located opposite the Zürisee (Lake Zürich) is totally dedicated to food. On the ground floor there is a casual restaurant serving a variety of foods such as Asian style noodle bowls. There's even a sushi bar, which for Switzerland is not too bad. (I don't pretend that sushi is great here.) The upper floor is dedicated to kitchen equipment and tableware; for a cook it's sort of like an Aladdin's cave of goodies. Much of it is rather upclass and modern; you won't find grandma's china patterns here, but you will find elegant pure-white dinner sets from Villeroy and Bosch, hammered iron pots from Japan, shocking pink silicon baking molds from Fauchon, stainless steel pots and kitchen gadgets from R&oouuml;sle, Sigg and WMF, and the like.
Finally, the basement is all about food and wine! The vegetables are impeccable and viciously expensive; there are several gourmet food counters (one for cheese, one for cured meats, one for fresh pasta, and so on), and a fairly comprehensive wine section. One good thing about this gourmet food basement is that there are lots of opportunities to taste and nibble. Tasting dishes of mustards and oils and vinegars and the like are laid out generously, and there's usually some sort of wine tasting going on. The other day for instance they were handing out handfuls of organic chocolate in one corner, and having a balsamic vinegar tasting in another.
An ideal summer afternoon is to put together a picnic lunch here and carry it over to the lake, to either eat on a bench or on the deck of a commuter boat (the boats are part of the city transportation system, so the fare included in your Day Pass.)
Barkat Lebensmittel
Birmensdorferstrasse 143, 8003 Zürich, phone 043 811 54 90
Trams 9,14, Bus 33, 67,76 to Schmiede Wiedikon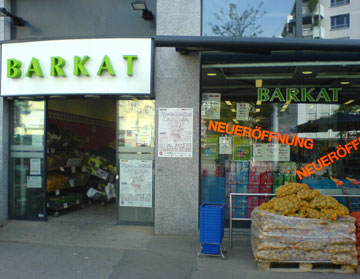 At first glance, Barkat looks like a rather scruffy cash-and-carry market...which it actually is. But look closer, and you see a microcosm of the multicultural community of Zürich.
Barkat is located on a busy street right opposite an ubiquitous Migros supermarket. (Migros dominates food shopping in Switzerland.) Outside there are boxes of cheap, mealy apples and 50 kilo sacks of onions. But inside, the vegetable aisles carry things like casava, plantains, a huge variety of herbs, Japanese style sweet potatoes with pinky-purple skins and white insides, and amazingly cheap shiitake and maitake mushrooms. This is where I encountered puntarelle for the first time, for example.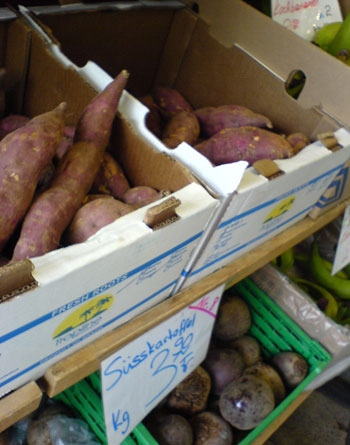 There are several boxes that are just labeled "Asiatiche Früchte/Gemüse" (Asian Fruit/Veg); I often have no idea what they are but it's fun to ask people or just try them out. In the back, there rows and rows of spices, legumes and rice from various lands, as well as snacks (tooth-achingly sweet Indian pastries, strudel from Croatia) and breads that you don't see in regular stores. There are some misses here (rubbery mystery cheese or flavorless mystery jam) but going to Barkat is always an interesting adventure. It's all quite inexpensive, which makes it even more fun.
Restaurant Zeughauskeller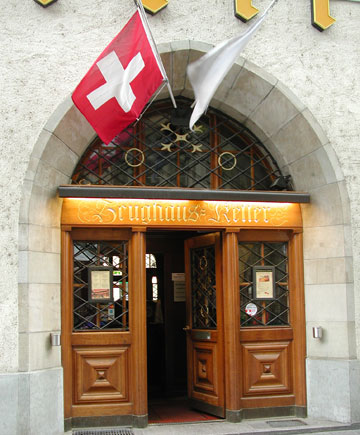 My only restaurant entry is not necessarily the best in the city, but it's a must-go-to if you want to sample typical traditional Swiss/regional cuisine. In the case of Zürich that means sausages and potatoes, most often in the form of rösti, a grated potato pancake. And one of the best places to have that kind of meal is at the Zeughauskeller, which is conveniently located on the Paradeplatz (diagonally opposite from Sprüngli).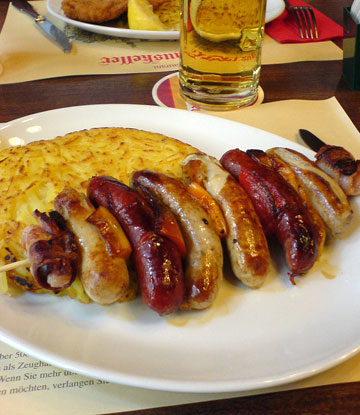 A typical lunch at the Zeughauskeller - Wurst and Rösti.
The restaurant is big, and in the warm months there is plenty of seating outside too. The menu is pretty basic - sausages, cutlets, a couple of fish dishes, and salads. People do not come here if they are on a diet or after 'trendy' food: they come for the excellent sausages, beer on tap, and the friendly atmosphere. The decor is sort of refined-beer hall. Out of town visitors we take there love it, especially Americans. At lunchtime the tables are filled with the "Züri Gnomes"...a.k.a. the bankers. (See a bit more about the Zeughauskeller in Max's post.)
St. Jakob Confiserie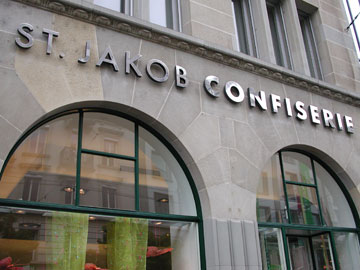 This small exquisite confiserie opened fairly recently, on a busy street about 5 minutes from the Hauptbahnhof by tram. It's run by the St. Jakob Behindertenwerk, a charitable organization that provides employment to disabled people - so while you indulge yourself you are also contributing to a good cause...a plus-plus all around! The head confiseur here is a lady, and the store has a very feminine feel to it. Even the packaging is in spring shades of pink, green, blue and yellow.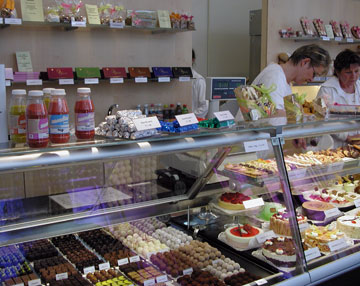 The chocolate pralines and truffles here are all handmade and delectable, of course - I am especially fond of the peppermint truffles, which taste like rather upscale after-dinner mints. They also have a line of handmade Leckerli (a sort of spicy biscuit that is a speciality of Basel), gorgeous cakes and sandwiches. The only drawback is that they don't have anywhere to sit to sample their wares on-site. Prices here are a bit less expensive than at Sprüngli.
Spezialitätenmarkt im Hauptbahnhof (Speciality Market in the Main Station)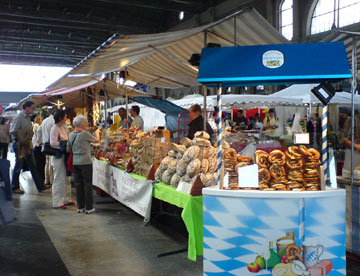 The main food market for the city is conveniently held right in the large main hall of the Hauptbahnhof (main train station), every Wednesday. Since it's all indoors there's no fear of battling bad weather all year round.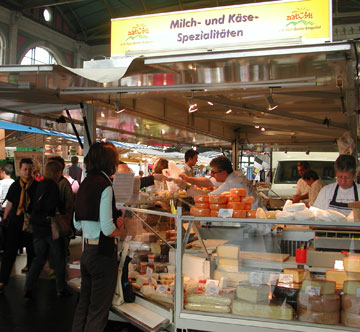 Approximately 50 or so stalls sell everything from beautiful organically grown produce to cured meats to potted plants to breads and pastries to jars of honey, preserves, various sauces, and much, much more. The stall holders come from all around Switzerland and surrounding areas like Italy and France. There are also a couple of stands selling hot food and cold drinks to eat at one of the provided picnic tables. This is a must-stop if you happen to be in town on a Wednesday.
H. Schwarzenbach Kolonialwaren, Kaffeerösterei, Tee-Café (Imported Dry Goods, Coffee Roaster, and Tea/Coffeehouse)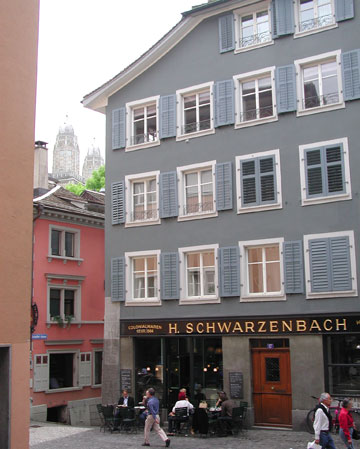 My final entry is perhaps the most uniquely Zürich destination of all. Located right in the Altstadt (historic old town), Schwarzenbach has been in business as a exotic-foods store for 140 years, run by the same family. (Their web site says that all 5 bosses have been named Heinrich! The current owner is Heinrich the Fifth. He only has two daughters though, so maybe the next generation will break the Heinrich string...) The current Schwarzenbach mini-mall consists of the original Kolonialwaren (which literally means "wares from the colonies") on the right and a café on the left, with a humongous old coffee roaster in the middle. When they are roasting, the whole street is filled with the irresistable aroma.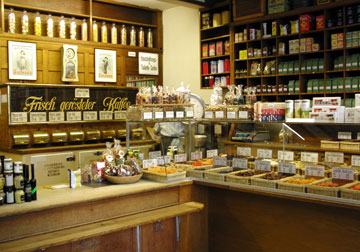 The old Kolonialwaren store is the real draw however. The windows are filled with a surprisingly up-to-date assortment of foods: dried herbs and grains, pastas of all shapes and sizes, vinegars and oils. Inside, you're transported back to another time: shelves filled with jars and boxes, big glass containers full of candy; baskets of dried fruits. Nothing here is self-service - you must wait patiently in line for one of the quietly helpful and polite ladies to take your order. Amazingly though, the selection here just as big, if not bigger, than at the glitzy modern Globus. This is the place that I buy my favorite salt from Brittany, as well as organic rye flour and the best chocolate couveture (chocolate buttons for cooking) in town. And the coffee is well, amazing.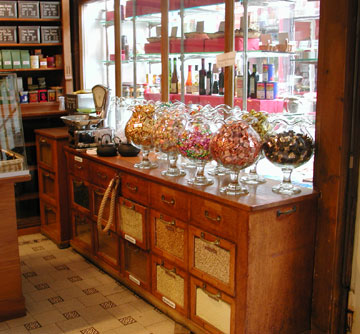 The little café next door is quite plain inside, but very relaxing. There is a big variety of coffees and teas to try, plus some delicious pastries. You can while away hours here in perfect contentment. It's a great place to rest your feet after exploring the many interesting shops in the Altstadt.
Submitted by
maki
on 2006-05-18 14:09.
Filed under:
food destinations
food events
swiss
shopping
zurich
markets