Hamburg Steaks or Hanbaagu/Hambaagu in the Japan Times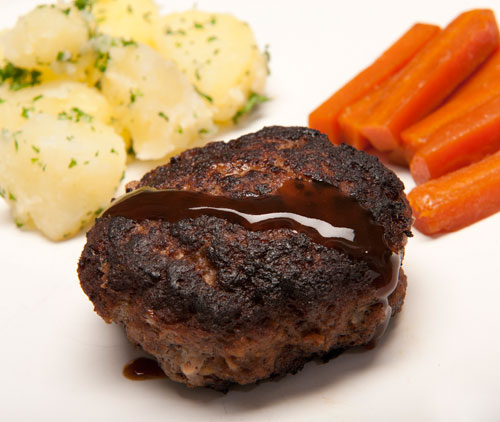 This month's Japanese Kitchen column in the Japan Times is about hanbaagu or hamburger steak, which is more akin to a Salisbury steak in the U.S. than a the type of hamburger that's served on a bun. Hanbaagu is a very popular dish in Japan; as I wrote in my previous post, it ranks as one of the most popular dishes amongst Japanese kids, and is a home-cooking staple.
I've written about hanbaagu previously on this site, but this time I've delved a bit more into the history - although to be honest I couldn't find out a whole lot. There doesn't seem to be a definitive starting point for hanbaagu as there is for say, spaghetti Napolitan, another yoshoku (Japanese Western-style cuisine) dish, which was invented by a chef at a hotel in Yokohama.
There's also a recipe for a simmered-type version of hanbaagu, which is easier to keep tender than the plain pan-fried version. Whichever version you prefer though, the key is to use ground meat that's not too lean. I've indicated at least 8% fat content, but you may want to go a bit higher (e.g. 15%, which is about what ground beef chuck contains) for juicer patties.
Submitted by
maki
on 2014-10-16 02:40.
Filed under:
beef
japan
writing elsewhere
yoshoku
japantimes