Ask Maki anything, well almost anything (or just say hi)
This post is now closed to new comments. It's now replaced by the new forum section, Ask Maki Almost Anything.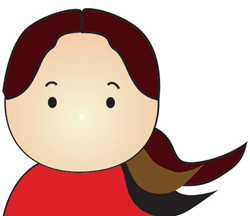 Thanks to you (yes, I'm looking at you!) Just Hungry and Just Bento have really grown in popularity recently. This has also meant that I'm getting more emails. I do very much appreciate getting your emails, but there's a couple of disadvantages to email.
It's a one on one communication so your question will only benefit you. It might just benefit a lot of other readers. I do actually end up answering the same thing several times.
I may not know the answer but someone else might!
I'm really bad at email. Don't ask me why. I try to answer things as fast as possible but sometimes emails languish in my inbox for days, or I forget about answering them. Then you get mad at me and think I'm ignoring you, etc.
Answering lots of individual emails takes time away from me writing new posts, not to mention spending time with my family/friends, exploring new foods, and all that kind of thing.
Hence, this is Ask Maki (almost) Anything. comments here will remain always open, to ask me anything that doesn't fit into the context of a particular post. Unless it's something that must remain private, please post here before emailing. Thank you!
But before you ask....
There's nearly 5 years worth of content here. Chances are your question has already been answered. Please try the Search function, right at the top of the page, before asking something. Thanks!
[Edit:] Do not use this post to pimp your refrigerator parts, miracle diet, whatever site. Such comments will be deleted.
Submitted by
maki
on 2008-01-13 08:42.
Filed under:
site news