biscuits
Now that the weather is getting cooler, at least in these parts, there's nothing as appealing the smell of fresh baking filling the house. I don't think I have posted a simple baking recipe in a long time, so here's one that has become a favorite because it's so delicious and versatile. Here you see them in their cookie incarnation. (I used vegetable-shaped cookie cutters.)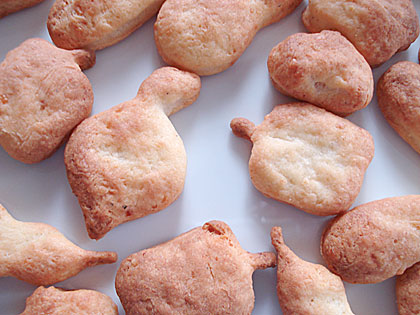 Up close, for scale: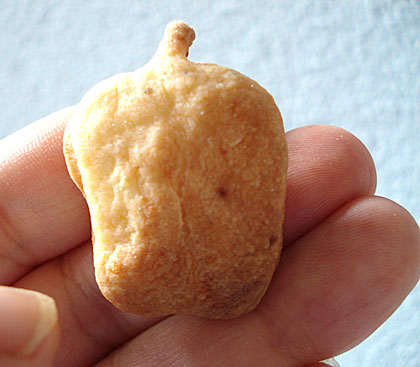 And here is the big scone incarnation: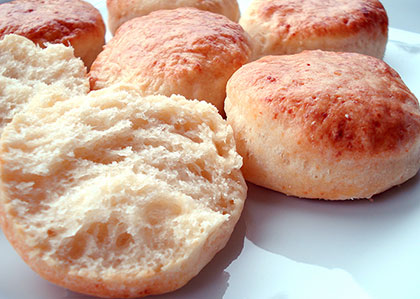 The recipe is based on one for English scones, but it's savory rather than sweet. Inspiration also came in part from Hungarian cheesy scones called pogasca, which I first had on a short trip to Budapest some years ago, and can't forget since. Depending on how big you make them, they can be fluffy-in-the-middle scones, or crispy yet soft little cookies, or biscuits for Brits. (Confusing the matter even further is of course that scones are very much like American biscuits.) In any case they are really easy to make, especially if you have a food processor.
These savory scones/biscuits/cookies are made with olive oil, which imparts the unique fruity-peppery taste of the oil, and also makes them theoretically a tiny bit healthier than using vegetable shortening or butter. You can use butter of course if you prefer that taste. (I hardly ever use vegetable shortening in my cooking, so I can't speak for it. I use lard sometimes, but that's another story.)
I have used three cheeses for this - Gruyère, feta and Parmigiano Reggiano (Parmesan) (plus cottage cheese), but you can use any bits of leftover hard or semi-soft cheese as long as it all adds up to about 1 cup in total.
If you make the scones very small and bake them until they are quite crunchy on the outside, they make perfect nibbles for a wine tasting. Make them larger and they are great fluffy biscuits/scones to have with a hearty soup or stew. You can also turn the large versions into very rich small sandwiches with a little roast ham or something in the middle.
These freeze beautifully and can be heated up in the oven, wrapped in foil, at 300°F/150°C for about 5 minutes for the little ones, 10-15 minutes for the big ones. The little ones can also be kept in an airtight cookie tin for about a week, so they are great to make ahead for a party.