quickbread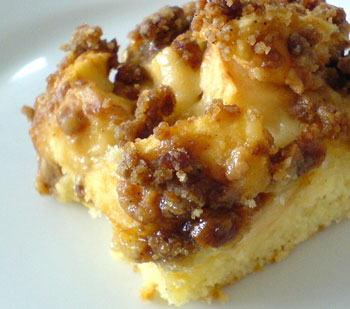 [From the archives. This very easy cake is especially nice at this time of year, when apples are in season. We don't actually eat this every day, but it's one of my go-to simple sweets to make. Originally published January 11, 2006.]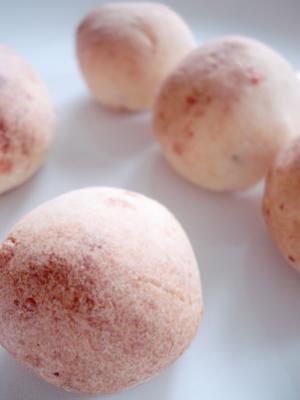 This may not be well known outside of the two respective countries, but there are pretty strong historical and cultural ties between Japan and Brazil. There was a wave of emigration from Japan to Brazil in the early part of the 20th century and later on around the '50s and '60s. And in the last 30 years, many Brazilians of Japanese descent (people of Japanese descent born in another country are called nikkei-jin) have in turn emigrated to Japan to fill labor shortages. Perhaps because of this, a few years ago one of the staples of the Brazilian diet, pao de queijo, little cheese breads, became very popular. While their popularity may have descended a bit from their peaks (Japan tends to be periodically swept up by big food or fashion trends, which after a time get dropped without warning when people move onto the next thing, but that's another story), they are still made by bakers throughout Japan.
I think that pao de queijo appeals so much to the Japanese palate because they are small, round and cute, and have a distinctive gooey-sticky-glutinous kind of texture inside. This texture is called mochi mochi, after mochi, the very gooey-glutinous rice cakes.
Now that the weather is getting cooler, at least in these parts, there's nothing as appealing the smell of fresh baking filling the house. I don't think I have posted a simple baking recipe in a long time, so here's one that has become a favorite because it's so delicious and versatile. Here you see them in their cookie incarnation. (I used vegetable-shaped cookie cutters.)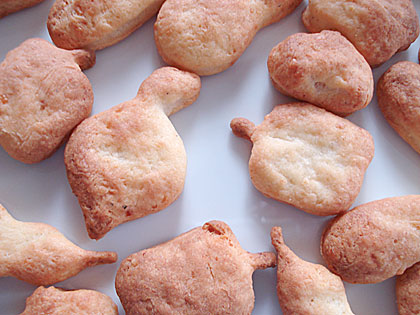 Up close, for scale: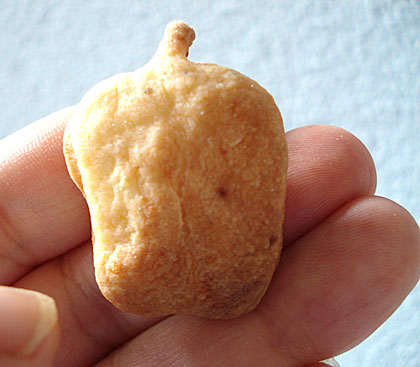 And here is the big scone incarnation: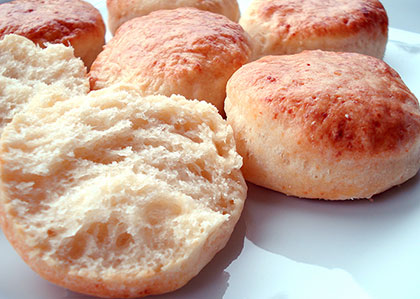 The recipe is based on one for English scones, but it's savory rather than sweet. Inspiration also came in part from Hungarian cheesy scones called pogasca, which I first had on a short trip to Budapest some years ago, and can't forget since. Depending on how big you make them, they can be fluffy-in-the-middle scones, or crispy yet soft little cookies, or biscuits for Brits. (Confusing the matter even further is of course that scones are very much like American biscuits.) In any case they are really easy to make, especially if you have a food processor.
These savory scones/biscuits/cookies are made with olive oil, which imparts the unique fruity-peppery taste of the oil, and also makes them theoretically a tiny bit healthier than using vegetable shortening or butter. You can use butter of course if you prefer that taste. (I hardly ever use vegetable shortening in my cooking, so I can't speak for it. I use lard sometimes, but that's another story.)
I have used three cheeses for this - Gruyère, feta and Parmigiano Reggiano (Parmesan) (plus cottage cheese), but you can use any bits of leftover hard or semi-soft cheese as long as it all adds up to about 1 cup in total.
If you make the scones very small and bake them until they are quite crunchy on the outside, they make perfect nibbles for a wine tasting. Make them larger and they are great fluffy biscuits/scones to have with a hearty soup or stew. You can also turn the large versions into very rich small sandwiches with a little roast ham or something in the middle.
These freeze beautifully and can be heated up in the oven, wrapped in foil, at 300°F/150°C for about 5 minutes for the little ones, 10-15 minutes for the big ones. The little ones can also be kept in an airtight cookie tin for about a week, so they are great to make ahead for a party.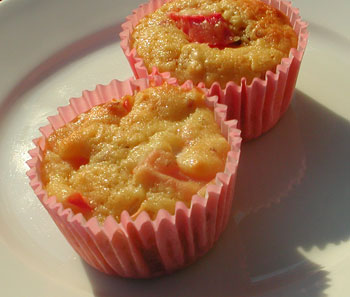 As if last month's IMBB muffin (and cupcake) orgy weren't enough, here is another muffin that has definitely entered my must-make list. It's yet another way to enjoy the tanginess of rhubarb, with the added twist of preserved or crystallized ginger. (I used my precious homemade crystallized ginger, but you can use the store-bought kind with no problems.)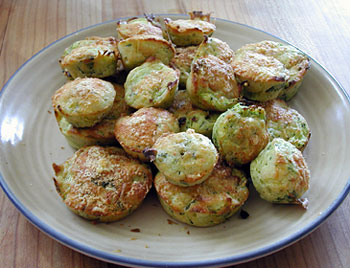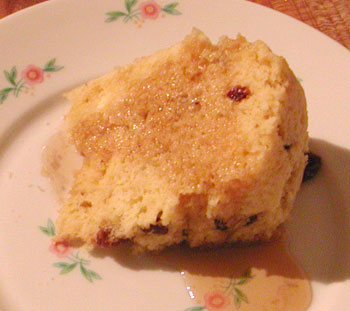 For Japanese kids, oyatsu is a big part of the day. It means snack time, and is usually in mid-afternoon. It's sort of like afternoon tea or elevenses in England. My mother usually was working when we were growing up so she didn't have much time to make us homemade oyatsu, but when she did one of the things she'd make was mushipan.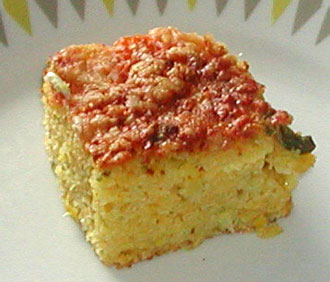 Although I do love baking as a hobby, the fact is that it's possible to get great bread from the local bakery or even the supermarket here in Switzerland. So, most of the day to day baking I do is of quick-bread type of things.
I love to bake bread.
It's a very relaxing thing to do. It's messy enough to remind you of when you were little and played with mudpies and Play-Doh. It's a mindless thing, or at least the kneading part is. It can even help to get out some frustration, by banging the dough about (a good way of developing the gluten).